Rudolf Zacharias Becker 1752 -1822
August 07, 2009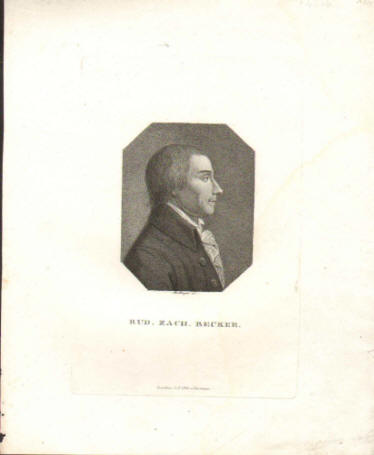 Rudolf (Rudolph) Zacharias Becker 1752 -1822 was a German folk writer of the Enlightenment, teacher, journalist, publisher and bookseller.
Becker was a friend and fellow Mason of Samuel Hahnemann, and he printed Samuel Hahnemann's essay on scarlet fever in the Reichsanzeiger, in the pages of which Samuel Hahnemann published replies to letters concerning his services, the fees he charged, and he also defended himself from attacks by opponents of homeopathy.
In Gotha, whhere Hahnemann had moved in 1792, he announced he had befriended the publisher Rudolph Zacharias Becker for the foundation of a "convalescent Institute for about 4 insane people from affluent homes", which a "human friendly doctor" (ie Hahnemann) should be guided.
The treatment would not be founded on punishment, fixation, or other disciplinary measures; and therapy consisting mainly in talking, and on homeopathic medicines…
Rudolf Zacharia Becker was of Lutheran faith and attended the Evangelical Ratsgymnasium Erfurt and studied philosophy and theology in Jena.
He was subsequently Hofmeister in Erfurt, where he was acquainted with Karl Theodor von Dalberg (also a friend of Samuel Hahnemann), who had a significant influence on his education.
In 1782, Becker became a teacher at the Philantropin in Dessau, founded by Johann Bernhard Basedow, and in the same year he entered the Masonic Lodge in the Gothaer, under the name Henricus Stephanus. Towards the end of 1784, he was in the Illuminatenorden Magistrat, and he became Regent. In the Masonic Lodge, he was the 1789-90 speaker.
On the occasion of a birthday celebration of Duke Ernst in 1790, he was speaker of the Illuminati, led Gothaer Freemasons, and he expressed the view that because of the events in France, Masons could not remain apathetic.
In the year 1782, he was living in Dessau, where he worked for a weekly newspaper for the youth and their friends (until 1786), after which in 1784, he moved and Gotha and ran a newspaper for the youth and their friends, one of the first youth magazines.
In 1786, in correspondence with his Masonic colleagues, he decided to side with the proponents of the Illuminati in the war for the press secret societies.
In 1796, he elevated his newspaper for the youth and their friends to a National Newspapers in Germany. Since 1791, he had written an education sheet for a German newspaper under the title Scoreboard under an imperial privilege to the General Anzeiger Empire.
In 1806, he received the title of the German General Anzeiger.
In 1792, Johann Christoph Friedrich von Schiller (a friend and patient of Christoph Wilhelm von Hufeland, and possibly a friend of Carl Steigentesch's father - Carl Steigentesch was a student of Samuel Hahnemann) published a translation of his defense of Louis XVI. which must be regarded as lost, which was entrusted to Becker, (Johann Christoph Friedrich von Schiller had met Becker in 1788 in Rudolstadt through the family of his late wife (see: letter from Johann Christoph Friedrich von Schiller to Korner of December 21, 1792 in which he explicitly admits that he participated in a speech to defend Louis XVI).
In 1797, Becker founded a bookstore in Gotha, where he sold his magazines, newspapers and books, and he continued this until his death. In his bookstore, Becker published the writings of the Seeberg Observatory, and Franz Xaver von Zach edited a Monthly Correspondence about this important work which became of European importance.
In November 1811, Becker was arrested by the French gendarmerie because of an essay in the National Zeitung, and he held until April 1813, when he was released by Duke August von Saxe Gotha Altenburg (the second son of Ernst II, Duke of Saxe Gotha Altenburg, to whom Samuel Hahnemann was a personal physician, and Samuel Hahnemann moved to Altenberg in 1821 under the protection of Duke August von Saxe Gotha Altenburg where he could 'still meet with true Masons') when  Napoleon Bonaparte brought back the freedom.
His son Gottlieb Friedlich Becker 1792 - 1865 took over after his bookshop when Becker died. Becker's son operated mainly in Leipzig and Gottingen, where he concentrated on  linguistic and historical works, though he studied journalism and worked alongside his father.
In 1830, Gottlieb Friedlich Becker united his two interests in his his published journals of the German national newspaper General Anzeiger, under the title General Anzeiger and the National Newspaper of the Germans. In 1849, he changed the title to The Gazette of the German Reich.
In 1848 and 1849, he represented the Duchy of Gotha as a member of the Frankfurt National Assembly at Frankfurt. He also worked for the Directorate of the Fire Insurance Bank in Gotha.
---