Elise Felicitas Freiin of Hohenhausen 1812 - 1899
August 01, 2009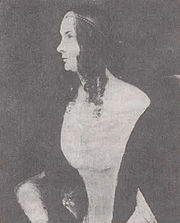 Elise Felicitas Freiin of Hohenhausen 1812 - 1899 was a German writer and Saloni in Munster and Berlin.
Hohenhausen was a friend of Heinrich Heine, Annette von Droste Hulshoff, David Ferdinand Koreff, and many others.
Elise Freiin of Hohenhausen grew up as the daughter of a Prussian officer Leopold Freiherr von Hohenhausen (1779-1848) and his wife, the writer and Saloni Elise (1789-1857), born of Ochs in Berlin.
After moving the family to Minden, where the father took a post in the Prussian Provincial Government, Elise worked as a young woman on the editorial board of the Minden Sonntagsblatt which her father had co-founded.
Aged Nineteen, Elise married the Prussian officer Karl Ferdinand Rudiger, and she spent the years from 1831 to 1845 in Munster, where she set up her first Salon, where she met Annette von Droste Hulshoff and Levin Schucking. Annette von Droste Hulshoff became a close friend.
Elise witnessed the German Revolution 1848/49 in Minden and wrote a political biography of her husband, who was elected to the Prussian National Assembly and participated in the founding of The Cross newspaper. Together with her now widowed mother, Elise visited Heinrich Heine during a Paris visit in 1852.
After the death of her mother (1857) and her husband (1862) Elise reverted back to her maiden name and moved from Frankfurt (Oder), her last official place of residence, and then to Berlin, where she set up another literary salon. In addition, she began to write books himself and gained some notoriety.
She died in Silvestertag in Berlin.
The salon of the Elise Hohenhausen was primarily literary oriented. At its foundation, she took on many Habitues, previously in the circle of Ada Tresckow, who had to leave Berlin.
Her stylistic orientation was more tranquil than cosmopolitan, as there were at the same time in Berlin, the salons of Marie von Schleinitz and Marie of Radziwill. All the more remarkable is that Elise's salon continued up to the threshold of the 20th Century, echoing the romantic Berlin of Friedrich Wilhelm IV.
Elise remained a widow for fifty years, and she became a highly social phenomenon with a wide variety of literary memoirs. Prince George of Prussia (1826-1902) belonged to her circle of writers.
---