Francois Rene Vicomte de Chateaubriand 1768 – 1848
July 23, 2009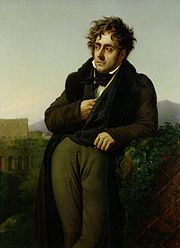 Francois Rene Vicomte de Chateaubriand 1768 – 1848 was a French writer, politician and diplomat. He is considered the founder of Romanticism in French literature.
Chateaubriand was an advocate of homeopathy, and he was a patient of David Ferdinand Koreff, and a friend of Mary Elizabeth Clarke Mohl, Charles Ozanam and his brother Frederic Ozanam, Madame Recamier (a relative of the Ozanam family),
Born in Saint Malo, the last of ten children, Chateaubriand grew up in his family's castle in Combourg, Brittany. His father, René de Chateaubriand (1718-86), was a former sea captain turned ship owner and slave trader. His mother's maiden name was Apolline de Bedée.
Chateaubriand's father was a morose, uncommunicative man and the young Chateaubriand grew up in an atmosphere of gloomy solitude, only broken by long walks in the Breton countryside and an intense friendship with his sister Lucile.
Chateaubriand was educated in Dol, Rennes and Dinan. For a time he could not make up his mind whether he wanted to be a naval officer or a priest, but at the age of seventeen, he decided on a military career and gained a commission as a second lieutenant in the French Army based at Navarre. Within two years, he had been promoted to the rank of captain. He visited Paris in 1788 where he made the acquaintance of Jean Francois de La Harpe, Andre Chenier, Louis Marcelin de Fontanes and other leading writers of the time.
When the French Revolution broke out, Chateaubriand was initially sympathetic, but as events in Paris became more violent he decided to journey to North America in 1791. This experience would provide the setting for his exotic novels Les Natchez (written between 1793 and 1799 but published only in 1826), Atala (1801) and René (1802). His vivid, captivating descriptions of nature in the sparsely settled American Deep South were written in a style that was very innovative for the time and spearheaded what would later become the Romantic movement in France. Later scholarship has cast doubt on Chateaubriand's claim that he had been granted an interview with George Washington or whether he actually lived for a time with the Native Americans he wrote about.
Chateaubriand returned to France in 1792 and subsequently joined the army of Royalist émigrés in Coblenz under the leadership of Louis Joseph de Bourbon, Prince de Conde. Under strong pressure from his family, he married a young aristocratic woman, also from Saint Malo, whom he had never previously met, Celeste Buisson de la Vigne. In later life, Chateaubriand would be notoriously unfaithful to her, having a series of love affairs, but the couple would never divorce.
His military career came to an end when he was wounded at the siege of Thionville, a major clash between Royalist troops and the French Revolutionary Army. Half dead, he was carried to Jersey and exile in England, leaving his wife behind.
Chateaubriand spent most of his exile in extreme poverty in London, scraping a living offering French lessons and doing translation work, but a stay in Suffolk was more idyllic. Here Chateaubriand fell in love with a young English woman, Charlotte Ives, but the romance ended when he was forced to reveal he was already married. During his time in Britain, Chateaubriand also became familiar with English literature. This reading, particularly of John Milton's Paradise Lost (which he later translated into French prose), would have a deep influence on his own literary work.
His exile forced Chateaubriand to examine the causes of the French Revolution, which had cost the lives of many of his family and friends; these reflections inspired his first work, Essai sur les Révolutions (1797). A major turning point in Chateaubriand's life was his conversion back to the Roman Catholic faith of his childhood some time around 1798.
Chateaubriand took advantage of the amnesty issued to émigrés to return to France in May, 1800 (under the French Consulate), Chateaubriand edited the Mercure de France. In 1802, he won fame with Génie du christianisme (The Genius of Christianity), an apology for the Christian faith which contributed to the post revolutionary religious revival in France. It also won him the favour of Napoleon Bonaparte, who was eager to win over the Catholic Church at the time.
Appointed secretary of the legation to the Holy See by Napoleon Bonaparte, he accompanied Cardinal Fesch to Rome. But the two men soon quarrelled and Chateaubriand was nominated as minister to Valais (in Switzerland). He resigned his post in disgust after Napoleon Bonaparte ordered the execution of the Duc d'Enghien in 1804.
Chateaubriand was now forced to earn his living from his literary efforts. He planned to write an epic in prose, Les Martyrs, set during the Roman persecution of early Christianity. As part of his research for the book, in 1806 Chateaubriand visited Greece, Asia Minor, Palestine, Egypt and Spain. The notes he made on his travels would later form part of his Itinéraire de Paris à Jérusalem (Itinerary from Paris to Jerusalem), published in 1811; and the Spanish stage of the journey would inspire a third novella, Les aventures du dernier Abencérage (The Adventures of the Last Abencerrage), which appeared in 1826. On his return to France, he published a severe criticism of Napoleon Bonaparte, comparing him to Nero and predicting the emergence of a new Tacitus. Napoleon Bonaparte banished him from Paris.
Chateaubriand settled at a modest estate he called La Vallée des Loups ("Wolf Valley"), in Châtenay Malabry, 11 km (7 miles) south of central Paris. Here he finished Les Martyrs, which appeared in 1809, and began the first drafts of his memoirs. He was elected to the Académie française in 1811, but, given his plan to infuse his acceptance speech with criticism of the Revolution, he could not occupy his seat until after the Bourbon Restoration. His literary friends during this period included Madame de Stael, Joseph Joubert and Pierre Simon Ballanche.
After the fall of the French Empire, Chateaubriand rallied to the Bourbons. On 30 March 1814, he wrote a pamphlet against Napoleon, titled De Buonaparte et des Bourbons, of which thousands of copies were published. He then followed Louis XVIII into exile to Ghent during the Hundred Days (March-July 1815), and was nominated ambassador to Sweden.
After the defeat of France, Chateaubriand, who had declared himself shocked by the 1804 execution of the duc d'Enghien, voted in December 1815 for Marshal Ney's execution at the Chamber of Peers. He became peer of France and state minister (1815). However, his criticism of Louis XVIII, after the Chambre introuvable was dissolved, got him disgraced. He lost his function of state minister, and joined the opposition, siding with the Ultra royalist group supporting the future Charles X, and becoming one of the main writers of its mouthpiece, Le Conservateur.
Chateaubriand sided again with the Court after the murder of the Duc de Berry (1820), writing for the occasion the Mémoires sur la vie et la mort du duc. He then served as ambassador to Prussia (1821) and the Kingdom of Great Britain (1822), and even rose to the office of Minister of Foreign Affairs (28 December 1822 – 4 August 1824). A plenipotentiary to the Congress of Verona (1822), he decided in favor of the Quintuple Alliance intervention in Spain during the Trienio liberal, despite opposition from Arthur Wellesley 1st Duke of Wellington.
Although the move was considered a success, Chateaubriand was soon relieved of his office by Prime Minister Jean Baptiste de Villele, the leader of the ultra royalist group, on 5 June 1824.
Consequently, he moved towards the liberal opposition, both as a Peer and as a contributor to Journal des Débats (his articles there gave the signal of the paper's similar switch, which, however, was more moderate than Le National, directed by Adolphe Thiers and Armand Carrel). Opposing Jean Baptiste de Villele, he became highly popular as a defender of press freedom and the cause of Greek independence.
After Jean Baptiste de Villele's downfall, Charles X appointed him Ambassador to the Holy See in 1828, but he resigned upon the accession of the Prince de Polignac as premier (November 1829).
In 1830, after the July Revolution, his refusal to swear allegiance to the new House of Orléans king Louis Philippe put an end to his political career. He withdrew from political life to write his Mémoires d'outre tombe (Memoirs from Beyond the Grave, published posthumously 1848–1850), which is considered his most accomplished work, and his Études historiques (4 vols., designed as an introduction to a projected History of France). He also became a harsh critic of the "bourgeois king" and the July Monarchy, and his planned volume on the arrest of the duchesse de Berry caused him to be unsuccessfully prosecuted.
Chateaubriand, along with other Catholic traditionalists such as Ballanche or, on the other side of the political board, the socialist and republican Pierre Leroux, was then one of the few to attempt to conciliate the three terms of Liberté, égalité and fraternité, beyond the antagonism between liberals and socialists concerning the interpretation to give to the seemingly contradictory terms…
In his final years, he lived as a recluse in an apartment 120 rue du Bac, Paris, only leaving his house to pay visits to Juliette Recamier in l'Abbaye aux Bois. His final work, Vie de Rancé, was written at the suggestion of his confessor and published in 1844. It is a biography of Armand Jean le Bouthillier de Rance, a worldly seventeenth century French aristocrat who withdrew from society to become the founder of the Trappist order of monks. The parallels with Chateaubriand's own life are striking.
Chateaubriand died in Paris during the Revolution of 1848 and was buried, as he requested, on an island (called Grand Be) near Saint Malo, only accessible when the tide is out.
---