Comte Sebastien Gaeten Salvador Maxime Des Guidi 1769 - 1863
July 21, 2009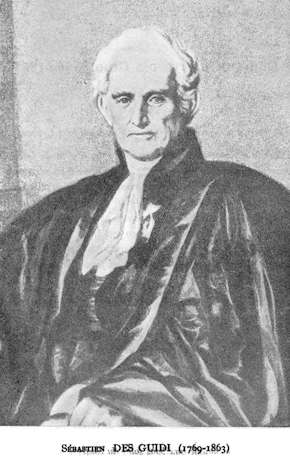 Comte Sebastien Gaeten Salvador Maxime **Des Guidi** 1769 - 1863 MD Strasbourg, was an orthodox physician and Professor of Doctor of Philosophy and Mathematics at Turin, Doctor of Medicine and Science at the University of Lyon and Marseille, Professor of Physics at Privas, Inspector of the University of Grenoble, who converted to homeopathy to become the first homeopath in France, and one of the founders of the homeopathic hospitals in Paris and in Geneva, and the President and founder of the Société Lyonnaise Homeopathic.
Des Guidi was awarded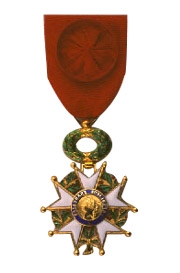 Knight of the Legion of Honor by King Louis Philippe in 1835, and the Tuscan

Order of St. Stephan for his work in homeopathy, and in 1855, Pope Gregory XVI awarded Des Guidi the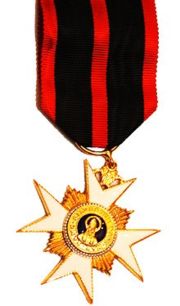 Order of Saint Sylvester
Des Guidi was a patient and a student of Samuel Hahnemann, and he asked Empress Eugenie and Napoleon III to institute a Chair in Homeopathy at the University of Lyon.
Des Guidi was also a student of Cosmo Maria De Horatiis and Francesco Romani, and he was present to witness the clinical trials into homeopathy in Naples in 1828.
Des Guidi was the homeopathic practitioner of Jean Pierre Gallavardin, and he was a colleague of Ernst Louis Ambrecht, Alexandre Charge, Pierre Dufresne, Thomas Lord Elgin, Benoit Jules Mure, Jose Nunez Pernia Marquis de Nunez, Antoine Henri Petroz, Pierre Augustus Rapou, Leon Francois Adolphe Simon, Gustave Louis Maurice Strauss, and many others.
Des Guidi was also a member of the Central Association of Homeopaths in Leipsig, alongside Albrecht, Baumann, Ernst von Brunnow, Pierre Dufresne, Anton Fischer, Carl Franz, Gaumann, Gustav Wilhelm Gross, Carl Georg Christian Hartlaub, Frantz Hartmann, Carl Haubold, Hofrath, Kretschmar, Kruger Hansen, Johan Joseph Wilhelm Lux, Moritz Wilhelm Mueller, Muhlenbein, Charles Gaspard Peschier, Frederick Hervey Foster Quin, Gottlieb Martin Wilhelm Ludwig Rau, Rohl, Mathias Roth, Ruckert, Rummel, J A Schubert, John Ernst Stapf, Suffert, Karl Friedrich Gottfried Trinks, George Adolph Weber, Friedrich Wolf, and many others.
In 1853, Jose Nunez Pernia Marquis de Nunez founded the Liga Medicorum Homoeopathica Internationalis, where he was an Honorary President alongside Leon Francois Adolphe Simon and Des Guidi.
After his wife was cured by Francesco Romani in Italy in 1828, he became his pupil and was the introducer of Homeopathy in France, in 1830, he was Benoit Jules Mure's doctor who, for his time, after having been cured, became devoted to Homeopathy.
Des Guidi was a very prominent physician of France. In the British Journal of Homeopathy appears the following: We have just received notice of the death of the venerable Count Des Guidi who, in 1830, introduced Homeopathy into France, and by his Lettre aux médecins français sur l'homoeopathie (_Letter to the Physicians of France)_, published in 1832, so powerfully contributed to the spread of a knowledge of the doctrines of Samuel Hahnemann among the medical men of France.
Count Des Guidi was converted to homeopathy in 1828, in Naples, by Francesco Romani, who along with Cosmo Maria De Horatiis, was at that time in full practice as a homeopathic physician at Naples. Frederick Hervey Foster Quin gives the name in the list of 1834 as at Lyon.
In the World's Convention Transactions: In 1828 Count Des Guidi, Doctor of Medicine, Doctor of Science, and Inspector of the University at Lyon was in Naples. Unsuccessful in arresting the supposed fatal malady of his wife, who accompanied him to get the benefit of the baths of Pozzuoli, he was induced to consult Francesco Romani, who was enjoying at Naples a great reputation as a homeopathic physician.
The cure of his wife by Francesco Romani's treatment, produced a profound impression on Count Des Guidi and induced him to study the doctrines (Des Guidi stayed under instruction here for 3 years) of Samuel Hahnemann, and under the direction of Francesco Romani and Cosmo Maria De Horatiis, he followed assiduously their homeopathic clinic in the Hospital of the Trinity.
In 1830, at the age of sixty three years, Dr. Des Guidi returned to Lyon and devoted himself to the practice of homeopathy, whose benefits he proclaimed aloud, and whose scientific value, he demonstrated a little later in that magnificent Lettre aux médecins français sur l'homoeopathie (_Letter to the Physicians of France)_, which has been translated into all languages and which contains a luminous and eloquent exposition of the new medical doctrine.
In the Monthly Homeopathic Review is a quotation from the Daily Telegraph (London) June 22, 1863, which is an interesting collection of blunders:The death of Count S G S M Des Guidi is reported today at Lyon. The Count was in his 94th year and was the father of Homeopathy, having converted Samuel Hahnemann from the heresy of Allopathy (this is not correct!)
Count Des Guidi had previously been a Neapolitan conspirator against Maria Carolina of Austria, the sister of Marie Antoinette,  (in 1799), a prisoner, exile, Professor of Mathematics, Inspector of the University of Grenoble, a Doctor of Medicine, and finally of anti medicine and has died a Knight of the Legion of Honor, an odd career extending over nearly a century, and that century the most important in the history of France.
Carroll Dunham thus mentions him: Died, May 27, 1863, at Lyon, France, in the 94th year of his age, Dr. Des Guidi, the first and the oldest homeopathic practitioner in France.
Count Des Guidi, Knight of the Legion of Honor, Doctor of Philosophy and Medicine, was born at Caserta in Naples. In 1799 being a liberal in politics, he was banished and his property was confiscated. While acting as general in the revolutionary army against the Government of Maria Carolina of Austria, he was taken prisoner and would have been shot but for the interposition of the English.
He took refuge in France, where turning to account the studies and acquisitions of his youth, he gained in 1801, by public competition the position of Professor of Mathematics in the University of Lyon and Marseille. In 1820 he received the full degree of Doctor of Medicine from the University of Strasbourg.
In 1828 Count Des Guidi accompanied his wife, who had a so called incurable disease, to the baths of Pozzuoli. Here he met Francesco Romani, of Naples, through whose care the Countess Des Guidi was soon restored to health. This remarkable success of the new method turned Dr. Des Guidi's attention to Homeopathy, which he faithfully studied under the guidance of Francesco Romani and Cosmo Maria De Horatiis, and afterwards under the counsels of Samuel Hahnemann himself.
In 1830 he returned to France, where he introduced Homeopathy and practiced it till his death.
Dr. Des Guidi's _](http://books.google.com/books?id=2ym0AAAAIAAJ&pg=PA224&dq=des+guidi+Letter+to+the+Physicians+of+France&lr=&ei=IOplSs3LKY6qzgS_raG_Aw)[_Lettre aux médecins français sur l'homoeopathie (_Letter to the Physicians of France)_, was one of the first books published in the United States upon Homeopathy. In 1834 William Canning translated it from the French and it was published in New York.
The following is quoted from the Zeitung: We excerpt the following from a Necrology written by Jean Pierre Gallavardin of Lyon, and published in the July number of the Art Medical concerning a man whose decease will be generally lamented also by his colleagues in our fatherland.
''On the 27th of May, 1863, died at Lyon, in the 94th year of his age, Sebastian Gaetan Salvador Maxime Count Des Guidi, Knight of the Legion of Honor and of the Tuscan Order of St. Stephan, formerly Professor of Mathematics at the College of Privas, Lyon and Marseille, a quondam Inspector of the Universities at Grenoble and Lyon, Doctor of Philosophy and Medicine, the first and oldest Homeopath of France.
He was born in the Castle Guardia near Caserta in Naples, on the 5th of August, 1769. Till the year 1799, Des Guidi remained in his native land, but then on account of his liberal views he was sent into exile and his estates were confiscated. Being taken prisoner while acting as general of the revolutionary army which made war on the Government of Maria Carolina of Austria, he would certainly have lost his life, if the English had not interfered in his behalf.
He then fled to France, where he had no other means of subsistence but such as were afforded by the solid education he had enjoyed in his youth and which he endeavored to put to use by becoming a public instructor. In this he succeeded, for in the competitive examination of 1801, he was appointed Professor of Mathematics and in 1803 also Professor of Physics at the College of Privas; in 1810 he became Professor of Special Mathematics at the College in Lyon; in 1813 he became Inspector of the University at Grenoble, and 1819 (till 1834), Inspector of the University of Lyon.
But in spite of his manifold occupations this industrious man found time to acquire (On the 12th of February, 1819), the diploma of Doctor of Philosophy and (0n the 21st Of October, 1820), the title of Doctor of Medicine at the University of Strasburg.
In the year 1828 Count Des Guidi accompanied his wife (who is now 90 years of age(?), who had been suffering for twenty years of a malady thought incurable, to the springs of Pozzuoli, near Naples. The visit was not followed by any curative effects, but Des Guidi had the good fortune of seeing his wife restored by the celebrated Neapolitan Homeopath Francesco Romani.
This remarkable cure determined him to study the new curative method, and he began his studies in the clinic of the doctors, Cosmo Maria De Horatiis and Francesco Romani, and completed them later on through his intimate relations with Samuel Hahnemann.
In 1830 he returned to France, and introduced homeopathy there and practiced it at Lyon till his death.
What was most remarkable in his long life, extended for almost a century, was his mental vigor and bodily health which remained to the last. Its activity and his continual efforts toward culture even in an advanced age are sufficiently manifest from the alcove data of his life. (How vigorous he must have peen even a few years is manifest from his words and his petition in favor of Homeopathy directed to Napoleon III at his visit to Lyon. See Allg. hom. Zeitung, vol. 61, p. 16).
For the diffusion of homeopathy he labored through his writings, among which his open Lettre aux médecins français sur l'homoeopathie (_Letter to the Physicians of France)_ (also translated into German ), may be especially mentioned, but more still by his actions; he was one of the founders of the homeopathic hospitals in Paris and in Geneva.
In the beginning of his homeopathic career, he, in Geneva cured two patients who had been treated in vain for two years by Pierre Dufresne. The latter, surprised by these sudden cures, now studied homeopathy and was soon convinced of its excellence, so that he became one of the most zealous followers of Samuel Hahnemann, and in common with Charles Gaspard Peschier founded the first French homeopathic journal: _Bibliotheque Homeopathique de Geneva___ (1832-1844).
Later on his son, Edouard Dufresne, settled in Geneva, where he became physician in the hospital of Plain Palais, which since that time (1845) has become a homeopathic hospital. Edouard Dufresne it was in turn, who induced his teacher, Jean Paul Tessier to study Homeopathy; what Jean Paul Tessier has accomplished is known to all.
In this way Des Guidi contributed directly and indirectly to the diffusion of Samuel Hahnemann's curative method. In the year 1830 he was the only Homeopath in France. In the year 1832 there were twenty five; in 1840 there were fifty; in 1850, 200; in 1863, 500. Happy old man, who without having had any children, left behind him so numerous a progeny.
And here we may be permitted to remark to our opponents that Homeopathy - this dreamy German vision, which, as they say, is only fit for raving sick people and physicians of exalted sensibilities - was introduced into France by a professor of the exact sciences.
On the 29th of May the funeral procession of Count Des Guidi moved through the streets of Lyon, followed by a great concourse of mourners. A company of infantry paid the last honors to the Knight of the Legion of Honor. The pall bearers were M. de la Saussay, Rector of the Academy of Lyon; M. Vivien, Inspector of the same Academy, and the practicing physicians, Alphonse Noack, and, G Severin.
In silence and without a word of love and gratitude from his colleagues, the body was committed to the grave, which is the termination of so long and so active a life.
Peace to his ashes !
(*Brit. Jour. Hom., vol. 1. p. 517. World's Con., vol. 2. pp. 151,

Rapou, vol. 1. pp. 141, 150. Allg. hom., Zeit., vol. 67. pp. 23,
Mo. Hom. Rev. vol. 7. p. 136. AM. Hom. Rev. vol. p. 144. Revue Homéopathique Belge, vol. 3. p. 240. _Thomas Roupell Everest*'s Pop. View of hom. N. Y. 1842, p. 126._)
J A Lathoud of Lyon writes in the Propagateur de l'Homéopathie July 1934, No. 7, pages 508 to 518:  I believe in telling it, for the interest of our readers, especially those belonging to the Rhone region, since it is in Lyon that this new doctrines Hahnemannian took off…  Homeopathy was introduced in France in Lyon by Dr. Comte Des Guidi…
Count Sebastien Des Guidi, born in 1769 near Naples, at the castle Gardier, descended from an ancient and wealthy Florentine family of origin and nothing at the beginning of its existence, could not foresee what (a course his life would take)… Des Guidi received a strong education where mathematics, physics, chemistry and natural history…
But the curiosity of its robust intelligence did not stop there and the novelty of the philosophical ideas of the second part of the eighteenth century … when the revolution broke out in 1799 in Naples, played an important role. Sebastien Des Guidi…had just passed his twentieth year when the Revolution came upsetting France.
The highly imaginative young Sebastien … dreamed, like his brothers, for his Neapolitan homeland, the same freedom which France had been able to give… Sebastien Des Guidi took the revolution to Naples… When in 1798, Jean Etienne Championnet, winner of Karl Mack von Leiberich on the banks of the Tiber, was expelled from Rome, the King of Naples Ferdinand I and the Neapolitans 40,000 soldiers, the lazzaroni, shouted treason. The court had the weakness to arm them, but soon became so fearful of the excesses committed by the ignorant populace, the court had to flee to Sicily, on the ship of Admiral Horatio Nelson.
For eleven days, when the Neapolitan lazzaroni learned that the French were advancing towards Naples, and that the Court had signed an armistice with Karl Mack von Leiberich… they came in such a fury that Prince Pignatelli, who the King had left in Naples to govern in his name, had to flee to turn in Sicily.
After eight days of turmoil and anarchy, the Neapolitan people, who nevertheless showed more courage than the soldiers of their King…  agreed to support the entry of Jean Etienne Championnet into Naples. Sebastien Des Guidi commanded a detachment of the Civil Guard. The French General began the assault, supported by the Civil Guard, and our future Neapolitans fought with great courage. Jean Etienne Championnet, despite the heroic defense of the Neapolitans, was finally master of… Naples and he dethroned the King of Naples on behalf of the Government of the French Republic, and the Kingdom of Naples became the Republic Parthenopean until 17 July when the Neapolitan army re-established King Ferdinand IV back in his capital.
After the reoccupation of Naples by King Ferdinand IV, the latter punished the Civil Guard and all those who had helped Jean Etienne Championnet with unspeakable brutality… Des Guidi was wounded and taken prisoner, and taken with 700 peers on board an English vessel to be hanged. Des Guidi would have been executed when an error of name was found in time and caused his salvation.
A nervous tremor began in him at this time as a result, and this weakness of the lower limbs lasted all his life, a singular contrast with the force of his intellect. Finally, he was miraculously saved, but devoid of resources, since his property was confiscated, and his reputation was severely compromised in the eyes of the King of Naples and his government, he came in 1799, to ask France for hospitable shelter.
Marseille was his first step, Lyon was his second. We do not know more than he arrived one morning as a poor outlaw, finding asylum in the first tower of Fourviere sold as national property in 1792 and transformed into a sort of hotel run by a Madame Besson. The latter, concerned over the fate of her unfortunate tenant, arranged for his presentation to a rich merchant of the city, Vingtrinier, who provided him with some lessons.
And thus having completed the first part of his life, that of a child, and the young dreams - his political life in one word - he began what would be his French life, and entered university in which the strong direction he had once travelled would take him to a very honorable position.
Des Guidi was awarded French nationality Il Thermidor of the year VI.
At this midpoint of the infinite chaos of the late Revolution that Napoleon Bonaparte sought to organize to restore French life on a solid frame, intellectual strengths, wherever they were found, provided they were of good will, had their jobs.
Thus Sebastien Des Guidi, in passing, in 1801, a brilliant competition for the selection of a Professor of Mathematics, earned a place at the college Privas, where he stayed two years. He returned in 1803 to Lyon where he was appointed by the Directors of Public Instruction to teach mathematics and physics at the High School of this city.
At that time, through friends in Lyon, he met an old family dauphinoise and 1804, he married Miss L Chion, Crest. Sebastien Des Guidi settled down to a peaceful life, in the middle of the din of battle which Napoleon Bonaparte was then wreaking through Europe. Turning his mind to the administration of the University, he was appointed Inspector Academy Metz, Strasbourg, then in 1819 in Lyon.
Meanwhile he continued his personal work which led to degrees of Doctor of Science, and then to qualification as a medical doctor. At the age of 51 years, his history could have ended here. He 'was nothing!
Even though King Ferdinand VI had confiscated Des Guidi's property in 1799, he then had to return to his old home for important business regarding his family. Anticipating that his absence would be long, he resigned from the university before leaving for Naples.
During his stay in Southern Italy, Des Guidi had the opportunity to learn about homeopathy. He wrote in his Lettre aux médecins français sur l'homoeopathie (_Letter to the Physicians of France)_, the circumstances that began to study the therapeutic method.
His wife, for the last many years was suffering from a serious illness, and they had unsuccessfully exhausted all allopathic treatments. It was at this time that Leon Francois Adolphe Simon in Naples, told of homeopathy successfully practiced in this city by Francesco Romani: it was called to the sick and was fortunate enough to cure.
Des Guidi then realized the full scope of the new methodology: "I had to admit, he writes, that something new, incredible for me, was nonetheless a fact and that the extent of my ideas was a bit short for the forces of nature and the discoveries of genius. I did experiments on me, on others, and my belief was soon shaken. I was attached for two years to the court opened clinic in Naples, in the meantime by Francesco Romani and Cosmo Maria De Horatiis with whom I studied with all my strength and also with some fruit."
In 1829, he returned to France… with his parents, and he began in the small town of Crest, to practice homeopathy. These treatments, if new to the public this time, however, were greeted with a legitimate interest by successes.
But he could not prolong his stay indefinitely in a place where there would be no opportunity to expand his business, and at the end of 1829, he arrived in Lyon, where despite his 60 years he would bring his great talent, and his deep knowledge, his fortune, his situation as a whole in the service of homeopathy by undertaking a crusade for homeopathy, based on the success of a brilliant medical career.
Returning to his famous Lettre aux médecins français sur l'homoeopathie (_Letter to the Physicians of France)_ which we have already quoted above is an excerpt, we read how Dr Des Guidi spread homeopathy, to France and French speaking Switzerland, and what beautiful results he obtained…
The success of homeopathy at Crest was the same in Lyon, and the recognition he received made him the first homeopath in France, and his cures multiplied and were most distinguished by their light and by his social position, which was quick to proliferate homeopathic doctrines in the local area.
Such facts could not escape the attention of the educated and medical profession in Lyon. Many doctors in the city and surrounding areas, after severe examination of some of his cures, came with great interest to the study of the new doctrine and several of them converted to homeopathy.
To deal with correspondence or serious illness, or the rebels in Paris and other cities, Des Guidi soon found himself in relations with doctors spread throughout the territory and the borders, and he hastened to send them all they asked for clarification. Thus homeopathy soon had zealous friends and propagators and practitioners, in Paris, Nîmes, Bordeaux, Macon, Bourg, St. Etienne, in Besancon, and also in Vevey, Lausanne, and especially in Geneva where Des Guidi had the opportunity to know Pierre Dufresne, who became, later, one of the greatest homeopathic physicians of his time.
While they took much of his time, he argued against the intolerance of the school officials, and he had to struggle all the time, and fight with the allopaths. His Lettre aux médecins français sur l'homoeopathie (_Letter to the Physicians of France)_. Members of the Royal Society Medicine resulted in the response they sent to the Minister of Education in April 1835 about homeopathy. Des Guidi's Lettre aux médecins français sur l'homoeopathie (_Letter to the Physicians of France)_ is simply a masterpiece of logic. At the Academy of Medicine were those who claimed to have dismissed homeopathy by reasoning and by the facts, but Dr. Des Guidi noted in his Lettre aux médecins français sur l'homoeopathie (_Letter to the Physicians of France)_, which he sent to the Minister of Public Instruction, that the allopath's assertions were empty and poorly made.
Dr. Des Guidi also published Observations sur le projet de loi relatif à l'exercice de la médecine présenté à la commission de la Chambre des députés, and Comments on the draft law on the practice of medicine presented to the Committee of the Chamber of Deputies, and an interesting monograph on the Treatment of influenza.
His house soon became the meeting center for doctors wanting to know all about the new therapy. Thus, Dr. Des Guidi became the master of this group of doctor homeopaths who would wear their fruitful science throughout France and in Switzerland. Thus was founded the Société Lyonnaise Homeopathic whose success and influence was such that it soon spread with an authority so marked that it gave birth to the great Gallican Society, which met for the first time in Lyon September 1833 - 101 years ago - under his Presidency.
This first meeting, which had over 60 members, both domestic and foreign, was remarkable for the vast and profound issues that were handled with great care and great skill. The session lasted three days, and before separating, the new company, expressed the hope that a medal would be struck to perpetuate the memory of Dr. Des Guidi, the doctor whose very great talent had introduced homeopathy successfully in France.
Patients cured by Des Guidi were eager to carry out this wish, and shortly after, 300 subscribers had struck a large gold medal bearing the effigy of their benefactor and bore the legend following characteristic: "Last Sanat gratitudine memories". The reverse of the medal, the inscription reads: "The year 1830, Homeopathy was introduced in Lyon and propagated in France by Dr. Comte Sebastien Des Guidi".
This medal was given to Dr. Des Guidi and each subscriber now carried a similar bronze copy. Many medals were also distributed to learned societies, scientific authorities, and, to admirers of the new doctrine and its propagator.
So, to finish the history of this great homeopath, in addition to these honors, his merit was recognized by the State, and in 1834 he was appointed honorary inspector of the University of Lyon and in 1835, King Louis Philippe awarded him the decoration of the Knight of the Legion of Honor.
Until the end of his long life he worked for the double purpose he proposed: to relieve their patients by applying homeopathic therapeutics and spread this method to initiate all those who would ask him.
"May you, gentlemen," he wrote late in his life in a communication to the Homeopathic Society of Paris, "not scorn the words of a doctor of the happy experience of the deepest conviction homeopathy can bring to you; the words of a man whose hope is his work eased by tomorrow, in your careers when you grow palms glorious, so sweet as I have shown you."
Dr. Des Guidi died in 1863 in its 94th year.
Jean Pierre Gallavardin Pere, who had the honor and good fortune to learn homeopathy with such a teacher, told him this: "There is both a sense of amazement and admiration in the mind of this man whose intelligence was so well active, and over such a long existence, he has had three and four careers, by repeating almost every time a new one: to 32 years to 50 years to 51 years, and finally to 62 years! Had I not reason to say?
"The energy of the intellectual life was always connected to the energy of the physical life, and in this way, he also confirmed that it can be the traditional axiom: Mens sana in corpore sano. And believe it?
"In this man, whose life has been so long and laboriously filled, who dared criticize him?
"The Neapolitan accent, his warmth and the originality of his language, his gestures were as expressive as his word, the ardor of his medical faith, his love of representation, all these things were related to his nationality.
"People who formulated superficial charges against him were just childish, in that they would compare their lives with his? Which of them could offer us such an example of intellectual life?
"To these great qualities and some small defects, Dr. Des Guidi also had a deep and genuine modesty.
"His biographer Jules Forest, relates this beautiful noble thought, when he puts into its proper place his medical talent: "I have not had any real merit. This is the hand of providence that led me to and it is providence that deserves all the glory."
"Did we not right to say at the beginning, that the life of Dr. Guidi was a really novel? But a beautiful novel, full of great teaching and a noble example. And in France or Switzerland, when a patient is cured through homeopathy, and feels grateful for this therapy, is it known that in Lyon, under the leadership of Dr. Des Guidi, homeopathy took off?
Des Guidi's Obituary is in the American Homoeopathic Review, The British Journal of Homeopathy,
Des Guidi wrote Lettre aux médecins français sur l'homoeopathie (_Letter to the Physicians of France)_, Traitement mutuel du choléra asiatique moyen facile de s'en préserver et de traiter le choléra sporadique_, _Observations sur le projet de loi relatif à l'exercice de la médecine présenté à la commission de la Chambre des députés, __Comments on the draft law on the practice of medicine, __Treatment of influenza, _and he submitted cases and articles to various homeopathic publications. _
Of interest:
In 1841, Des Guidi's portrait was painted by Rene Auguste Flandrin.
Des Guidi founded a prize in homeopathy worth 300 francs for the writing of memoires.
---