Count Nikolay Vladimirovich Adlerberg 1819 - 1892
July 16, 2009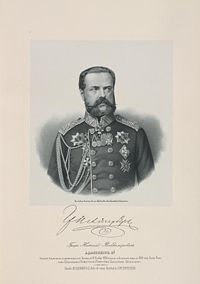 Count Nikolay Vladimirovich Adlerberg 1819
1892 Russian Councilor of State, Chamberlain, governor of Taganrog, Simferopol and Finland.
Adlerberg introduced homeopathy to Helsinki in Finland, and he placed Eduard Von Grauvogl in Charge of homeopathy at the Helsingfors Military Hospital, and to lecture on homeopathy at the University of Helsingfors.
Count Adlerberg, the Governor General in Finland, which was then a province of the Russian Empire, offered Eduard Von Grauvogl to settle in Helsingfors in order to deliver lectures on homeopathy at the university and to homeopathically treat in a local military hospital…
Homeopathic treatment in two rooms of the hospital had continued for some 7 months and was interrupted by a sudden illness of the Patron, Count Adlerberg. Eduard Von Grauvogl was personally entrusted by Tsar Alexander II with the treatment of the Count and had to leave the hospital. During the period of 7 months, 81 patients were treated. 52 recovered, 10 were passed to the allopathic unit and 14 remained receiving treatment.
Eduard Von Grauvogl explained: Homeopathic treatment (at the Helsingfors Military Hospital) had continued from January 1, to July 25, 1872, whilst my private practice became large and stretched to St. Petersburg.
The rooms intended for homeopathic treatment, were filling slowly, as especially difficult, mostly incurable, cases were chosen (to be hospitalized in these rooms). No acute cases were put in my rooms, except for those who proved to be in dangerous conditions.
This behavior seemed to me abusive; nevertheless, all my complaints and requests […] remained unanswered. Nothing resulted not only from my complaints, but also from the orders of the Count [Adlerberg], as the Chief Physician of Helsingfors, an ardent enemy of homeopathy, did all as he wished. Only in Russia is it possible that one behaves contrary to the will of Tsar Alexander II and the persons empowered by him.
Nikolay Adlerberg was born into a Swedish noble family of Adlerberg on May 19, 1819 in Saint Petersburg. His father, Vladimir Fyodorovich Adlerberg was a close friend of Tsar Nicholas I. in 1852-1870 he was President of the Russian Imperial Post Department, who introduced the first Russian post stamps…
On May 22, 1881, the Count was named member of the State Council, but was pensioned off from this post after assassination of his protector, Tsar Alexander II. Nikolay and Amalie Adlerberg moved to Germany, where they settled at Maximilian Lerchenfeld's estate in Tegernsee near Munich…
Of interest:
Amalie Adlerberg 1808 - 1888
Amalie was born as an out of wedlock child of Count Maximilian Emmanuel Lerchenfeld 1772 - 1809 and Duchess Therese of Mecklenburg Strelitz, Princess Consort of Thurn and Taxis.
Maximilian Lerchenfeld ?Junior used homeopathy to treat his horses.
---