Elizabeth Cleghorn Gaskell 1810 – 1865
July 07, 2009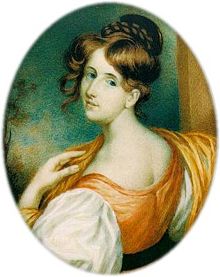 Elizabeth Cleghorn Gaskell 1810 – 1865, often referred to simply as Mrs. Gaskell, was an English novelist.
Elizabeth Gaskell was a close friend of Charlotte Bronte, Thomas Carlyle, Charles Dickens, William Howitt, Walter Savage Landor, George Henry Lewes, James Martineau, Mary Elizabeth Clarke Mohl, Bessie Rayner Parkes, John Ruskin, Harriet Beecher Stowe,
In 1853, Elizabeth Gaskell undertook some enquiries about Elizabeth (Eliza) Hetty Hall Wagstaff, the clairvoyant medium, nurse, a phrenologist, and a lay homeopathic wife of Philip Wynter Wagstaff. In her letter dated 25th June 1853 to John Malcolm Forbes Ludlow (1821-1911), Elizabeth explains that her cousin is the vicar in Leighton Buzzard where the Wagstaff's live, and that she will make enquiries about Elizabeth (Eliza) Hetty Hall Wagstaff's character on behalf of her friend (Elizabeth Cleghorn Gaskell, John Chapple, Alan Shelston (Eds.), Further Letters of Mrs. Gaskell, (Manchester University Press, 4 Mar 2004). Page 96).
Elizabeth Gaskell's publisher Smith, Elder & Co. also published Charlotte Bronte, Robert Browning, George Eliot, Thomas Hardy, Richard Jefferies, George MacDonald, Charles Reade, John Ruskin, Algernon Charles Swinburne, Alfred Lord Tennyson and George Gissing.
Gaskell was born Elizabeth Stevenson on 29 September 1810, at 93 Cheyne Walk, Chelsea, which was then on the outskirts of London. Gaskell was the eighth and last of her parents' children, the only one except the first born, John (born 1806), to survive infancy.
Her father, William Stevenson, was a Scottish Unitarian minister at Failsworth, near Manchester, but resigned his orders on conscientious grounds, moving his family to London in 1806 with intention of going to India after he had been named private secretary to the Earl of Lauderdale, who was to become Governor General of India. This position did not materialise and Stevenson was instead nominated Keeper of the Treasury Records.
Stevenson's wife, Elizabeth Holland, came from a prominent Midlands family that was well connected with other Unitarian and prominent families like the Wedgwood family, the Turners and the Darwins, and when she died three months after giving birth to Elizabeth Gaskell she left a bewildered husband who saw no other alternative for young Elizabeth but to be sent away to live with her mother's sister Hannah Lumb, in Knutsford, Cheshire.
While growing up Gaskell's future was very uncertain as she had no personal wealth, and no firm home, even though she was a permanent guest at her aunt and grandparents' house. Her father had married again to Catherine Thomson in 1814 and the couple had a male heir, William (born 1815) and a daughter, Catherine (born 1816).
Although Gaskell would sometimes spend several years without seeing her father and his new family, her older brother John would often visit her in Knutsford. John had been early destined for the Royal Navy, like his grandfathers and uncles, but he had no entry and had to go into the Merchant Navy with the East India Company's fleet. John went missing in 1827 during an expedition to India.
Much of Elizabeth's childhood was spent in Cheshire, where she lived with her aunt Hannah Lumb in Knutsford, a town she would later immortalise as Cranford. They lived in a large red brick house, Heathwaite, on Heathside (now Gaskell Avenue), which faces the large open area of Knutsford Heath.
She also spent some time in Newcastle upon Tyne (with Rev. William Turner's family) and in Edinburgh. Her stepmother was a sister of the Scottish miniature artist, William John Thomson, who painted the famous 1832 portrait of Gaskell in Manchester. Also during this period, Gaskell met and married William Gaskell, the minister at Cross Street Unitarian Chapel, who had a literary career of his own. They spent their honeymoon in North Wales, staying with Elizabeth's uncle, Samuel Holland, who lived near Porthmadog.
The Gaskells settled in Manchester, where the industrial surroundings would offer inspiration for her novels (in the industrial genre). They had several children: a stillborn daughter in 1833, followed by Marianne (1834), Margaret Emily (1837), known as Meta, Florence Elizabeth (1842), William (1844-1845), and Julia Bradford (1846). Her daughter Florence married a barrister, Charles Crompton, in 1862.
They rented a villa in Plymouth Grove in 1850, after the publication of Gaskell's first novel, and Gaskell lived in the house with her family until her death 15 years later. All of Gaskell's books except one were written at Plymouth Grove, while her husband held welfare committees and tutored the poor in his study.
The circles in which the Gaskells moved included literary greats, religious dissenters, and social reformers, including William and Mary Howitt. Visitors to Plymouth Grove included Charles Dickens, John Ruskin, Harriet Beecher Stowe and American writer Charles Eliot Norton, while conductor Charles Halle lived close by and taught the piano to one of Gaskell's four daughters. Close friend Charlotte Bronte is known to have stayed there three times, and on one occasion hid behind the drawing room curtains as she was too shy to meet Gaskell's visitors.
Gaskell died in Holybourne, Hampshire in 1865, aged 55. The house on Plymouth Grove remained in the Gaskell family until 1913.
---