Caspar Hoze 1797 - 1880
July 04, 2009

Caspar Hoze (Hotz, Hotze) 1797? - 1880? MD Leipsig was a Swiss orthodox physician who converted to homeopathy,
Caspar Hoze was a student of Samuel Hahnemann, and a colleague of Gottlieb Heinrich Georg Jahr, Benoit Jules Mure, Johann Joseph Roth, Leon Francois Adolphe Simon, Carl Steigentesch, and many others.
Hoze is listed in the Allgemeine homöopathische Zeitung in 1859 (also listed as Hotze) (also listed as Caspar Hotz).
in 1872, Hoze practiced in Brunn, Moravia alongside Fischer, Haas, Kollisch, Lury, Waldmann,
In 1820, Hoze, whose Christian name is unfortunately not known, and Carl Steigentesch from the Moravian town of Brno (today part of the Czech Republic) travelled to Paris together in order to visit their great role model (Samuel Hahnemann) and to take part in the yearly celebrations of the 10th August (anniversary of Samuel Hahnemann's doctorate).
On their journey and also during their stay in Paris they became acquainted with homeopaths from other countries, among them Gottlieb Heinrich Georg Jahr, Johann Joseph Roth, and Leon Francois Adolphe Simon, who were in Paris at the time, as well as Benoit Jules Mure, who had come from Palermo.
There were also a number of other physicians who are not known by name but who are known to have come from Montpellier, Dijon, Bordeaux and Madrid. At this point in time, three years before Samuel Hahnemann's death, homeopathy had already grown into a World movement and had become established in South and North America, in India and in most European countries…
Hoze wrote Materialien zur Geschichte der Homeopathie in 1856.
Of interest:
Johann Friedrich Konrad Freiherr von Hotze 1739 -1799, brother of Johannes Konrad Hotze 1734 - 1801, was an Austrian General of Swiss origin. He came from a reformed Richterswil family from Lake Zurich. His father was John Hotze his mother was Juditha, born Gessner.
Johann Friedrich Konrad Freiherr von Hotze was a much decorated hero and General during the Napoleonic War, where he fought with Karl Philipp Schwarzenberg, and Johann Josef Wenzel Graf Radetzky von Radetz. The the Europe wide fame of the homeopathic cure of Johann Josef Wenzel Graf Radetzky von Radetz by Christophe Hartung would have made quite an impression at this time.
Johann Friedrich Konrad Freiherr von Hotze remained unmarried all his life and attended the 1754 Carolinum in Zurich and studied at the University of Tübingen.
Johannes Konrad Hotze 1734 - 1801 MD, brother of Johann Friedrich Konrad Freiherr von Hotze 1739 -1799 (who gave up his medical studies to join the army), practiced at Richterswyl in Switzerland. Johannes Hotze was a friend of Johann Kaspar Lavater, Johannes Hozt added an 'e' to his name during his student days in Liepsig, and he suspended his medical studies for a while to join the army. Johannes Hotze was the cousin of Johann Heinrich Pestalozzi.
When Johannes Hotze lived in Richerswyl, his friends and patients, Johann Wolfgang von Goethe, the Duke of Weimar, the Prince of Dessau, Charlotte von Lengefeld (later to become Johann Christoph Friedrich von Schiller's wife), Caspar Schweizer, Babe Schulthess, would often come to stay for while in his house in the mountains.
Johannes Hotze was a friend of William Robert Spencer (who was related to the Spencers at Blenheim), and he was a friend of Johann Kaspar Lavater, Johann Georg Zimmermann, (Johann Kaspar Lavater's son John Henry Lavater entered into partnership with Johannes Hotze)
It was due to his friendship with William Robert Spencer that Hotze became the physician of *Stephanie Felicite, Countess of Genlis, *Louise Marie Adelaide Eugenie d'Orleans, Mademoiselle d'Orleans, and Hotze and in 1795, Hotze also acted as an agent to both of these women by obtaining them false passports, a servant and other documentation, which enabled them to leave Bremgarten in Switzerland to take up residence in Berlin.
Hotze was also the physician of *Elizabeth (Betsy) Wynne, the wife of *Vice Admiral Sir Thomas Francis Fremantle, so it would appear that he had access to information on both sides of the Napoleonic War.
Johann Georg Zimmermann described his friend Johannes Hotze as follows:
"At the village of Richterswyl, situated a few leagues from Zurich, and surrounded by every object the most smiling, beautiful, and romantic, that Switzerland presents, dwells a celebrated physician.
From the windows of the house, and from every part of the gardens, you behold, towards the south, at a distance of about a league, the majestic Ezelberg rear its lofty head, which is concealed in forests of deep green firs; while on its declivity hands a neat little village, with a handsome church, upon the steeple of which the sun suspends his departing rays.
In the front is the lake of Zurich, whose peaceful water is secured from the violence of tempests, and whose transparent surface reflects the beauties of its radiant banks. During the silence of the night, if you repair to the chamber windows of this enchanting mansion, or walk through its gardens, to taste the exhaling fragrance of the shrubs and flowers, while the moon rising in unclouded majesty over the summit of the mountains, reflects on the smooth surface of the water a broad beam of light, you hear, during this awful sleep of Nature, the sound of the village clocks echoing from the opposite shores; and on the Richterswyl side, the shrill proclaimation of the watchmen, blended occasionally with the barkings of the faithful house dogs.
At a distance you hear the little boats gliding gently along the stream, dividing the waters with their oars, and perceive them, as they cross the moons translucent beams, playing among the sparkiling waves.
Riches and luxury are nowhere to be seen in this happy habitation of this wise philanthropist. His charis are made of straw; his tables are worked from the wood of the country; and the plates and dishes on which he entertains his friends, are all of earthenware. Drawings, paintings, and engravings, are his sole expense.
The first hour of the morning, and the last at night, are sacred to himself; but he devotes all the intermediate hours of every day to a sick multitude, who daily attend him for advice and assistance, The benevolent exercise of his professional skill, indeed engrosses almost every moment of his life, but it constitutes its highest happiness and joy.
The inhabitants of the mountains of Switzerland, and of the vallies of the Alps, flock to his house, and endeavour in vain to find language capable of expressing to him the grateful feelings of their hearts for the favours they receive from him… of this description is the country of Switzerland, where Dr. Hotze, the ablest physician of the present age, resides; a physician and philosopher, whose variety of knowledge, profound judgement, and great experience, have raised him to an equal eminence with Tissot and Hirtzel, the dearest friend of my heart". Zimmerman On Solitude.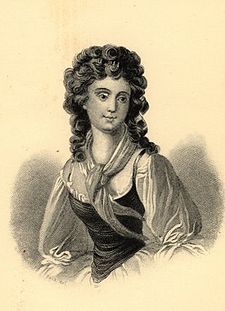 Stephanie Felicite, Countess of Genlis 1746 - 1830
Madame de Genlis (1746-1831) was exceptionally well educated in her childhood; her intelligence and musical talents were much encouraged; by the age of ten she could play several instruments.
She made a financially brillant marriage to Alexis Brulart, Comte de Genlis in 1783 at the age of sixteen. Clever, charming and very ambitious, Madame de Genlis soon managed to become the mistress of the Duc de Chartres, in spite of his recent marriage to the daughter of the Duc de Penthièvre.
Madame de Genlis wished and obtained the position of instructress for the Princesse d'Orléans, and together with her own daughters, removed them all to the Convent of the Dames de Bellechasse for their education. her educational methods were highly respected and quite advanced, and were inspired by the ideas of Madame de Maintenon and of Rousseau.
At the time of the Revolution, Madame de Genlis embraced the new ideas with enthusiasm; she also attended meetings of the Jacobins club and Cordeliers, renouncing her noble titles, and calling herself "la citoyenne Brulart".
She went to England in 1791, one year after this portrait was painted, and except for the briefest visits was forced to remain in exile. Napoleon Bonaparte used her for his secret service and after the Restorations, she wrote several books.
She died shortly after the enthronement of her former pupil, Louis Philippe I on January 1831.
Louise Marie Adelaide Eugenie d'Orleans, Mademoiselle d'Orleans 1777 - 1847
was one of the twin daughters of Louis Philippe II d'Orléans, known as Philippe Égalité during the French Revolution, and his wife, Louise Marie Adélaïde de Bourbon Penthièvre.
She was titled Mademoiselle de Chartres at birth, Mademoiselle d'Orléans at the death of her twin sister in 1782, Mademoiselle (1783-1812), Madame Adélaïde (1830). As a member of the reigning House of Bourbon, she was a princesse du sang.
During the French Revolution, she left France. It has been said she went to America for a while and married and had children with a Prussian whose last name was von Schoeppel, though this has not been proven yet.
In 1814, when her brother Louis Philippe came back to France after Napoleon Bonaparte's abdication, she returned to live in his household.
When Louis Philippe became King of the French in the reign known as the July Monarchy (1830-1848), she was known as Madame Adélaïde. All her life, she was his loyal advisor (or in 19th century parlance, his "Egeria").
Adélaïde d'Orléans died on 31 December 1847, two months before Louis Philippe's abdication on 24 February 1848. She is buried in the d'Orléans necropolis in the Chapelle Royale de Dreux.
Two months ago, M. Hoze, a famous doctor, came here whom I consulted about my health, asking him at the same time if he knew any one in Fribourg to whom he could send a letter that would be delivered to my Aunt.
M. Hoze replied that he knew nobody at Fribourg, but would endeavour to find some one, and would undertake my commission; that is why, my dear Aunt, in application I take the liberty of making today has been so long deferred… . " … It will of course be a very great trouble to me to be separated from a person (Madame de Genlis) whom I have never left since infancy, who has taught me all I know…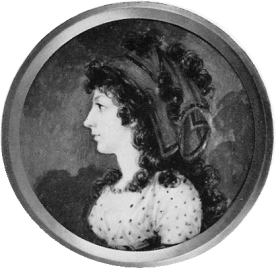 Elizabeth (Betsy) Wynne 1778 - 1857** **
Betsy is famed for her  diaries prepared for publication by Anne Fremantle in 1930s. The diaries begin on 17 August 1789 and end in 1820. Her sisters Eugenia and Harriet also kept diaries.
Betsy and Eugenia began keeping their diaries on the same day in 1789 in exercise books; Betsy was 10 and Eugenia 9. With the growing threat from Napoleon Bonaparte's army, they fled Florence on 23 June 1796 to Leghorn, seeking the protection of the English fleet. The Wynnes were evacuated in The Inconstant, whose captain was Thomas Fremantle.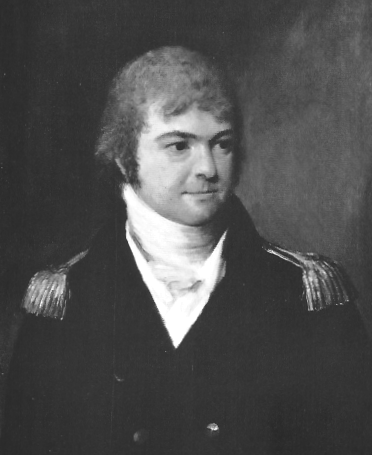 Vice Admiral Sir Thomas Francis Fremantle 1765-1819
Third son of John Fremantle, of Aston Abbots, Buckinghamshire and brother of Sir William Fremantle. See family tree. He was a consummate navy officer, with only a brief sojourn into politics…
Horatio Nelson was wounded at Tenerife on 24 July 1797 and Fremantle a day later. They both returned to England on the Seahorse under the care of Fremantle's wife of six months, Elizabeth (Betsy) Wynne.
---