Goran Wahlenberg 1780 - 1851
July 02, 2009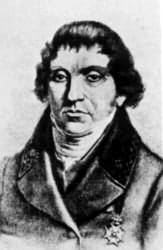 Georg (Goran) Wahlenberg 1780 – 1851 was a Swedish naturalist, Professor of Medicine and Botany at Uppsala University, he studied homeopathy and becoming convinced of its truth, became the first person to introduce homeopathy into Sweden.
Wahlenberg was a staunch advocate of Samuel Hahnemann, and he lectured extensively on the Organon, and he undertook provings of certain remedies. Wahlenberg was a contributor to the Hahnemann Jubilee of 1829.
Wahlenberg was a friend of Charles Lyell, John Ernst Stapf,
Wahlenberg was a teacher of Peter Jacob Liedbeck,
The honor of having introduced homeopathy in Sweden is accorded to Dr. George Wahlenberg, a professor in the University of Upsala, whose duties required him to lecture on the subjects of botany and pharmacia and organica, and who in order to qualify himself for his work felt bound to study the few homoeopathic books then extant; and having studied them, he became convinced of their rational truth, although he himself never practiced the new system.
This honor fell to Peter Jacob Liedbeck and Souden. whose first proselyte was Sonderberg, the eminent botanist and ornithologist, who had settled in the little ancient town of Sigtuna.
Peter Jacob Liedbeck says that the honor of having introduced Homoeopathy into Sweden belongs by right to my venerable teacher, Dr. George Wahlenberg, Professor Linnaeus  at the University of Upsala, having to lecture on botany and pharmacia organica in 1826 he felt himself bound to study even works on Homeopathy.
He never practiced Homeopathy himself, but having obtained some medicines from John Ernst Stapf, in Germany, he soon became convinced of the truth of the fundamental doctrines of Homeopathy. It was at his lectures that I first heard of the system, and of Samuel Hahnemann's Organon and Materia Medica Pura.
I then resolved to put the new doctrine to a practical test. My friend and fellow student, Dr. Souden, having come to the same resolution, we were the first Swedish physicians who practically embraced Homeopathy. We soon made a convert of Dr. Sonderberg, an eminent botanist and ornithologist, who had settled in the ancient little town, Sigtuna. Unfortunately his useful and promising career was cut short in 1835 by typhus fever.
Of the few physicians who had at that time embraced the homeopathic system, I am the only one still in practice. Professor Wahlenberg, M. D., our teacher, died in 1850, of marasmus senilis, etc.
Wahlenberg was a contributor to the Hahnemann Jubilee of 1829. His name appears in the Zeitung list of 1829, and in Frederick Hervey Foster Quin's list of 1834.
The Homeopathic Times of June 28, 1851, notes as follows: "By the death of Professor G. Wahlenberg, M. D., Sweden has lost one of its great men, and the University of Upsala one of its members, who acquired for it fresh laurels in Europe.
"For many years he had adopted the system of Samuel Hahnemann. Though he neither practised it himself nor was he successful in making many converts, yet he strenuously maintained the principles of Homeopathy in his lectures on Materia Medica.
"He was the author of many eminent works, which proved him no unworthy occupant of the chair of Linnaeus, Flora Lapponica, Berlin 1812, De Climatae et Vegetatione Helvetie Septentrionalis, Zurich 1813, Flora Carpatorum, Gottingen 1814, Flora Upsaliensis, Upsala 1820, Flora Svoecica, Upsala 1824-26, etc.
He died March 22, 1851, at the age of 70, and is one of the many instances of scientific celebrities who at an advanced age have embraced the truth of Samuel Hahnemann's doctrines. (*World's Hom. Conv., vol. 2, page 342. London Hom. Times, vol. 2, p,

Kleinert, 166*)
Wahlenberg matriculated at Uppsala University in 1792, received his doctorate in Medicine in 1806, was appointed botanices demonstrator in 1814, and Professor of Medicine and Botany in 1829, succeeding Carl Peter Thunberg.
He was the last holder of the undivided chair that in the previous century had been held by Linnaeus. After his death in 1851, the chair was divided into more delimited professorships, and botany became the main duty of the borgströmian professorship, at the time held by Elias Fries.
Wahlenberg made his main work in the field of plant geography and published, among other things the Flora lapponica (1812) and other works on the plant world of northernmost Sweden. He was among the first major scholars to contribute to the plant taxonomy and geography of the High Tatras in the Habsburg Monarchy where he carried out research in 1813 (he also determined mountain elevations, but some were later disproved by Ludwig Greiner).
Two of the highest mountain lakes in the Tatras, now in Slovakia, are named Vyšné Wahlenbergovo pleso (elevation 2,157 m; 7,077 ft.) and Nižné Wahlenbergovo pleso (2,053 m; 6,736 ft.) in his memory.
The harebell family of Wahlenbergia was named after him. The standard botanical author abbreviation Wahlenb. is applied to species he described. He died in Uppsala.
---