Edmond Mersch 1865 - 1956
July 02, 2009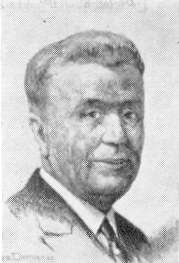 Edmond Mersch 1865 - 1956 was a Belgian orthodox physician who converted to homeopathy to become President of the Circle Homeopathic Medical Flanders (1930-1938), and the founder of the Royal Journal Belge d' Homeopathic.
Merch was a teacher of Edouard Schepens,
In 1896, Mersch attended the London Homeopathic Congress.
In 1911, one of Mersch's articles was read at the Eighth Quinquennial Homeopathic International Congress.
In 1933, members celebrated at the Parc de Tervueren, the sixtieth anniversary of the medical practice of Boniface Schmitz, under the chairmanship of Dr. Mersch.
In 1835, Gottlieb Heinrich Georg Jahr founded the Belgian Homeopathic Society, with ten homeopaths representing seven cities were represented. This group was soon joined by:
Loosvelt of Tielt, Bogaerts of Thielrode, De Cooman of Oosterzele, Jean Francois Dugniolle, Elewaut of Haasdonck, Van den Stappele of Thermonde, Soenens and Victor Wullaert of Courtrai, Amand of Gavere, Dobbelaere of Bruges, Martiny, Gaillaird, Jules Gaudy, Baron Louis Joseph G Seutin, Huyvenaer, De Mulder, Chevalier, Fauconnier, Haemelrath, Mersch and Nyssens of Brussels, Leonard Lambreght, Boniface Schmitz and Van den Heuvel of Antwerp, Bernard and Criquelion of Mons, Samuel Van den Berghe of Ghent; the veterinary physicians Mans of Brussels, pharmacists E Seutin and Van Berkekaere of Brussels and Dwelshauverses of Ghent.
Merch published extensively in his Royal Journal Belge d' Homeopathic, and his cases and articles were picked up by other homeopathic publications around the World._ _
---