Cramoisy 1815 - 1882
June 27, 2009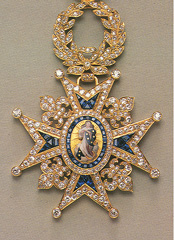 Cramoisy 1815? - 1882? MD was a French orthodox physician who converted to homeopathy to become a Physician at the Hopital Hahnemann in Paris, and the Archivist of the Societe Medicale homœopathique de France.
In 1869, Cramoisy was decorated as a Chevalier of the Order of Charles III (T P Wilson (Ed.), The Ohio medical and surgical reporter. Volume I-XI. [1867]-Nov. 1877, (Hamilton Fisk Biggar, 1869). Page 28).
Cramoisy was a colleague of Bazin, Paul Francois Curie, and Chanet, A Cretin, Fredault, Gounard, Pierre Jousset, Love, Reuben Ludlam, L Molin, Charles Ozanam, Perry, Jean Paul Tessier,
Cramoisy practiced at 16 Rue du Faubourg du Temple.
Cramoisy attended the International Homeopathic Congress in Paris in 1889.
The distinguished Doctors Antoine Hippolyte Desterne, Boyer, Leon Francois Adolphe Simon, and Cramoisy, have been decorated with a cross, as Chevaliers of the Order of Charles III.
Cramoisy submitted cases and articles to various homeopathic publications.
---