Constance Marie Theis Princess de Salm Dyck 1767 - 1845
June 26, 2009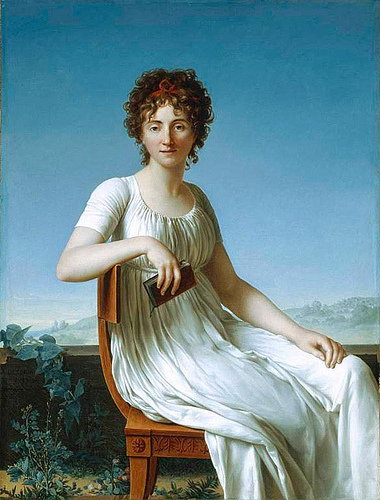 Constance Marie Theis Princess de Salm Dyck 1767  - 1845 was a French poet and femme de lettres francaise, who over forty years, produced an important body of literature.
Constance was a feminist, and a friend of Alexandre Dumas, Melanie Hahnemann, LaFayette, Marie Henri Beyle, Stendhal,
Constance's husband Joseph de Salm Dyck Reifferscheidt was a noted botanist and a friend of Alexander von Humboldt,
Born into a family from Picardie, and a daughter of Alexandre Marie Theis 1738 - 1796, Judge Master of Forestry in the city and county of Nantes.
Constance Theis received an excellent education and became known from the age of eighteen years for her poems, published in the Almanach des Muses, including a romance entitled Bouton de Rose, which had a lasting success. Constance continued to write poetry until her death.
Her poetry was put into song, by Sapho (in 1794), with music by Martini, and proved a great success. She was dubbed by Marie Joseph Chenier, "the Muse of Reason", and also nicknamed "the Boileau women."
Constance was the first woman admitted to the Lycee, she read several eulogies in prose, including Sedaine (1797), of Gavini (1802) and Lalande (1809). She published poems, among which we notice the Epistles, including Letter to Women (in 1797), the six Epistles to Sophie (in 1801 ) and Letter to the spirit and the blindness of the Century (in 1828).
A novel noticed and praised by Marie Henri Beyle, Stendhal as a "jewel" was entitled Twenty four hours in the life of a sensitive woman (1824). In 1789, she married a rich surgeon called Pipelet of Leury, and settled in Paris. She left the capital under the Terror in 1793, for about a year, and she began to study mathematics.
In 1800, Marie Henri Beyle, Stendhal mentioned in the Life of Henri Brulard, having been led by his cousin Pierre Daru to a poetry reading, where Constance Pipelet was the chairman: "It was seven and a half hours of evening and the room was very enlightened. What a difference from Ariosto and Voltaire!
"This was bourgeois and flat (which I already had good school!), but I admired with envy Constance Pipelet, who read a piece of verse. I told him, since she was the wife of a poor devil of hernia surgeon, and I had spoken with Countess Beugnot when she was a Princess of Salm Dyck, I think. I remember her wedding, preceded by a two months stay with the Prince of Salm with his lover…"
In 1802, Constance divorced Pipelet and the following year, Constance married Joseph de Salm Dyck Reifferscheidt, Count of Salm Dyck and the Holy Roman Empire until the Peace of Luneville, and Prince Salm by Friedrich Wilhelm III, the King of Prussia in 1816.
The Earl and Countess of Salm Dyck settled in 1809 at the Hotel de Ségur, 97 rue du Bac. They were decorating the apartment on the first floor (lobby, lounge, library) in the Empire style by architect Antoine Laurent Vaudoyer and the painter Jean Jacques Lagrenee.
Until 1824, the Countess held a literary salon there. Constance was also linked with her cousin, Paul Louis Courier… Constance received Alexandre Dumas, LaFayette, Francois Joseph Talma, Antoine Laurent Jussieu, Alexander von Humboldt, artists such as Anne Louis Girodet, Andre Gretry, Jean Antoine Houdon, Pajou Augustin, Pierre Narcisse Guerin, Carle Vernet, her salon was open to ideologues like the Liberals Dekad, the philosophical, the Faubourg Saint Germain, the nobility of the Empire, and many Freemasons of the Lodge of Nine Sisters. Her portrait is now at the Art Institute of Chicago. Her grave is at the cemetery of Pere Lachaise in Paris (26th Division Road Monvoisin).
---