Charlotte, Countess Canning 1817 - 1861
June 26, 2009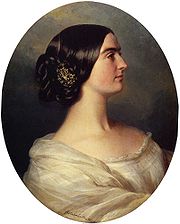 Charlotte, Countess Canning 1817 - 1861 was the wife of Charles Canning, 1st Earl Canning.
Countess Canning was a patient of Paul Francois Curie, 
Charlotte, Countess Canning was born Charlotte Stuart in Paris, a daughter of the British ambassador, Charles Stuart (later Baron Stuart de Rothesay) and was a Lady of the Bedchamber to Queen Victoria for thirteen years.
On 5 September 1835, she married Hon. Charles Canning a son of the ex-British Prime Minister, George Canning and the 1st Viscountess Canning. In 1837, Charles succeeded to his mother's title as Viscount Canning, whereupon Charlotte became Viscountess Canning.
Lady Canning arrived in India in 1856 as a flourishing, healthy woman when her husband was appointed Governor General of India. She went with him to Calcutta and described her situation as being 'isolated to a degree I could never have imagined'.
She kept a journal and wrote frequently to Queen Victoria, at one point describing 'strange and terrible outbreaks' of violence which were the start of the 'Indian Mutiny'. In 1859, Charles was raised in the peerage as Earl Canning and Charlotte became Countess Canning.
The Countess began to look emaciated in 1861 and she died of malaria in her husband's arms and was buried in Barrackpore, West Bengal.
Lord Canning did not long outlive her; his letter to Queen Victoria describing her death crossed with the Queen's to him, announcing that Prince Albert had died. Lady Canning's name lives on in Bengal where a type of sweet called ledikeni is named after her.
---