Gertrude Stein 1874 – 1946
June 25, 2009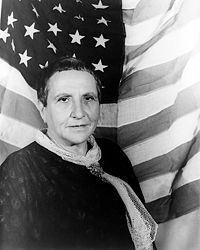 Gertrude Stein 1874 – 1946 was an American writer who spent most of her life in France, and who became a catalyst in the development of modern art and literature.
Gertrude Stein was a staunch advocate of homeopathy, through her sister in law Sarah, and their friendship with homeopath Adele Solomons Jaffa (Anon, Four Americans in Paris: the collections of Gertrude Stein and her family. [Exhibition held Dec. 1970], (Museum of Modern art, 1970 ). Page 14. See also Brenda Wineapple, Sister Brother: Gertrude and Leo Stein, (U of Nebraska Press, 1 Mar 2008). Page 129. See also Harriet Rochlin, Fred Rochlin, Pioneer Jews: A New Life in the Far West, (Houghton Mifflin Harcourt, 2000). Page 104). Gertrude Stein was interested in homeopathy and discussed it with great interest.
Gertrude Stein was a friend of Guillaume Apollinaire, Malcolm Cowley, Ford Madox Ford, Robert Graves, William James, Henri Matisse, Pablo Picasso, Eric Alfred Leslie Satie, Samuel L Steward,
From http://en.wikipedia.org/wiki/Gertrude_Stein Stein was of a gregarious nature, and had a wealth of modern friends and modern paintings, that attracted many to her Paris salon. Her personality also allowed her to transform her social outlets, by focusing on new friendships, members of the youthful generation of the time.
For example, Stein was friends with "up and coming" artists Henri Matisse and Pablo Picasso in the early 1900s, writers Thornton Wilder and Ernest Hemingway in the 20s, and with the American GI's in the 40s.
Each period marked Stein's connections with young, and in many cases, brilliantly talented and artistic people at the center of contemporary developments and events. Her writing reflects, or in the case of The Autobiography, reflects on each decade.
Gertrude Stein, the youngest of a family of five children, was born in 1874 in Allegheny, Pennsylvania, near Pittsburgh, to well-educated German Jewish immigrant parents. Her father, Daniel Stein, was an executive with a railroad, whose prudent investments in streetcar lines and real estate had made the family wealthy.
When Gertrude was three years old, the Steins moved for business reasons first to Vienna and then to Paris. She returned to America with her family in 1878, settling in Oakland, California, where she attended First Hebrew Congregation of Oakland's Sabbath school.
In 1888, Amelia Stein (Gertrude's mother) died, and in 1891 Daniel Stein (Gertrude's father) died. Michael Stein (her eldest brother) took over the family business holdings, and made wise business decisions and arranged the affairs of his siblings. Michael arranged for Gertrude, and her sister Bertha, to live with their mother's family in Baltimore after the deaths of their parents.
In 1892 she lived with her uncle David Bachrach. It was in Baltimore that Gertrude met Claribel Cone and Etta Cone who held Saturday evening salons which Gertrude would later emulate in Paris, who shared an appreciation for art and conversation about it, and who modeled a domestic division of labor that Gertrude was later to replicate in her relationship with Alice B. Toklas.
Gertrude attended Radcliffe College from 1893-1897, and studied under the psychologist William James. Under William James' supervision, Stein and another student named Leon Solomons (his sister Adele Jaffa was a homeopath) conducted experiments on Normal Motor Automatism, a phenomenon hypothesized to occur in people when their attention is split between two simultaneous intelligent activities, like writing and speaking.
These experiments bore examples of writing that appeared to represent "stream of consciousness," a psychological theory often attributed to William James, which became the term used to describe the style of modernist authors like Virginia Woolf and James Joyce.
In 1934, behavioral psychologist, Burrhus Frederic Skinner in fact interpreted Stein's notoriously difficult poem, Tender Buttons, as an example of the "normal motor automatism" Stein had written about in the experiment at Radcliffe.
According to a letter she wrote in the 1930s, however, Stein had never fully accepted the theory of automatic writing, explaining: "there can be automatic movements, but not automatic writing. Writing for the normal person is too complicated an activity to be indulged in automatically."
At Radcliffe, she began a lifelong friendship with Mabel Foote Weeks, whose correspondence places much of the progression of Gertrude's life.
In 1897, Gertrude spent the summer in Woods Hole, Massachusetts studying embryology at the Marine Biological Laboratory, followed by two years at Johns Hopkins Medical School. In 1901, she left Johns Hopkins without obtaining a degree.
Much of Gertrude Stein's fame derives from a private modern art gallery she assembled, from 1904 to 1913, with her brother Leo Stein. The collection quickly commanded a worldwide reputation; the salon, and the social circle that developed around it, provided the inspiration for The Autobiography of Alice B Toklas.
Leo Stein's acquaintances and study of modern art provided the seed for the famous Stein art collections. He began with Bernard Berenson who hosted Gertrude and Leo in his English country house in 1902, and who suggested Paul Cezanne and Ambroise Vollard's art gallery.
The joint collection of Gertrude and Leo Stein began in late 1904, when Michael Stein announced that their trust account had accumulated a balance of 8,000 francs, a windfall. They spent this windfall at Ambroise Vollard's Gallery, buying Paul Gauguin's Sunflowers and Three Tahitians, Paul Cezanne's Bathers, and two paintings by Pierre Auguste Renoir.
The art collection grew and the walls at 27 Rue de Fleurus were continuously rearranged to make way for new acquisitions. In "the first half of 1905" the Steins acquired Paul Cezanne's Portrait of Mme Cézanne and Ferdinand Victor Eugene Delacroix's Perseus and Andromeda.
Shortly after the opening of the Paris Autumn Salon of 1905, the Steins acquired Henri Matisse's Woman with the Hat and Pablo Picasso's Young Girl with Basket of Flowers.
By early 1906, Leo and Gertrude Stein's studio was filled with paintings by Henri Manguin, Pierre Bonnard, Pablo Picasso, Paul Cezanne, Pierre Auguste Renoir, Honore Daumier, Henri Matisse, and Henri de Toulouse Lautrec. Their collection was reflective of two famous art exhibitions that took place during their residence together in Paris, and to which they contributed, either by lending their art, or by patronizing the featured artists.
Collecting was a shared interest in Gertrude and Leo's inner circle; their elder brother, Michael, and sister in law Sarah (Sally) acquired a large number of Henri Matisse paintings; Gertrude's friends from Baltimore, Claribel and Etta Cone, collected in a similar vein, eventually donating their art collection, virtually intact, to the Baltimore Museum of Art.
While numerous artists circulated into the Stein salon, many of these artists were not represented among the paintings on the wall at 27 Rue de Fleurus. Where Pierre Auguste Renoir, Paul Cezanne, Henri Matisse, and Pablo Picasso's works dominated Leo and Gertrude's collection, Sarah Stein's collection focused on Henri Matisse.
Contemporaries of Leo and Gertrude, Henri Matisse and Pablo Picasso became part of their social circle, and were a part of the early Saturday evenings at 27 Rue de Fleurus. Gertrude attributed the beginnings of the Saturday evening salons to Henri Matisse…
Among the Pablo Picasso circle who frequented the Saturday evenings were: Fernande Olivier (Pablo Picasso's mistress), Georges Braque (artist), Andre Derain (artist), Max Jacob (poet), Guillaume Apollinaire (poet), Marie Laurencin (Guillaume Apollinaire's mistress and an artist in her own right), Henri Rousseau (painter).
A permanent familial break, and a separation of the art collection, was finalized in April 1914, when Leo moved to Settignano, Italy, near Florence…
After Gertrude's and Leo's households separated in 1914, she continued to collect examples of Pablo Picasso's art which had turned to Cubism. At her death, Gertrude's remaining collection focused on the artwork of Pablo Picasso and Juan Gris, having sold most of her other pictures. In 1903, Gertrude Stein moved to Paris during the height of artistic creativity gathering in Montparnasse. From 1903 to 1914 she lived in Paris with her brother Leo, an art critic. Gertrude and Leo compiled one of the earliest collections of modern art, owning early works by Pablo Picasso (who became a friend and painted her portrait, as well as a portrait of her nephew Allan Stein), Henri Matisse, Andre Derain, Georges Braque, Juan Gris, and other young painters.
Before World War I, their salon at 27 Rue de Fleurus attracted these and other artists and members of the avant garde, including the poet, dramatist, critic, journalist Guillaume Apollinaire.
By April, 1903, Leo rented quarters at 27, Rue de Fleurus, Paris, and that fall Gertrude joined him there. During this period Gertrude became friendly with Henri Matisse and with Pablo Picasso…
Gertrude met Mildred Aldrich about 1904, beginning a friendship that lasted to Mildred Aldrich's death in

Mildred Aldrich introduced Gertrude to art patronness Mabel Dodge Luhan in 1911, and to the art critic Henry McBride in 1913…
Stein met her lifelong partner, Alice B Toklas, on September 8, 1907 on Alice B Toklas's first day in Paris, at Sarah and Michael Stein's apartment.
Shortly thereafter, Gertrude introduced Alice B Toklas to Pablo Picasso at his studio, where he was at work on Les Demoiselles d'Avignon, a painting that "marked the beginning of the end of Leo's support for Pablo Picasso".
In 1908, they summered in Fiesole, Italy, Alice B Toklas staying with Harriet Lane Levy, her companion on her trip from the United States, and her housemate until Alice B Toklas moved in with Gertrude and Leo in 1910. That summer, Gertrude stayed with Michael and Sarah Stein, their son Allan, and Leo in a nearby villa. Gertrude and Alice B Toklas's summer of 1908 is memorialized in images of the two of them in Venice, at the piazza in front of Saint Mark's.
Alice B Toklas arrived in 1907 with Harriet Lane Levy, with Alice B Toklas maintaining living arrangements with Harriet until Alice B Toklas moved to 27 Rue de Fleurus in 1910. In a portrait written at the time, Gertrude humorously discussed the complex efforts, involving much letter writing and Victorian niceties, to extricate Harriet Lane Levy from Alice B Toklas's living arrangements.
In the early summer of 1914, Gertrude bought three paintings by Juan Gris: Roses, Glass and Bottle, and Book and Glasses. Shortly after she purchased them from Daniel Henry Kahnweiler's gallery, the war broke out, Daniel Henry Kahnweiler's stock was confiscated and he was not allowed to return to Paris. Juan Gris, who before the war had entered a binding contract with Daniel Henry Kahnweiler for his output, was left without income.
Gertrude attempted to enter an ancillary arrangement in which she would forward Juan Gris living expenses in exchange for future pictures. Gertrude and Alice B Toklas had plans to visit England to sign a contract for the publication of Three Lives, to spend a few weeks, and journey on to Spain. They left Paris on July 6, 1914 and returned on October 17.
When Britain declared war on Germany in World War I, Gertrude and Alice B Toklas were visiting Alfred North Whitehead in England. After a three week trip to England that stretched into three months with the onset of the War, they returned to France, where they spent the first winter of the war.
On money acquired from the sale of Gertrude's last Henri Matisse (Woman with the Hat) to her brother Michael, Gertrude and Alice B Toklas vacationed in Spain from May 1915, through the spring of 1916. During their interlude in Majorca, Spain, Gertrude continued her correspondence with Mildred Aldrich who kept her apprised of the War's progression, and eventually inspired Gertrude and Alice B Toklas to return to France to join the war effort.
Alice B Toklas and Gertrude returned to Paris in June 1916 and acquired a Ford with the help of connections in the United States; Gertrude learned to drive it with the help of her friend William Edwards Cook. Gertrude and Alice B Toklas then volunteered to drive supplies to French hospitals, in the Ford they named Auntie, "after Gertrude's aunt Pauline, 'who always behaved admirably in emergencies and behaved fairly well most times if she was flattered".
In the 1920s, her salon at 27 Rue de Fleurus, with walls covered by avant-garde paintings, attracted many of the great writers of the time, including Ernest Hemingway, Ezra Pound, Thornton Wilder, and Sherwood Anderson.
While she has been credited with coining the term "Lost Generation" for some of these expatriate American writers, at least three versions of the story that led to the phrase are on record, two by Ernest Hemingway and one by Gertrude.
During the 20s, she became friends with writer Mina Loy, and the two would remain lifelong friends. Extremely charming, eloquent, and cheerful, she had a large circle of friends and tirelessly promoted herself. Her judgments in literature and art were highly influential. She was Ernest Hemingway's mentor, and upon the birth of his son he asked her to be the godmother of his child.
In the summer of 1931, Gertrude advised the young composer and writer Paul Bowles to go to Tangier, where she and Alice B Toklas had vacationed. In the 1930s, Gertrude and Alice B Toklas became famous with the 1933 mass market publication of The Autobiography of Alice B Toklas__. She and Alice B Toklas took an extended lecture tour in the United States during this decade. They also spent many summers in Bilignin, France, and doted on a famous poodle named "Basket" whose successor, "Basket II", comforted Alice B Toklas in the years after Gertrude's death.
Prior to World War II she made public her opinion that Adolf Hitler should be awarded the Nobel Peace Prize. "I say that Adolf Hitler ought to have the peace prize, because he is removing all the elements of contest and of struggle from Germany. By driving out the Jews and the democratic and Left element, he is driving out everything that conduces to activity. That means peace … By suppressing Jews … he was ending struggle in Germany".
Stein was later to comment on Adolf Hitler, Mussolini, and Roosevelt: "There is too much fathering going on just now and there is no doubt about it fathers are depressing".
With the outbreak of World War II, Gertrude and Alice B Toklas moved to a country home that they had rented for many years previously in Bilignin, Ain, in the Rhône Alpes region. Referred to only as "Americans" by their neighbors, Gertrude and Alice B Toklas, who were both Jewish, escaped persecution probably because of their friendship to Bernard Fay who was a collaborator with the Vichy regime and had connections to the Gestapo. When Bernard Fay was sentenced to hard labor for life after the war, Gertrude and Alice B Toklas campaigned for his release. Several years later, Alice B Toklas would contribute money to Bernard Fay's escape from prison.
After the war, Gertrude's status in Paris grew when she was visited by many young American soldiers.
The preface of the exhibition for Riba Rovira in Paris, written in 1945, "is one of Gertrude Stein's last texts" on its vision of the painting art, approximately one year before its death. She expresses her sights on Pablo Picasso, Cezanne, Riba Rovira, Henri Matisse, Juan Gris just before her death. So we have her last view on "the Painting School of Paris" through Riba Rovira, a familiar artist of her "artists salon" at "rue de Fleurus" and she also possessed pictures among which one at least would have appeared on the wall of its lounge.
Gertrude Stein died at the age of 72 from stomach cancer in Neuilly sur Seine on July 29, 1946, and was interred in Paris in the Pere Lachaise cemetery.
In one account by Alice B Toklas, when Gertrude was being wheeled into the operating room for surgery on her stomach, she asked Alice B Toklas, "What is the answer?" When Alice B Toklas did not answer, Stein said, "In that case, what is the question?"
Stein named writer and photographer Carl Van Vechten as her literary executor, and he helped to usher into print works of hers which remained unpublished at the time of her death. A monument to Stein stands on the Upper Terrace of Bryant Park, New York.
---