John Pakenham Stilwell 1832 - 1921
June 20, 2009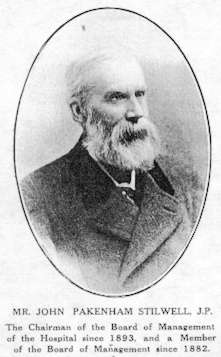 John Pakenham Stilwell 1832 - 1921 JP was a British Banker and Navy Agent, was the Chairman of the Board of Management of the London Homeopathic Hospital in 1893, and a member of the Board of Management of the hospital since 1882, and a patron of the new Henry Tyler wing of the London Homeopathic Hospital in 1909.
Stilwell had inherited the bank Stilwell & Sons ([http://heritagearchives.rbs.com/wiki/Stilwell_&*Sons,_London,_1774-1923\](http://heritagearchives.rbs.com/wiki/Stilwell*&_Sons,_London,_1774-1923)) from his father Thomas Stilwell, and he had been a patron of homeopathy since 1890,
John Pakenham Stilwell lived at Hilfield, Yateley, Hampshire.
After John George Edward Henry Douglas Sutherland Campbell 9th Duke of Argyll had declared the building open, Mr. John Pakenham Stilwell, Chairman of the Board of Management, presented an address, which stated that the Hospital, opened sixty years previously, had become, on a sound financial basis, capable of extended and widespread work among the poor.
The secretary then announced the amount of the Purses presented to the Mayoress of Holborn, which with the donations specially contributed towards the furnishing brought up the Princess's List to a total of £1,090 8s.
Eleven centuries ago, an industrious and conscientious historian, desiring to give a record of the establishment of his forefathers in this island, could find no fuller or better account than this:
"About the year of Grace 445-6AD, the British inhabitants of England, deserted by their Roman masters, who had enervated while they protected them, and exposed to the ravages of Picts and Scots from the extreme and barbarous portions of the island, called in the assistance of heathen Saxons from the continent of Europe.
The strangers faithfully performed their task, and chastised the Northern invaders; then, in scorn of the weakness of their employers, subjected them in turn to the yoke, and after various vicissitudes of fortune, established their own power upon the ruins of Roman and British civilization." The Saxons in England by John Mitchell Kembel. London: Bernard Quaritch, 15 Piccadilly. 1876. Vol. 1, pp. 1-2.
They in turn succumbed to the Norman invader, William the Conqueror, who parcelled out much of the land to his foreign followers, yet "actual occupiers of the soil largely retained possession." … "A crowd of smaller Thegns and of well to do churls seem to have been left undisturbed." The History of the Norman Conquest of England, ect., by Edward A. Freeman. Oxford: at the Claredon Press. MDCCC.LXXI. Vol IV, p. 25.
From an admixture of such blood the earliest Stillwells sprung. They first appeared in the quiet vale of Meriden about thirty miles South of London, in the County of Surrey, England, in the early part of the 14th century.
This tract was fertile, well wooded and watered by a stream arising at Nag's Well, in Collect Moor (Colletmoor), and was traversed by the Roman road known as Stane Street, and later as the King's High Way, contiguous to which were towns of varying size. In this general locality the earliest Stillwells lived.
Most of them probably farmed; some no doubt became artisans, but all worked. Political feuds, wars and religious friction mingled with the lesser excitement of market day gatherings and festivals, alone broke the monotony of a stupid existence. Education and intelligence as we now understand them, were at low ebb.
How the family came to be possessed of the properties owned by it in former years, whether by inheritance, purchase or otherwise, is involved in the mists of antiquity, but certain it is, there were, in very early times, considerable estates presided over and belonging to persons of our name, in the County of Surrey, England.
Their holdings lay first in Farnham and in Witley, adjacent to Thursley, into which and over towards Dorking they later extended. That portion lying in Witley Parish was more particularly known as High Stillwells.
This name had its origin from the springs, wells of water, which abounded in this locality and were peculiarly pure and never froze; some were bubbling and others still; some were high on the hill sides and others were in the low places. First used to describe a locality, it was soon applied, as a surname, to the family who was then in occupancy. This occurred as early as 1324… (the name John Pakenham Stilwell goes back to at least 1621)…
John Pakenham Stilwell came to live in Yateley in the early 1870s when his wife, formerly Georgina Stevens, inherited Hillfield (later Yateley Place) which stood on the land enclosed by Cricket Hill Lane, Stevens Hill and Potley Hill Lane - now a residential estate - and Fiske Court.
For many years the Stilwells were the most prominent family in Yateley. John Stilwell was very conscious of the responsibilities of his wealth and class, and in spite of commuting daily by open carriage to Farnborough and then by train to work at his bank in London, he was deeply involved in church and village affairs, as his children were after him…
The Estate Journals were written jointly by John and Georgina while travelling on the Continent. Their energy is impressive. Why do we so often suppose Victorian women to have been fragile and delicate?
On a five week trip to Italy in 1877, which began with John weak from a long illness and during which Georgina endured agonies of toothache, there is scarcely a day, except when travelling, which was not filled with sight seeing.
They visited half the cities in northern Italy as well as stopping in France and in Switzerland, where they were in fact hampered and depressed by a cold wet May. Georgina sometimes admits being dreadfully tired, and no wonder, especially when she was probably confined in a dress with a tight bodice, long sleeves, high neck and gloves in the Italian sun.
But mostly she writes merrily and not just of the works of art; she must have been an amusing travelling companion.
At the end of each day I imagine it was she who pasted in the photographs of cathedrals, street scenes and galleries, though they took turns with the writing. Today, opening the thick leather bound exercise book with its fading pages of sloping script, one feels close to the writers as they sat down each evening, dipping a sometimes cross nibbed pen into the hotel inkwell.
John Pakenham Stilwell Coat of Arms.
Of interest: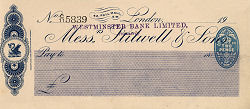 Stilwell & Sons was solely owned by John Pakenham Stilwell by 1884. Stilwell & Sons was taken over by the Royal Bank of Scotland in 1924.
Stilwell & Sons Company or Partnership consisted of John Pakenham Stilwell, Geoffrey Holt Stilwell, John Bernard Lethbridge Stilwell, residence Hilfield, Yateley, Hants, The Pines, Windlesham, Surrey,  33, Gordon Square, London, Bankers and Navy Agents at 42 Pall Mall London and at 21 Great George Street, Westminster.
---