Marie, Comtesse d'Agoult 1805 - 1876
June 14, 2009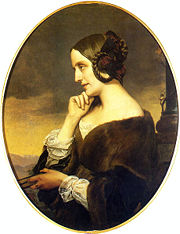 Marie Catherine Sophie de Flavigny, Vicomtesse de Flavigny 1805 - 1876 was a French author, known also by her married name and title, Marie, Comtesse d'Agoult, and by her pen name, Daniel Stern.
Marie d'Agoult was a patient of homeopath David Ferdinand Koreff who also treated her mother.
Marie d'Agoult was keen supporter of homeopathy and she was a close friend of Honore de Balzac, Frederic Chopin, Theophile Gautier, Emile de Girardin, Victor Hugo, George Henry Lewes, Franz Liszt, Charles James Mathews, Lola Montez, Alfred de Musset, and George Sand,
Marie d'Agoult's daughter Cosima was married to Wilhelm Richard Wagner, and her son Olivier Emile Ollivier was a Cabinet Minister under Napoleon III.
Marie d'Agoult was born in Frankfurt am Main, Germany, the daughter of Alexander Victor Francois de Flavigny (1770-1819), a footloose émigré French aristocrat, and his wife Maria Elisabeth Bethmann (1772-1847), a German banker's daughter.
The young Marie spent her early years in Germany and completed her education in a French convent after the Bourbon Restoration. She entered into an early marriage of convenience with Charles Louis Constant d'Agoult, Comte d'Agoult (1790-1875) on May 16, 1827, thereby becoming the Comtesse d'Agoult. They had two daughters, Louise (1828-1834) and Claire (1830-1912). They were divorced on August 19, 1835.
From 1835 to 1839 she lived with virtuoso pianist and composer Franz Liszt, who was five years younger, and was a rising concert star.
D'Agoult had three children with Franz Liszt, but they did not marry, maintaining their independent views and other differences, while Franz Liszt was busy composing and touring throughout Europe. Their children were Blandine (1835-1862), who was the first wife of Olivier Emile Ollivier but died at the age of 26; Cosima (1837-1930) (who married Wilhelm Richard Wagner, the second marriage for them both); and Daniel (1839-1859), who was already a promising pianist and gifted scholar when he died of tuberculosis at age 20.
Frederic Chopin dedicated his second set of piano etudes to Marie d'Agoult.
She died in Paris, and was buried in Division 54 of Père Lachaise Cemetery.
---