Thomas Lindsley Bradford 1847 - 1918
June 11, 2009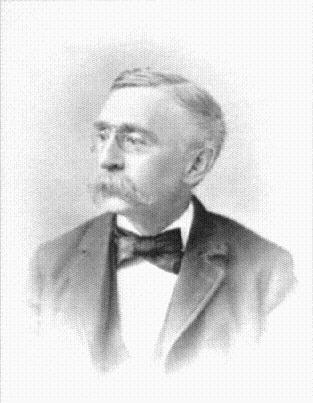 Thomas Lindsley Bradford 1847 - 1918 MD Harvard, Homeopathic Medical College of Pennsylvania, was a Lecturer on the History of Medicine in the Hahnemann Medical College of Philadelphia, and one of the great homeopathic historians, and his archive is now held at the Taubman Medical Library Homeopathy Collection.
Thomas Lindsley Bradford was a member of the American Institute of Homeopathy, the Maine State Homeopathic Medical Society, the Philadelphia County Homeopathic Medical Society, and the Pennsylvania State Homeopathic Medical Society.
Thomas Lindsley Bradford was a student of Adolph Lippe, and he taught Richard Haehl,
Thomas Lindsley Bradford, Philadelphia, Pennsylvania, physician, historian and bibliographer, is a native of Francestown, New Hampshire, born June 6, 1847, son of Thomas Bixby Bradford and Emily Hutchinson Brown, his wife, on the paternal side a descendant of Gov. William Bradford  of the Plymouth colony in Massachusetts, while on the maternal side his grandfather, Titus Brown, was a noted New Hampshire lawyer and statesman, member of congress from that state from 1824  to 1828.
Dr. Bradford  acquired his literary education at Francestown Academy and the famous Phillips (Andover) Academy, and his medical education in Harvard Medical School, 1866-1867, and the Homeopathic Medical College of Pennsylvania, where he came to his degree in 1869.
His professional career was begun in Skowhegan, Maine, where he practiced three years and then went abroad, visiting various medical institutions in London, Paris and elsewhere on the continent.
Returning, he resumed practice in Skowhegan, and remained there with the exception of a few months until 1877, when he removed to Philadelphia and took up his permanent residence in that city.
For nearly thirty years Dr. Bradford has been a prominent figure in homeopathic circles in Philadelphia, in the practice of his profession (treating specially diseases of children) and in its colleges of medical instruction, and he also enjoys distinction as the author of several homeopathic publications…
He also is of the collaborators whose united efforts have produced these volumes, and in various departments of the work, other than those under his immediate charge, the writers have to acknowledge free access to his vast collection of homeopathic literature, which comprises the most complete library of its kind in the world.
From 1895 to 1900 Dr. Bradford was lecturer an the history of medicine in the Hahnemann Medical College of Philadelphia, his alma mater, and since 1894 he has been curator of the college library. In 1869  he became a member of the American Institute of Homeopathy and of the Maine State Homeopathic Medical Society. His membership in the Philadelphia County Homeopathic Medical Society dates from 1891, and in the Pennsylvania State Homeopathic Medical Society from 1894.
He married, June 15, 1887, Eliza Virginia Hough.
The annals of homeopathy are graced to have had three great homeopathic historians:  Wilhelm Ameke, William Harvey King, and Thomas Lindsley Bradford. Among this elite group, Dr. Bradford stands out as the most prolific and significant contributor to the understanding of our homeopathic heritage.
Thomas Lindsley Bradford was born June 6, 1847 in Francestown, New Hampshire. He attended Harvard Medical School from 1866-67, and received his degree from the Homeopathic Medical College of Pennsylvania (HMCP) in 1869 under the tutelage of Adolph Lippe.
Years later, he described the events that caused the HMCP to split over whether or not pathology was compatible with homeopathy. The dispute occurred between Adolph Lippe, Professor of Materia Medica, and Charles Raue, Professor of Pathology.
Dr. Bradford wrote: "As may be remembered, the new HMCP charter really made the institution a sort of joint stock company, in which the person holding the majority of the stock could control the entire college.
"At the close of the session of 1866 - 1867, Adolph Lippe thus held the ruling power and most of the stock, and could virtually control the destinies of the college.
"After the close of the session he said that the Chair of Pathology and Diagnostics was unnecessary, that it was contrary to pure homeopathy and that the homeopathic physician did not need pathology but only the power to prescribe according to the methods of Samuel Hahnemann, i.e., from the totality of the symptoms.
"But when it came to removing the Chair of Pathology and therefore Charles Raue, Constantine Hering's good friend, Constantine Hering said: 'No, I will leave the college if Adolph Lippe is to have his own autocratic way in this matter.'"
In 1870 Dr. Bradford began his practice in Skowhegan, Maine and after 3 years went abroad to Europe to study homeopathy at various hospitals.
Upon his return to America Bradford resumed his practice in Skowhegan.
In 1877 he moved to Philadelphia and established practice again.
Dr. Bradford was considered a capable and conscientious homeopathic practitioner. He was steadfast in his adherence to Hahnemannian principles and strongly critical of other medicinal approaches.
In 1901, writing in defense of homeopathy, he stated that, "In this age of fantastic pharmaceutical compounds, let us not forget that the cure is made easier and more complete by the selection of the simillimum according to the directions laid down by Samuel Hahnemann, than by floundering about with empirical doses of chemical extracts given according to eclectic fancy and not by the certain law our school possesses, the Law Similia."
From 1895 until 1900 Bradford was a Lecturer on the History of Medicine at the Hahnemann Medical College of Philadelphia. He became curator of the college library in 1894. Bradford's Scrapbook is a 35-volume collection of essays, letters, and photos that he compiled while acting as library curator. Though he practiced as a homeopath for more than 30 years, with a special interest in pediatrics, Bradford is best known for his literary efforts… Bradford also wrote many of the articles in William Harvey King's History of Homeopathy.
Bradford's class notes of Adolph Lippe's lectures were published as Lippe's Lectures on Materia Medica.
In addition, Bradford inspired his student, Richard Haehl, to write a two volume overview of the Life and Works of Hahnemann. Bradford's own collection of homeopathic literature was considered to be the most comprehensive in the world.
In the early part of 1896, Dr. Bradford took steps to ascertain the burial place of Samuel Hahnemann. In this task, he frequently encountered contradictory and vague statements in the homeopathic literature of Germany, France and England regarding the location of the grave.
Bradford's colleague at the Hahnemann Medical College of Philadelphia, Professor Platt, Lecturer of Chemistry, intended to visit Europe with his wife in the early part of 1896 and they wanted to see Paris. Bradford asked him to search for Samuel Hahnemann's grave. Platt's discovery of the grave and subsequent report to the Hahnemann Medical College of Philadelphia led to the ultimate restoration of Samuel Hahnemann's burial site.
Bradford did not master the German language and could never, therefore, rely upon the original sources for the compilation of his work. Moreover, the German Archives were inaccessible to him. He made several attempts to obtain information from German Government authorities, but did not succeed, probably because he made his requests in English.
This discouraged him so much that he never again endeavored to supplement his work in this way. He was thus dependent for his research mainly on American and English literature.
Bradford's efforts at documenting the history of homeopathy were tireless and are unsurpassed to this day. His love for homeopathy is deeply felt by anyone who has read his writings. As much as he accomplished during his lifetime, the following writing by him provides a glimpse of the work he felt still needed to be done: But we all pass off with a task undone, Sudden and silent, and one by one. But the tasks we leave unfinished here We will finish up in another sphere…
Thomas Linsley Bradford wrote Pioneers of homeopathy, Index to Homeopathic Provings, The Lesser Writings of C.M.F. Von Boenninghausen, The Life and Letters of Dr. Samuel Hahnemann, The bibliographer's manual of American history, The logic of figures, or, Comparative results of homœopathic and other treatments, History of the Homeopathic medical college of Pennsylvania, Quiz Questions on the History of Medicine, Boenninghausen's characteristics and repertory, Autobiography of a baby, Biographical index of the graduates of the Homoeopathic medical college of Pennsylvania and the Hahnemann medical college and hospital of Philadelphia, Lippe's Lectures on Materia Medica,
Of interest:
Frank Standish Bradford 1830 - was a homeopath in Charleston in 1861.
Frank Standish Bradford A. M., M. D., of New York city, was born in the town of Middleborough, Mass, May 20th, 1830. When about twelve years of age he removed to Providence, R. I., and received his early education at the common schools of that city, and subsequently in the high school.
In the year 1849, he entered Brown University, and after the four years' curriculum, graduated in the class of 1853, of which he was the Valedictorian. Soon after leaving his Alma Mater, he received the appointment of Professor of Mathematics in the Baptist College of Mississippi, where he remained one year and then returned to Providence.
In 1855, he commenced the study of medicine in the office of Dr. A. H. Okie, of Providence, as his preceptor, with whom he remained several years, meanwhile attending lectures at the Jefferson Medical College of Philadelphia, from which institution he graduated in 1858.
On his return home he practiced with Dr. Okie for a year, and then removed to Charleston, S. C., where he succeeded in building up a lucrative practice among the best families in that city. The political troubles, leading eventually to the secession of the State from the Union, induced him to return to the North, although he was strongly urged by his many friends and patients to remain.
He reached Philadelphia in November, 1860, where he resided for a few months, and in the summer of 1861, returned to Providence, and was shortly after commissioned Assistant Surgeon of a Rhode Island artillery regiment. Having served in this latter capacity for about a year, he suffered so much in the Chickahominy campaign as to necessitate his resignation.
In March, 1863, he settled in New York city and commenced the practice of medicine, and for five years was co-partner with Dr. Lewis Hallock. After his co-laborer had left him he continued in his profession without any coadjutor.
In 1869, he was appointed Professor of the Theory and Practice of Medicine in the New York Medical College for Women, and in 1871, was elected to the same chair in the New York Homeopathic Medical College, which position he now holds.
Dr. Bradford has contributed somewhat to the journals of the homeopathic school; but proposes to devote more time to literary pursuits in future. As a scholar he has not limited himself to those branches of study which more particularly appertain to his chosen profession, but by ripe and various learning he is at home in other fields of intellectual labor, which would readily insure him distinguished success should he determine to enter them.
As a writer he evinces large literary ability, and as a teacher he is able, thorough and efficient. In style, his accuracy, vigorous compression and clearness of thought are distinctive features. In every position he has held, integrity, practical wisdom, and precision of judgment, blended with true Christian courtesy and benevolent feelings, have been marked characteristics, which have always secured to him the confidence and the esteem of others in the relationship of professional and social life.
George W Bradford was a homeopath in New York in 1981.
H C Bradford was a homeopath in Lewiston in 1873.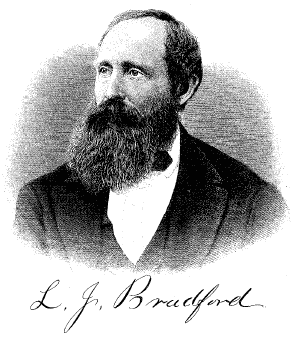 Leonard Jarvis Bradford 1833 \
M. D., of Sylvania, Bradford county, Pa., was born October 12th, 1833, in Ruttance, Tioga county.
He is the son of Joseph R. Bradford, formerly of Bristol, R. I., and grandson of judge Daniel Bradford, who was elected law judge of Bristol county, at the age of twenty five, and held the office until the time of his death.
He is a descendant of William Bradford, one of the "Pilgrim Fathers," who came to this country in the ship "Mayflower," and landed at Plymouth, Mass.
His mother was a granddaughter of Dr. Thomas Monroe, a surgeon in the revolutionary army, and who during the war was taken prisoner by the British and sent in a prison ship to England. Owing to their great privations the prisoners suffered intensely, but the doctor was powerless to relieve them.
An officer, with a party of gentlemen, one day visited the ship for the purpose of inspecting their condition, and they conversed in Latin in relation thereto; the doctor being familiar with the language, addressed them in the same tongue, informing them of their needs, and asserting that he could quickly relieve the unfortunate men if furnished with the desired remedies. These the officer soon had sent on board, and the doctor was able to alleviate much suffering.
Soon after a daughter of the same officer was taken seriously ill, and her life despaired of; and he was induced to state her case to Dr. Monroe, who thought her not incurable, and believed he could promote her recovery; he was accordingly furnished with a new suit of clothes and taken to her residence; where he prescribed for her and prepared the necessary remedies, and then returned to the prison ship; he continued to treat her until she fully recovered.
As a reward for his skilful services, her father procured his release, gave him a purse of guineas and a free passage to America; where he rejoined the army, and served until the close of the war.
Dr. Bradford, the subject of our sketch, was reared to agricultural pursuits; his early education was limited, but his special desire being to practice medicine as a profession, he pursued his studies with all the energy, time, health, and means would permit, until the late war, when he enlisted in the army as a private; he was detailed for hospital service, and dispensed medicines to the regiment. He served in this capacity until the expiration of his term of enlistment, when he returned to his studies.
Predisposed in favor of homeopathy he attended a course of lectures at the Hahnemann Medical College of Philadelphia, but for reasons connected with army interests, he entered, and graduated at the University of Pennsylvania.
Through his untiring efforts, and zeal in his chosen profession, he has profited much by his studies and private researches. He commenced practice according to the homeopathic system, and is meeting with a degree of success which bids fair for a useful and prosperous career.
Richard Bradford was a homeopath in Maine in 1825. He was a friend of Nathaniel Hawthorne.
Thomas C Bradford 1835 -
M. D., of Cincinnati, O., was born in that city, October 3, 1835. He received his medical education at Jefferson College, Philadelphia, and subsequently at Bellevue Hospital Medical College, New York city, graduating at the latter in the spring of 1864. After leaving college, he went directly to Cincinnati, commenced practice there, and has continued in the persistent labors of his profession in that city ever since. He has kept himself aloof from the excitements of political and military life, and has held no office under the government. He is one of the incorporators of Perth Medical College, a member and Treasurer of the Faculty, and Professor of Gynecology.
He was married October 6th, 1868.
William Bradford was a homeopath in Massacheusetts in 1905.
---