Prince Paul Anton III Esterhazy 1786 - 1866
June 08, 2009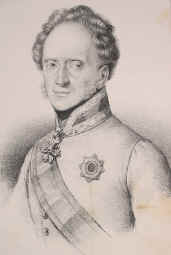 Prince Paul Anton III Esterhazy 1786 - 1866. The House of Esterhazy was a Hungarian noble family, in Hungary since the Middle Ages. From the 17th century, they belonged to the great landowner magnates of the Kingdom of Hungary, during the time it was part of the Habsburg Empire and later Austria Hungary.
Esterhazy was a patron of homeopathy, and he consulted homeopath Franz Xaver Kinzel, who accompanied Esterhazy to Italy in 1827. Esterhazy attended a Homeopathic Conference with Franz Xaver Kinzel just before his death.
I met Niemen, the Austrian diplomate, and Esterhazy, at dinner. They both, I think, were afraid of saying all they knew and believed about homeopathy, nevertheless they supported me…
Of interest:
Prince Miklos Pal Esterhazy 1817 - 1894 and Prince Pal Antal Miklos Esterhazy 1843 - 1898 also supported homeopathy.
Prince Nikolaus II Miklos Ferdinand Esterhazy 1765 - 1833 was a patron of Ludwig von Beethoven, and Adam Liszt, father of Franz Liszt.
Michael Graf Esterhazy was a homeopath in Merzidorf in 1860.
---