Ford Madox Ford 1873 – 1939
June 05, 2009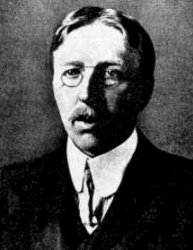 Ford Madox Ford 1873 – 1939 was an English novelist, poet, critic and editor,
Ford Madox Ford was a friend of Arthur Conan Doyle, Arnold Bennett, Joseph Conrad, John Galsworthy, Victor Gollancz, Thomas Hardy, Henry James, James Joyce, Rudyard Kipling, Robert Lowell, George Bernard Shaw, Gertrude Stein, Herbert George Wells, William Butler Yeats,
On 2nd September, 1914, soon after the outbreak of the First World War, Charles Masterman, the head of the War Propaganda Bureau, organised a secret meeting of Britain's leading writers, to discuss ways of best promoting the country's interests during the war.
Those who attended the meeting included Arthur Conan Doyle, Arnold Bennett, John Masefield, Ford Madox Ford, William Archer, G. K. Chesterton, Henry Newbolt, John Galsworthy, Thomas Hardy, Rudyard Kipling, Gilbert Parker, G. M. Trevelyan and Herbert George Wells. George Bernard Shaw was the only leading writer not invited - they felt he could not be trusted.
Born Ford Hermann Hueffer, the son of Francis Hueffer, he was Ford Madox Hueffer before he finally - during WWI, at a time when German connotations proved unpopular - settled on the name Ford Madox Ford in honor of his grandfather, the Pre Raphaelite painter Ford Madox Brown, whose biography he had written.
One of his most famous works is The Good Soldier (1915), a novel set just before World War I which chronicles the tragic lives of two "perfect couples" using intricate flashbacks. In a Dedicatory Letter to Stella Ford that prefaces the novel, Ford reports that a friend pronounced The Good Soldier the finest French novel in the English language!"
Ford was involved in the British war propaganda after the outbreak of World War I. He worked for the War Propaganda Bureau managed by Charles Frederick Gurney Masterman with other writers and scholars who were popular in those years, such as Arnold Bennett, G K Chesterton, John Galsworthy, Hilaire Belloc and Gilbert Murray.
Ford wrote two propaganda books for Charles Frederick Gurney Masterman, namely When Blood is Their Argument: An Analysis of Prussian Culture (1915), with the help of Richard Aldington, and Between St. Dennis and St. George: A Sketch of Three Civilizations (1915).
After writing the two propaganda books, Ford enlisted in the Welsh Regiment on 30 July 1915, and was sent to France, thus ending his cooperation with the War Propaganda Bureau. His combat experiences and his previous propaganda activities inspired his tetralogy Parade's End (1924-1928), set in England and on the Western Front before, during and after World War I.
Ford also wrote dozens of novels as well as essays, poetry, memoir and literary criticism, and collaborated with Joseph Conrad on two novels, The Inheritors (1901) and Romance (1903).
His novel Ladies Whose Bright Eyes (1911, extensively revised in 1935) is, in a sense, the reverse of A Connecticut Yankee in King Arthur's Court.
In 1908, he founded The English Review, in which he published Thomas Hardy, Herbert George Wells, Joseph Conrad, Henry James, John Galsworthy and William Butler Yeats, and gave debuts to Wyndham Lewis, D H Lawrence and Norman Douglas.
In the 1920s, he founded The Transatlantic Review, a journal with great influence on modern literature. Staying with the artistic community in the Latin Quarter of Paris, France, he made friends with James Joyce, Ernest Hemingway, Gertrude Stein, Ezra Pound and Jean Rhys, all of whom he would publish (Ford is the model for the character Braddocks in Ernest Hemingway's The Sun Also Rises). Known in his role as critic for the statement "Open the book to page ninety nine and read, and the quality of the whole will be revealed to you."
In a later sojourn in the United States, he was involved with Allen Tate, Caroline Gordon, Katherine Anne Porter and Robert Lowell (who was then a student). Despite his deep Victorian roots, Ford was always a champion of new literature and literary experimentation. He had an affair with Jean Rhys, which ended bitterly.
Ford spent the last years of his life teaching at Olivet College in Michigan, and died in Deauville, France, at the age of 65.
Of interest:
Francis Hueffer, born Franz Huffer 1845 – 1889, father of Ford Madox Ford, was a German English writer on music, music critic, and librettist. Francis Hueffer was related to Walt Whitman (the husband of Walt Whitman's wife's half sister), and a friend of Wilhelm Richard Wagner,
Ford Madox Brown 1821 – 1893, grandfather of Ford Madox Ford, was the teacher of Ellen Nellie Epps and Laura Therese Epps, and he was a friend of Dante Gabriel Rossetti,
---