Edward Brian Seago 1910 – 1974
June 01, 2009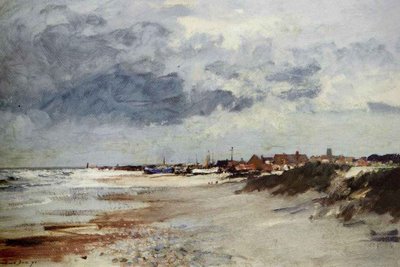 Edward Brian (Ted) Seago RBA ARWS RWS 1910 – 1974  was an English artist
Seago was an advocate of homeopathy. John Galsworthy's wife Ada Nemesis Pearson consulted a homeopath in Torquay, and her brother was the homeopath who treated Edward Seago.
The son of a coal merchant, born in Norwich, Seago was a self taught artist, (although he did receive advice from Alfred Munnings and Bernard Priestman), and enjoyed a wide range of admirers from the British Royal family and the Aga Khan to the common man.
His works have been classified as either Impressionist or Post Impressionist and included landscapes, seascapes, skyscapes, street scenes, his garden and portraits.
Aged fourteen, he won an award from the Royal Drawing Society, and from then on knew what he wanted to do in spite of his parents' initial disapproval. At the age of eighteen, Seago joined Bevin's Travelling Show and subsequently toured with circuses in Britain and throughout Europe.
Heart problems, identified at the age of seven dogged him all of his life, and he had to resort to subterfuge to join the army at the outbreak of the Second World War. He was commissioned as a Major in the Royal Engineers and advised on camouflage techniques for Field Marshall Auchinleck, (with whom he had a life long friendship).
Such was his popularity that those who wished to buy one of his paintings had to queue at his various annual exhibitions around the world (with the single exception of the late Queen Elizabeth the Queen Mother).
"The Queen Mother bought so many that eventually the artist, who died in 1974, gave her two a year – on her birthday and at Christmas. Prince Philip invited him on a tour of the Antarctic in 1956, and his subsequent paintings, considered to be among his best, hang at Balmoral."
Seago also created the solid silver sculpture of St George slaying the Dragon, which serves as an automobile mascot for any state limousine in which Queen Elizabeth II is travelling. The mascot or "hood ornament", as it would be referred to in the United States, can be transferred from car to car. When the monarch is not aboard, it is substituted for the symbol of the manufacturer, such as the Rolls Royce Spirit of Ecstasy or the Bentley "B".
Seago died of a brain tumour in London on 19 January 1974.
Of interest:

Rosamund Le Hunte Cooper The wife of homeopath R M Le Hunte Cooper, was painted by Edward Seago.
---