Karl Rankl 1898 – 1968
May 28, 2009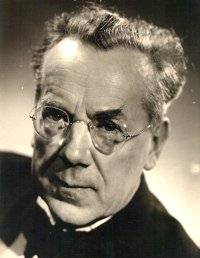 Karl Rankl 1898 – 1968 was a British conductor and composer of Austrian birth.
Karl received homeopathic treatment as a child for tuberculosis.
Karl Rankl was the 14th of 17 children! His mother lost 10 children, all over the age of one year old, with three in one week through diphtheria. All had tuberculosis in some form.
Karl had one lung because of a very bad abscess. In the days before x-ray the abscess couldn't be found easily so he had to have some bits of his ribs removed in order for the surgeons to get at his lung.
During his third operation they did a lumbar puncture which means the patient hears everything. The darling doctors actually said over him "I'm sure he's going to die. He only weighs about 6 and a half stone but we do have to operate." Very cheerful thought!
When he came round there were 18 doctors who said he couldn't keep his profession and that he would have to go to live in Egypt in order to live in a dry climate. However, one doctor, a homeopath, advised him to work 24 out of 24 hours as the only way to make him straight again (his missing ribs meant he was initially bent over) and so Karl did work - all the time!
Rankl studied with Arnold Schoenberg as a private pupil for four years beginning in 1918.
His first appointment was as chorus master at the Volksoper in Vienna in 1922 where he later became an assistant conductor. This was followed by appointments in Liberec in 1925, Königsberg in 1927 and the Kroll Oper in Berlin where he served as assistant to Otto Klemperer from 1928–1931.
He became associated with Otto Klemperer 's advocacy of modern music. After a brief conducting stints in Wiesbaden and Graz, he became director of the Neues Deutsches Theater in Prague in 1937. While there he conducted the first performance of Krenek's Karl V.
At the outbreak of World War II he took refuge in England and became a British citizen.
He became music director of the Royal Opera House, Covent Garden, in 1946, where he significantly reorganized the establishment. He recruited a new company of singers drawing not only from established British singers but also international singers, including Elisabeth Schwarzkopf, Ljuba Welitsch, and Paolo Silveri.
He significantly expanded the repertory of the company which included German, Italian, Russian and English opera. Inspite of these many positive changes, Rankl garnered a reputation for being difficult with singers, orchestras and producers. Some also criticized his conducting, and his weaknesses were particularly criticized in in his 1950 performances of the Ring Cycle. However, others such as Reginald Goodall, then an assistant conductor, considered these criticisms unfair and felt Rankl was "under rated".
Nevertheless, Rankl resigned as musical director in 1951 and, in the following year, became conductor of the Scottish National Orchestra, with which he remained for five years.
In 1958 he accepted the post of director of the proposed Sydney Opera, but because of the delay in the completion of the opera house he never had the chance to take up the appointment.
As a composer, Rankl wrote eight symphonies and a string quartet, the latter of which was first performed at Graz in 1936. He also wrote one opera, Deirdre of the Sorrows (based on Edmund John Millington Synge's play), which won one of the prizes offered by the Arts Council for the Festival of Britain in 1951.
Rankl's reputation today however, lies almost entirely on his work as a conductor. His opera has never been performed and none of his music has ever been published.
---