Paschal Beverly Randolph 1825 – 1875
May 23, 2009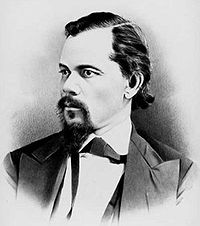 Paschal Beverly Randolph 1825 – 1875 was an American medical doctor, occultist, writer and advocate of homeopathy (John Patrick Deveney, Paschal Beverly Randolph: a nineteenth-century Black American spiritualist, rosicrucian, and sex magician, (SUNY Press, 1997)).
Paschal Beverly Randolph was '… Grand Master of Fraternicas Rosaecrucis 1858, member of the Order of the Rose 1861, Heirarch of the Ansaireh of Syria and Imperial Eulis 1863… (NB: confirmation required)' Paschal Beverly Randolph was central to the foundation of the British Hermetic Brotherhood of Luxor, and he anticipated the system of the seven fold rays and sevenfold world epochs soon to become famous via the emergence of Helena Petrovna Blavatsky (See Joscelyn Godwin, Theosophical Enlightenment, (SUNY Press, 28 Oct 1994). Pages 248-269).
'… Paschal Beverly Randolph, an African American who carved his own eccentric path in the mid-nineteenth century from the slums of New York to the courts of Europe, performed as a spiritualist trance medium. Self-educated, he became one of the first Black American novelists and took a leading part in raising black soldiers for the Union army and educating Freedmen during the Civil War. His most enduring claim to fame is the crucial role he played in the transformation of spiritualism, a medium's passive reception of messages from the spirits of the dead, into occultism, the active search for personal spiritual realization and inner vision. From his solitary travels in England, France, Egypt and the Turkish Empire, he brought back occult beliefs and practices (the magic mirror, hashish use and sexual magic) that worked a revolution. The systems of magic he taught left their traces on Madame Blavatsky, her Theosophical Society, and many practicing occult organizations in Europe and America today… _(John Patrick Deveney, Paschal Beverly Randolph: a nineteenth-century Black American spiritualist, rosicrucian, and sex magician, _(SUNY Press, 1997).  Page 383).'
Paschal Beverly Randolph was a colleague of Peter Davidson, Jacob Dixon, Edward Bulwer Lytton, Kenneth Robert Henderson MacKenzie, Robert Masters Theobald, James John Garth Wilkinson, and many others.
In 1855, Randolph visited Britain and met Robert Masters Theobald, and James John Garth Wilkinson, when he made the acquaintance of a number of spiritualists when he came to London and toured the spiritualist circles in 1855. Randolph would have met all of Robert Masters Theobald, and James John Garth Wilkinson's intimate circle at this time, which included Anna Bonus Kingsford, Emma Hardinge Britten, Thomas Henry Burgoyne, William and Mary Howitt, Kenneth Robert Henderson MacKenzie, Edward Maitland and possibly Max Theon. Randolph also attended a seance by Daniel Dunglas Home, at which all of these people would have been present, and through Daniel Dunglas Home, Randolph would have become aware of John Franklin Gray, a colleague of Hans Burch Gram and his influential group of original American homeopathic founders figures (which included George Henry Bute, William Channing, Amos Gerald Hull, Benjamin Franklin Joslin, Isaac Moreau Ward, and Abram D Wilson), although it is entirely possible that Randolph already knew many of these interesting American connections.
In 1858, Randolph visited Britain again, when he met the Rosicrucian Council of Seven, The Societas Rosicruciana (H. Spencer Lewis, Complete History of the Rosicrucian Order, (Book Tree, 1 Dec 2006). Page 146 onwards. See also http://en.wikipedia.org/wiki/Societas_Rosicruciana), including Eliphas Levi, Hargrave Jennings, William Gifford Palgrave, and many others.
In 1861, Paschal Beverly Randolph, was in Paris as the newly appointed Supreme Grand Master for the Western World of the Fraternitas Rosae Crucis ([http://en.wikipedia.org/wiki/Kenneth_R.*H._Mackenzie\](http://en.wikipedia.org/wiki/Kenneth_R._H._Mackenzie)). Paschal Beverly Randolph was a member of the Rosicrucian Council of Three which included Abraham Lincoln (http://www.soul.org/ '…_The Rosicrucian Fraternity existed in America prior to the First American Revolution. In 1774, the great Council of Three (the Fraternity's ultimate governing body) was composed of Benjamin Franklin, George Clymer and Thomas Paine. Thomas Paine was later succeeded by Lafayette, who, like Benjamin Franklin, was a member of the Paris Rosicrucian lodge "Humanidad." In 1842, the Great Council of Three was revitalized by the novelist, George Lippard, who rewrote the exoteric ritual, giving it a patriotic-Christian basis. During the Civil War this Great Council was composed of Paschel Beverly Randolph, General Ethan Allen Hitchcock and Abraham Lincoln*….')
http://en.wikipedia.org/wiki/Paschal_Beverly_Randolph Sources disagree as to Randolph's birthplace (New York or Virginia). He was a free man of mixed race ancestry, descendant of William Randolph.
His father was a nephew of John Randolph of Roanoke and his background led to his being a spokesman for the abolition of slavery.
He trained as a doctor of medicine and travelled widely in his youth where his interest in mysticism and the occult can be traced.
Randolph worked on a sailing vessel, journeyed through Europe and as far east as Persia. A peripatetic man, he lived in many places, including New Orleans, New York, San Francisco, and Toledo, Ohio.
During his early public career, Randolph appeared on stage as a trance medium and advertised his services in magazines associated with the Spiritualist Movement. Like many Spiritualists, he lectured in favor of Abolition and after Emancipation, taught literacy to freed slaves in New Orleans.
Randolph founded the Fraternitas Rosae Crucis, the oldest Rosicrucian organization in the United States, which today avoids mention of his interest in sex magic. These magico sexual theories and techniques formed the basis of much of the teachings of The Hermetic Brotherhood of Luxor, although it is not clear whether or not Randolph himself was ever actually associated with the Brotherhood.
Famous occultists and practitioners of sex magic Theodor Reuss and Aleister Crowley were heavily influenced by Randolph in both organizing the Ordo Templi Orientis (O.T.O.) and their sex magic rituals.
In 1851, Randolph made the acquaintance of Abraham Lincoln. Their friendship was close enough that, when Abraham Lincoln was assassinated in 1865, Randolph accompanied Abraham Lincoln's funeral procession in a train to Springfield, Illinois. However, Randolph was asked to leave the train when some objected to the presence of such an African American descendent.
He authored more than fifty books or pamphlets on magic and medicine, established an independent publishing company and was an avid promoter of birth control.
Randolph died at the age of 49, under disputed circumstances.
According to Professor Carl Edwin Lindgren, D.Ed., many questioned the coroner's finding that Randolph died in Toledo from a self inflicted wound to the head, for many of his writings express his aversion to suicide.
The evidence was conflicting. R. Swinburne Clymer, a later Supreme Master of the Fraternitas, stressed that years later in a death bed confession, a former friend of Randolph conceded that in a state of jealousy and temporary insanity, he had killed Randolph. Randolph was succeeded as Supreme Grand Master of the Fraternitas, and in other titles, by his chosen successor Freeman B. Dowd.
---