Frank Parker Wood 1890 - 1965
May 11, 2009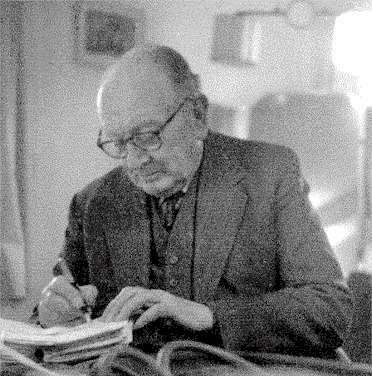 Frank Parker Wood 1890 - 1965 was a British lay homeopath who practiced in London and in Bedford.
Frank Parker Wood was a colleague of Marjorie Grace Blackie, Arthur Jenner, Phyllis M Speight, Edwin D W Tomkins,
Another important lay homeopath in London at this time [and later in Bedford] was Frank Parker Wood, of London EC3, a friend of Edwin D W Tomkins and in some way connected with his Incorporated Institute of Homeopaths; also in Heal Thyself 1947.
Arthur Jenner, another London based homeopath, told me [in a telephone conversation] that Parker Wood used to attend the same church in London [the Westminster Chapel] as Marjorie Grace Blackie, and that they knew each other well.
Frank Parker Wood taught Arthur Jenner, presumably in the 1940s, thus Parker Wood must have been c.1900 and died in Sept. 1965.
Another important teaching lineage comes from Darnell Cooper who ran correspondence courses in the 40s and 50s. About whom, so far, I have found nothing at all.
Who taught Parker Wood? Was it John Henry Clarke? Who taught Edward W Cotter? and did he form a teaching lineage of his own? Much more research is needed to answer these important questions.
What is clearly apparent, however, is that there existed throughout the 30s and 40s a complex nexus of lay homeopathic practitioners, mainly in London and the south, 'fed' by some doctors in the Faculty [such as John Henry Clarke, Percival George Quinton, Charles Edwin Wheeler maybe, and William Wilson Rorke] and forming their own informal teaching arrangements between themselves, rather like some plebeian, naturally formed, organic apprenticeship scheme.
Which is a very fascinating piece of information, as it illuminates that whole intensely active lay period. I have also heard it said about Thomas Maughan, and from several sources [e.g. Liz Danciger] that Thomas Maughan knew Marjorie Grace Blackie very well.
If this is so it does seem mighty odd that the Queen's Physician should be mixing so freely with all these lay practitioners, who were pariahs, according to the official policy of the Faculty. It also fits in with other comments Liz Danciger made to me, amongst others, about the 'blind-eye' policy the Faculty operated towards John DaMonte and Thomas Lackenby Maughan, them attending lectures at the Faculty and even teaching there. She also said Llewelyn Ralph Twentyman also mixed freely with lay prescribers throughout the 60s and 70s. [Danciger, May 1990, Islington]
This initiative was then taken up by those seminally important lay homeopaths who did a lot of teaching, writing, publishing and campaigning. These include Noel Puddephatt, J Ellis Barker, Parker Wood, Edwin D W Tomkins, Leslie J Speight and Phyllis M Speight, Thomas Maughan and John DaMonte.
They really 'grasped the nettle' and caused homeopathy to break through into much wider popularity and public support at grassroots level than ever before. This happened first in the 30s driven by J Ellis Barker, and again in the 40s and 50s led by Parker Wood, Noel Puddephatt, Edwin D W Tomkins, Leslie J Speight and Phyllis M Speight, et al.
---