The Pankhurst Family and Homeopathy
May 08, 2009

The Pankhurst family are famous for their support of women's suffrage and for their radical political activism.
Leonard Hall (?-?) and his father, a homeopathic doctor (George J. Barnsby, Birmingham Working People: History of the Labour Movement in Birmingham, 1650-1914, (Integrated Pub. Services, 1989). Page 416), were old friends of the Pankhurst family (June Purvis, Emmeline Pankhurst: A Biography, (Routledge, 1 Sep 2003). Page 261).
Throughout their many campaigns, they were surrounded and supported by many homeopaths and homeopathic supporters, including Lydia Ernestine Becker, Henry Ward Beecher, Annie Wood Besant, Harriot Eaton Stanton Blatch, Josephine Elizabeth Butler, Charlotte Despard, Millicent Fawcett, William Lloyd Garrison, Octavia Margaret Sophia Lewin, Elizabeth Smith Miller, George Bernard Shaw, and many others.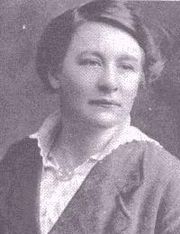 Adela Constantia Mary Pankhurst Walsh 1885 - 1961 was a British Australian suffragette.
Adela was born on 19 June 1885 in Manchester, England, into a politicized family: her father, Richard Pankhurst was a socialist and candidate for Parliament, and her mother Emmeline Pankhurst and sisters Sylvia and Christabel were leaders of the British suffragist movement.
Adela attended the all woman Studley Horticultural College in Warwickshire, and Manchester High School for Girls.
As a teenager, Adela became involved in the militant Women's Social and Political Union founded by her mother and sisters.
Following estrangement from her family, Adela emigrated to Australia in 1914. She was recruited during World War I as an organiser for the Women's Peace Army in Melbourne by Vida Goldstein.
Adela Pankhurst wrote a book called Put Up the Sword and addressed public meetings on her opposition to the war and conscription. She married Tom Walsh of the Federated Seamen's Union of Australasia in 1917. In 1920, Pankhurst became a founding member of the Communist Party of Australia, from which she was later expelled.
She became disillusioned with communism and founded the anti communist Australian Women's Guild of Empire in 1928.
In 1941 Adela became one of the founding members of the right wing and nationalistic Australia First Movement. She visited Japan in 1939 and was arrested and interned in 1942 for her advocacy of peace with Japan.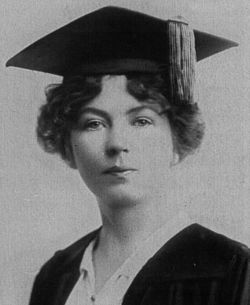 Dame Christabel Harriette Pankhurst, DBE 1880 – 1958 was a suffragette born in Manchester, England.
Christabel was the daughter of the lawyer Richard Pankhurst and suffragette Emmeline Pankhurst, and a sister of Sylvia Pankhurst and Adela Pankhurst.
She attended, along with her two sisters, Manchester High School for Girls.
Along with her mother Emmeline Pankhurst and others, Christabel co-founded the Women's Social and Political Union in 1903.
In 1905, Christabel Pankhurst interrupted a Liberal Party meeting by shouting demands for voting rights for women. She was arrested and along with fellow suffragette Annie Kenney went to prison rather than pay a fine as punishment for their outburst.
Their case gained much media interest and the ranks of the WSPU swelled following their trial. Emmeline Pankhurst began to take more militant action for the suffragette cause after her daughter's arrest and was herself imprisoned on many occasions for her principles.
In 1906, Christabel Pankhurst obtained a law degree from the University of Manchester and moved to the London headquarters of the WSPU, where she was appointed its organising secretary.
Earning the nickname "Queen of the Mob", Christabel was jailed again in 1907 in Parliament Square and 1909 after the "Rush Trial" at Bow Street.
Between 1912 and 1913 she lived in Paris, France to escape imprisonment under the terms of the Prisoner's (Temporary Discharge for Ill Health) Act better known as the Cat and Mouse Act.
The start of World War I compelled Christabel to return to England in 1913, where she was again arrested. Christabel engaged in a hunger strike, ultimately serving only 30 days of a three year sentence.
She was influential in the WSPUs 'anti male' phase after the failure of the Conciliation Bills, she wrote a book called The Great Scourge and How to End It on the subject of sexually transmitted diseases and how sexual equality (votes for women) would help the fight against these diseases.
On September 8, 1914, Christabel re-appeared at the London Opera House, after her long exile, to utter a declaration, not on women's enfranchisement, but on "The German Peril." Ms. Pankhurst toured the country, making recruiting speeches. Her supporters handed the white feather to every young man they encountered wearing civilian dress, and bobbed up at Hyde Park meetings with placards: "Intern Them All." __
The Suffragette appeared again on April 16, 1915, as a war paper, and on October 15th changed its name to Britannia. There week by week Christabel demanded the military conscription of men, and the industrial conscription of women, "national service" as it was termed.
In flamboyant terms she called also for the internment of all people of enemy race, men and women, young and old, found on these shores, and for a more complete and ruthless enforcement of the blockade of enemy and neutral nations.
She insisted that this must be "a war of attrition." In her ferocious zeal for relentless prosecution of the War, she demanded the resignation of Sir Edward Grey, Lord Robert Cecil, General Sir William Robertson and Sir Eyre Crowe, whom she considered too mild and dilatory in method.
So furious was her attack that, in its over fervent support of the National War policy, Britannia was many times raided by the police, and experienced greater difficulty in appearing than had befallen The Suffragette. Indeed it was compelled at last to set up its own printing press.
A gentler impulse was embodied in an early proposal of Mrs. Pankhurst to set up Women's Social and Political Union Homes for illegitimate girl "war babies," but only five children were adopted. Sterner interests prevailed.
Lloyd George, whom Christabel had regarded as the most bitter and dangerous enemy of women, was now the one politician in whom she and Mrs. Pankhurst placed confidence.
When the first Russian Revolution took place and Kerensky rose to power, Ms. Pankhurst – like many others – journeyed to Russia, in the vain effort to prevent that vast country with its starving multitudes from retiring from the War. Her circuit was like that of Hervé, the French "anti-patriot," as for many years he had called himself, and of whom she had been an ardent admirer in her youth. Christabel received the commendation of many war enthusiasts.
After some British women were granted the right to vote at the end of World War I, Christabel stood in the 1918 general election as a Women's Party candidate, in alliance with the Lloyd George/Conservative Coalition in the Smethwick constituency. She was narrowly defeated, losing by only 775 votes to the Labour Party candidate John Davison.
Leaving her native England in 1921, she moved to the United States where she eventually became an evangelist with Plymouth Brethren links and became a prominent member of Second Adventist movement. Marshall, Morgan and Scott published her works on subjects related to her prophetic outlook, which took its character from John Nelson Darby's perspectives.
Christabel lectured and wrote books on the Second Coming. Christabel returned to Britain in the 1930s. She was appointed a Dame Commander of the British Empire in 1936.
At the start of the Second World War she again left for the USA where she lived until her death in Los Angeles, California in 1958 at the age of 77, and was buried in the Woodlawn Memorial Cemetery in Santa Monica, California.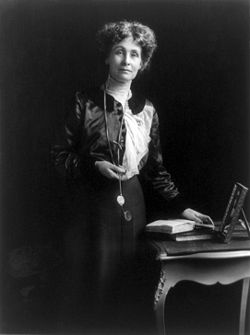 Emmeline Pankhurst 1858 – 1928 was a political activist and leader of the British suffragette movement.
Born and raised in Manchester by politically active parents, Emmeline Pankhurst was introduced at a young age to the women's suffrage movement.
Although her parents encouraged her to prepare herself for life as a wife and mother, she attended the École Normale de Neuilly in Paris.
In 1878 she married Richard Pankhurst, a barrister known for supporting women's right to vote; they had five children over the next ten years. He also supported her activities outside the home, and she quickly became involved with the Women's Franchise League, which advocated suffrage for women.
When that organisation broke apart, she attempted to join the left leaning Independent Labour Party through her friendship with socialist James Keir Hardie senior (1856-1915), but was initially refused membership by the local branch of the Party on account of her gender.
She also worked as a Poor Law Guardian, where she was startled by harsh conditions in Manchester workhouses.
After her husband died in 1898, Pankhurst founded the Women's Social and Political Union, an all women suffrage advocacy organisation dedicated to "deeds, not words". The group placed itself separately from – and often in opposition to – political parties. The group quickly became infamous when its members smashed windows and assaulted police officers.
Pankhurst, her daughters, and other WSPU activists were sentenced to repeated prison sentences, where they staged hunger strikes to secure better conditions. As Pankhurst's oldest daughter Christabel took the helm of the WSPU, antagonism between the group and the government grew. Eventually arson became a common tactic among WSPU members, and more moderate organisations spoke out against the Pankhurst family.
In 1913 several prominent individuals left the WSPU, among them Pankhurst's daughters Adela and Sylvia. The family rift was never healed.
With the advent of World War I, Emmeline and Christabel called an immediate halt to militant suffrage activism in order to support the British government against the "German Peril". They urged women to aid industrial production, and encouraged young men to fight.
In 1918 the Representation of the People Act granted votes to women over the age of 30. Pankhurst transformed the WSPU machinery into the Women's Party, which was dedicated to promoting women's equality in public life. In her later years she became concerned with what she perceived as the menace posed by Bolshevism, and – unhappy with the political alternatives – joined the Conservative Party.
She died in 1928 and was commemorated two years later with a statue in Victoria Tower Gardens.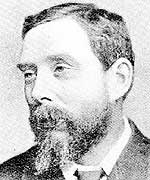 Richard Marsden Pankhurst 1834 – 1898 was the husband of Emmeline Pankhurst.
Richard Marsden Pankhurst wrote at length about kosso, an Ethiopian herbal medicine.
Richard Marsden Pankhurst was the son of Henry Francis Pankhurst (1806-1873) and Margaret Marsden (1803-1879). He was born in Stoke but spent most of his life in Manchester and London.
He was educated at Manchester Grammar School and Owens College of Manchester. In 1858 he graduated BA from the University of London and in 1859 was awarded LLB with Honours. In 1863 he graduated LLD with gold medal. He was called to the Bar at Lincoln's Inn in 1867 and joined the Northern Assizes circuit. He was also a member of the Bar of the County Palatine of Lancaster Court.
Following qualification he was a founder member of the Manchester Liberal Association, although he was subsequently to fall out with the Liberals. He campaigned for multiple causes, including free speech, universal free secular education, republicanism, home rule for the Irish, independence for India, nationalisation of land, the disestablishment of the Church of England and the abolition of the House of Lords.
He established a National Society for Women's Suffrage, drafted the Women's Disabilities Removal Bill (the first women's suffrage bill in England) and was author of the bill which became the Married Women's Property Act (1882) which gave wives absolute control over their property and earnings.
He married Emmeline Goulden, better known as Emmeline Pankhurst, who was some 20 years younger than him, in 1879. With her, he was instrumental in establishing the Independent Labour Party. Together they formed the Women's Franchise League in 1889.
They were part of a political circle which included James Keir Hardie senior (1856-1915), Annie Wood Besant, William Morris and George Bernard Shaw.
They were present at the Bloody Sunday riot in Trafalgar Square. Known as the "Red Doctor," he ran for Parliament in 1883 as candidate for Manchester and in 1885 for Rotherhithe, Kent, both times unsuccessfully.
His controversial views did not win him many clients, but did afford him a place of great respect in the Independent Labour Party, even long after his sudden death, from stomach ulcers, at the age of 64. He was father to Adela Pankhurst, Christabel Pankhurst and Sylvia Pankhurst. He was buried alongside his parents in Brooklands Cemetery, Sale, Cheshire, where there is a headstone bearing their names.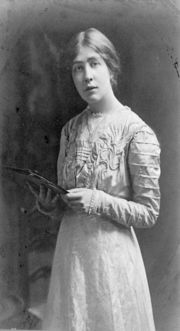 Estelle Sylvia Pankhurst 1882  – 1960 was a notable campaigner for the suffragette movement
Sylvia Pankurst was born in Manchester, a daughter of Richard Pankhurst and Emmeline Pankhurst, members of the Independent Labour Party and much concerned with women's rights. She and her sisters attended the Manchester High School for Girls. Her sister, Christabel, would also become an activist.
In 1906, she started to work full-time with the Women's Social and Political Union with her sister and her mother. In contrast to them she retained her interest in the labour movement.
In 1914 she broke with the WSPU, an organization led by her mother and her sister, over the group's support for the First World War. Sylvia set up the East London Federation of Suffragettes (ELFS), which over the years evolved politically and changed its name accordingly, first to Women's Suffrage Federation and then to the Workers' Socialist Federation.
She founded the newspaper of the WSF, Women's Dreadnought, which subsequently became the Workers Dreadnought. It organized against the war, and some of its members hid conscientious objectors from the police.
The group continued to move leftwards and briefly adopted the name Communist Party (British Section of the Third International), although in fact it was not the recognized section. The CP(BSTI) was opposed to parliamentarism, in contrast to the views of the newly founded Communist Party of Great Britain (CPGB). The CP(BSTI) soon dissolved itself into the larger, official Communist Party.
This unity was to be short lived and when the leadership of the CPGB proposed that Sylvia hand over the Workers Dreadnought to the party she revolted. As a result she was expelled from the CPGB and moved to found the short lived Communist Workers Party.
Sylvia by this time adhered to left or council communism. She was an important figure in the communist movement at the time and attended meetings of the International in Russia and Amsterdam and also those of the Italian Socialist Party. She disagreed with Lenin on important points of Communist theory and strategy and was supportive of "left communists" such as Anton Pannekoek.
Pankhurst objected to entering into a marriage contract and taking a husband's name. At about the end of the First World War, she began living with Silvo Corio, who was an Italian anarchist, and moved to Woodford Green for over 30 years. A blue plaque and Pankhurst Green opposite Woodford tube station commemorate her link to the area.
In 1927 she gave birth to a son, Richard. As she refused to marry the child's father, her own mother, Emmeline Pankhurst, broke with her and did not speak to her again.
In the mid 1920s, Pankhurst drifted away from communist politics but remained involved in movements connected with anti fascism and anti-colonialism. She responded to the Italian invasion of Ethiopia by publishing The New Times and Ethiopia News from 1936, and became a supporter of Haile Selassie.
She raised funds for Ethiopia's first teaching hospital, and wrote extensively on Ethiopian art and culture; her research was published as Ethiopia, a Cultural History (London: Lalibela House, 1955). From 1936, MI5 kept a watch on Pankhurst's correspondence.
In 1940, she wrote to Viscount Swinton as the chairman of a committee investigating Fifth Columnists, sending him a list of active Fascists still at large and of anti Fascists who had been interned. A copy of this letter on MI5's file carries a note in Swinton's hand reading "I should think a most doubtful source of information."
After the post war liberation of Ethiopia, she became a strong supporter of union between Ethiopia and the former Italian Somaliland, and MI5's file continued to follow her activities. In 1948, MI5 considered strategies for "muzzling the tiresome Miss Sylvia Pankhurst".
Pankhurst became a friend and adviser to the Ethiopian Emperor Haile Selassie and followed a consistently anti British stance. She moved to Addis Ababa at Haile Selassie's invitation in 1956, with her son, Richard, (who continues to live there), and founded a monthly journal, Ethiopia Observer, which reported on many aspects of Ethiopian life and development.
She died in 1960, and was given a full state funeral at which Haile Selassie named her 'an honorary Ethiopian'. She is the only foreigner buried in front of Holy Trinity Cathedral in Addis Ababa, in the area reserved for patriots of the Italian war.
Of interest:
The Pankhurst correspondence made its way into the Garrison family archives:
The fourth subseries, Friends and associates, consists of the same type of materials as subseries three with the addition of published writings and memorabilia.
This sub series contains information on many noted people. Although most of the material included here concerns friends of the Garrisons and William Lloyd Garrison, there is also information about others that that the family collected. They include Susan B. Anthony; Alice Stone Blackwell (homeopath and daughter of Lucy Stone); Josephine Elizabeth Butler; Frederick Douglass; Henry George; Thomas Wentworth Higginson; Harriet Martineau; Lucy McKim Garrison, the May and Pankhurst families; Theodore Parker; Wendell Phillips; Parker Pillsbury; Joseph Lindon Smith (including drawings and sketches); Harriet Tubman; Booker T. Washington; Theodore Dwight Weld; and Marie Zakrzewska.
---