William Eldon Tucker 1903 - 1991
May 06, 2009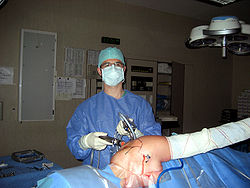 William Eldon Tucker 1903 - 1991 CVO, TD, FRCS was a British Orthopaedic Surgeon who worked alongside many homeopaths at The Missionary School of Medicine at the Royal London Homeopathic Hospital.
William Eldon Tucker was a colleague of Muriel Francis Adams, Marjorie Grace Blackie, Alva Benjamin, Philip Norman Cutner, Ronald W Davey, Donald MacDonald Foubister, Sergei William Kadleigh, John MacKillop, Kathleen Priestman, Llewelyn Ralph Twentyman, John Weir, Charles Edwin Wheeler and many others.
The Missionary School of Medicine at the Royal London Homeopathic Hospital teaching staff included doctors experienced in tropical medicine and other specialities.
The Annual Reports list the teaching staff, many of whom are recognised for their contributions to the development of homeopathy. Donald MacDonald Foubister lectured on Children's Diseases, as did Kathleen Priestman (who was President of the MSM between 1981 and 1991); Alva Benjamin taught on skin diseases, Charles Edwin Wheeler, John MacKillop and Muriel Francis Adams on general medicine; William Eldon Tucker and Philip Norman Cutner on surgery and H Dodd, who was the vascular surgeon and later became President of MSM in 1952.
The son of W E Tucker, England rugby Internation player, and educated at Sherbourne and at Cambridge, where he was capped for England three times, William Eldon Tucker studied medicine at St. Georges and he became an Orthopaedic Surgeon specialising in Sports Medicine.
In 1936, he became the Director of the Park Street Clinic until 1980. He wrote Sportsmen and their Injuries and many other books, and he was married to Molly Castle, a journalist.
He served as a Major in the Royal Army Medical Corps in WWII and was taken prisoner at Dunkirk. He later joijed the Territorial Army Medical Corps and served as Colonel in charge of the 17th General Hospital.
William Eldon Tucker imported the first arthroscope into Britain, and he treated Denis Compton for his injured knee.
On his retirement, William Eldon Tucker returned to Bermuda where his ancestors had been sugar growers.
He died in his home on Trunk Island.
---