Emil Molt 1876 - 1936
May 06, 2009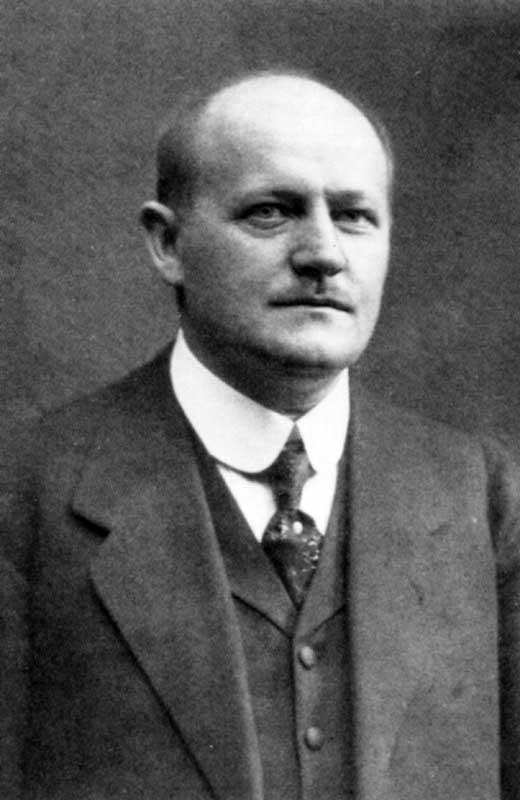 Emil Molt 1876 - 1936 was a German businessman, social reformer and anthroposophist. He was the founder of the first Waldorf School.
Emil Molt was a colleague of Eugen and Lili Kolisko, and Rudolf Steiner.
Emil Molt was the founder of the first Waldorf School. He invited Rudolf Steiner to become the pedagogical director of the school, and Steiner's insights and methods became known as Waldorf Education.
Emil Molt was born in southern Germany, and orphaned at 13. After finishing high school he was apprenticed to Emil Georgii in the town of Calw, in the Black Forest. There he learned about money, work ethic, and customer service.
He was diligent and quick study, and valued by his employer, who took the unusual step of asking him to work a year beyond his obligation. During this time Molt met his wife to be, and felt an immediate inner connection. But he was not yet in a position to marry.
At 19 he went to serve his obligatory year of military service in Ulm. When he was finished, he signed a four year contract with a German run export business in Greece, and moved to Patras.
After one year, in which he learned much about international trade, Greece got into a war with Turkey over Crete, and lost. Germany had sided with Turkey, and so Germans were unpopular.
Molt was offered a position in Stuttgart with the son of Emil Georgii (who was also called Emil) which he accepted. He was also finally in a position to marry his beloved Berta, with whom he had been corresponding continually. They got married and Molt settled down in Stuttgart to manage a cigarette manufacturing company owned by the younger Emil Georgii.
Molt traces the ups and downs of the business, and tells the story of how he eventually came to be director and part owner of the Waldorf Astoria cigarette company. Under Molt's direction the brand was highly successful. Molt was a sensitive and progressive manager.  With one brief exception the company never suffered a strike, and later Molt experimented with such novelties as open book management.
World War One was devastating to Germany, and difficult for the Waldorf Astoria cigarette company. But Waldorf fared better than most of its competitors due to Molt's foresight in buying several years worth of raw materials at the start of the war, before Germany's foreign currency became worthless (most of the tobacco came from Greece and Turkey).
At the end of the war Molt had too many workers, because Molt had hired replacements for those that went off to fight. When the soldiers returned from the front, Molt did not want to simply fire the replacements. Instead he kept everyone on the payroll, and worked them half days.
In the afternoons he held adult education classes for his workers, and paid for them to attend. He offered courses in history, geography, paper making, tobacco cultivation, as well as literature. These were popular, but the workers, unaccustomed to learning, found the courses tiring.
When the firm could no longer afford to carry the full cost, Molt offered to split the cost 50/50 with the workers. Attendance dropped dramatically, and when Molt had to cut the subsidy entirely, it went to zero. This made him realize that to make a difference, education had to come to children, and so he started thinking of a school for the children of his workers.
Molt first heard Rudolf Steiner speak in 1904, and became a member of the Theosophical Society in

Stuttgart was a hub of anthroposophical activity, and Rudolf Steiner came through many times. The area had the first dedicated branch house (in 1911) and regular meetings.
After the First World War Rudolf Steiner spoke several times in lectures about things that could be done, and Molt felt called upon to act. Molt and several other Stuttgart based anthroposophists tried to establish the Threefold Social Order in Baden Württemberg, but despite their tremendous efforts, this did not come about.
But Molt did take his idea of a school for his worker's children, which he had shared with the workers to great enthusiasm, to Rudolf Steiner, who took it up. Molt earmarked a substantial sum from the company profits to pay for the school. The school was opened within six months.
For the first year it was a "company" school, with the teachers being paid as employees of the Waldorf Astoria Cigarette Company. A year later, in 1920, the school was made independent, at the insistence of the teachers.
A charitable foundation was established to own and manage the school, and the Waldorf Astoria Cigarette Company continued to pay the tuition of the factory worker's children. Many new pupils joined. Enrolment went from around 300 to 1,100 students in about 5 years. The school was considered a model, and other schools were founded shortly thereafter in other cities. In 1928 a Rudolf Steiner School as far away as New York was established.
While the school flourished, business went downhill in the 1920's. Molt bought out his partners in the Waldorf Astoria Cigarette Company. Inspired by the idea of a business association to fund anthroposophical work he and several other Stuttgart based anthroposophists donated their businesses, becoming shareholders in "Die Kommende Tag".
The association was poorly managed, and collapsed a year later. The Waldorf Astoria Cigarette Company, its prized asset, was sold by the association to some banks, who kept Molt on as manager. Molt lost his entire investment, as did many others.
In 1928 the banks sold their interest to the largest cigarette manufacturer in Germany, which was in the process of buying out and liquidating the competition. Molt read about the sale in the newspaper, and was shortly out of a job, the Waldorf Astoria Cigarette Company relegated to history.
At his death in 1936 the Waldorf School was being slowly strangled by the Nazi's, and was shut down a few months later. But the model survived. After the war, it reopened, and today there are over 900 recognized Waldorf Schools worldwide.
---