James Young Simpson 1811 – 1870
May 02, 2009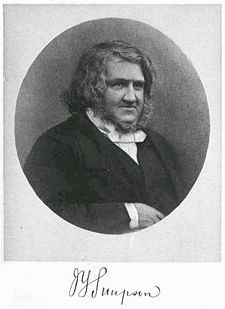 Sir James Young Simpson 1811 – 1870 was a Scottish doctor and an important figure in the history of medicine.
Simpson discovered the anaesthetic properties of chloroform and successfully introduced it for general medical use.
James Young Simpson was physician to Queen Victoria, although Queen Victoria also consulted homeopath James Manby Gully, and Prince Albert came from a family tradition of homeopathy, and when Prince Albert came to England to marry Queen Victoria, Prince Albert renewed the Royal patronage of homeopathy.
James Young Simpson was a staunch opponent of homeopathy. Nevertheless, so many of his students and colleagues converted to homeopathy, that James Young Simpson undertook a detailed study of homeopathy between 1851 - 1858, during which time, James Young Simpson was engaged in a continuous and acrimonious debate with them.
In 1853, James Young Simpson wrote his book Homeopathy, supposedly the gravestone of homeopathy, to which William Henderson wrote his reply Homeopathy Misrepresented, Homeopathy Fairly Represented.
In fact, James Young Simpsons attack on homeopathy became the catalyst for an international debate, in America, in Britain, in Europe, in India, as William Todd Helmuth in New York, and many other homeopaths reinvigorated the debate and gave new life to homeopathy.
If you want to grow great roses, use lots of manure!
Simpson endorsed the decision of the Royal College of Surgeons in Edinburgh declaring the impropriety of meeting in the future at cases "with practitioners of homeopathy for diagnostic or other purposes". In return, homeopaths were quite content to give fair praise to James Young Simpson for his brilliant career.
James Young Simpson was a colleague of George William Balfour, John Forbes, William Kingdon, John Rutherford Russell, Andrew Wood, and a friend of the Duke of Beaufort (who was an ardent supporter of homeopathy and consulted Frederick Hervey Foster Quin).
James Young Simpson taught Thomas Skinner (his star pupil and winner of the Simpson Gold Medal, who converted to homeopathy), and John James Drysdale, who also converted to homeopathy under James Young Simpson's nose despite his attacks upon it! James Young Simpson was also a colleague of Robert Gibson Miller.
James Young Simpson strongly opposed his colleague William Henderson, who also converted to homeopathy whilst arguing fiercely with James Young Simpson, and despite being expelled from the Edinburgh Medico Chirurgical Society by James Young Simpson, alongside homeopaths William MacDonald, William MacLoud, and Charles Ransford.
James Young Simpson also tried to get William Henderson and Charles Ransford expelled from the London College of Physicians, but despite being President of this organisation, he was unsuccessful and William Henderson and Charles Ransford's names remain on the College List of Fellows to this day.
James Young Simpson experimented with ether, and he demonstrated his results after dinner at his home at 52 Queen Street, Edinburgh. His guests included Hans Christian Andersen, Catharine Crowe,
James Simpson was born in Bathgate, West Lothian the youngest of eight children, Thomas, John, Alexander, David, George (died young), George and a sister Mary. His parents were Mary Jarvey (also known as Jarvie) and David Simpson, a baker in Bathgate.
James received his initial education at the local school, but because of his obvious abilities his father and brothers (his mother died when he was 9) together paid for a College education and he entered the University of Edinburgh when he was 14 years old. He became a Licentiate in 1830 before graduating in 1832. He was appointed Professor of Midwifery (which would now be called Obstetrics) at the University of Edinburgh and physician to Queen Victoria.
Simpson's name at birth was "James Simpson", as recorded at his baptism on 30 June. It is unknown why he formally adopted the middle name "Young". One theory is that, as a very young professor, he was flaunting his youth in front of his older peers or alternatively that he was known by the affectionate nickname of "Young Simpson" and decided to incorporate it into his name.
Simpson completed his final medical examination at the age of 18 but, as he was so young, had to wait two years before he got his license to practise medicine. It was during this period that he became a Freemason, being initiated in a Lodge in his home town of Bathgate.
Simpson developed an interest in obstetrics, and at the age of 28 was appointed Chair of Midwifery at the University of Edinburgh. He improved the design of obstetric forceps and, like Semmelweis, fought against the contagion of puerperal sepsis. His most noted contribution was the introduction of anesthesia to childbirth.
A free thinker by most accounts, Simpson's intellectual interests ranged from archeology to an almost taboo subject at the time: hermaphroditism. He was a very early advocate of the use of midwives in the hospital environment. Many prominent women also consulted him for their gynaecological problems.
It was his achievements and wide ranging interests that led to his town house at 52 Queen Street, Edinburgh being a gathering point for many members of society, especially intellectual free thinkers. His impish sense of humour got the better of him on at least one of these occasions when he sat a Southern U.S. slave owner next to a freed slave at the dinner table. Since this town house was fairly busy at times, Simpson preferred to keep his wife and children at their country house near Bathgate.
He was elected a member of the Royal Swedish Academy of Sciences in 1863.
Humphry Davy used the first anesthetic in 1799, nitrous oxide laughing gas. Joseph Lister's ether was dismissed as an anesthetic as it irritated the lungs of the patients.
In 1847 Simpson discovered the properties of chloroform during an experiment with friends in which he learnt that it could be used to put one to sleep. It was very much up to chance that Simpson survived the chloroform dosage he administered to himself. If he had inhaled too much, subsequently passing away from an overdose, chloroform would have seen this as a dangerous substance. However, if Simpson had inhaled slightly less it would not have put him to sleep. It was his willingness to explore the possibilities of the substance that established his career as a pioneer in the field of medicine.
Simpson first used his anesthetic to help ease the pain during childbirth. Some may have opposed this practice, interpreting it as an act against nature or the will of God. However, A D Farr's study has shown that this was a distinctly minority view. Wider acceptance of Simpson's efforts came when Queen Victoria used chloroform during the delivery of Prince Leopold in 1853. The anesthetist was John Snow.
Full recognition of Simpson's work followed quickly. He was the first man to be knighted by the Scottish Court of the Lord Lyon for services to medicine. "Victo Dolore" (pain conquered) is the inscription of his coat of arms.
Simpson died at his home in Edinburgh at the age of fifty eight. A burial spot in Westminster Abbey was offered to his family, but they declined and instead buried him closer to home in Warriston Cemetery, Edinburgh. However, a memorial bust can be found in a niche at Westminster Abbey in London. On the day of Simpson's funeral, a Scottish holiday was declared, including the banks and stock markets, with over 100,000 citizens lining the funeral cortege on its way to the cemetery, while over 1,700 colleagues and business leaders took part in the procession itself.
---