John Forbes Innerarity 1813 - 1868
April 27, 2009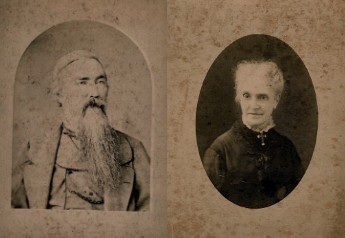 John Forbes Innerarity 1813 - 1868 was a Scottish orthodox physician, born in Mobil America, who converted to homeopathy and returned to America.
John was married to Frances (Fanny) Hamilton Wemyss Scarboroug Johnson Innerarity 1816 - 1880. They had 13 children.
John & Frances were Married in Kirkcaldy, Fife, Scotland 25 Sep 1837. John was born in Mobil, Alabama and was sent back to Scotland for his education where he met again and married Frances. No doubt both their parents were very well aquaited through the trade business which they were all involved in.
The public was shocked last Sunday by the announcement of the death of our well known and esteemed fellow citizen, Dr. John Forbes Innernrity. The deceased was born in this city on January 3l 18l3.
The wealth. of his father, James, gave him all the education that the best schools could furnish. Schools of the kind were not then to be found in this country, and accordingly, he was sent to Europe, where he graduated with the highest honor, first from Cambridge, secondly in the University of Edinburgh and lastly in the Royal College of Surgeons, London.
He came home well equipped mentally for practice in his profession. His father, James Innerarity, was a man of mark before Alabama became a part of the United States. He was member of the commercial house of John Forbes & Co., and later, of the influential house of Panton, Leslie & Co, houses which controlled most of the trade of this gulf coast through an exclusive grant of the Spanish Government.
There was a vast amount of perspicuity and energy in all the gentlemen, connected with the business. Mr Innerarity had charge of most of the correspondence and other matters requiring talent and culture.
We recall that a man fully compotent to express an opinion on the subject said to us many years ago. We allude to Judge Meek, who had been in Washington investigation the records of the State Department for the purpose of gathering information for a history of Alabama, which he had then in hand.
It was this - that in all the correspondence in the numerous volumes before him, he had found no reports or letters that where so well written, so perfect as those by the father of our deceased friend. Talent came to the latter by inheritance. and it was so greatly improved by study and quickness of mind and was held so fast by a wonderfully retentive memory that there were few persons who knew more than he, or who could more readily call into service what he knew when he needed it.
Besides this, he understood some of the modern languages with a quick appreciation of their peculiar idioms. The French and Spanish for example. He was an omniverous and loving reader of our old English literature - from Chaucer to Charles Dickens

and was especially a 1over of the Scotch genius.
Burns poems were to him a deligh, as they must be to all men who love have the capacity to distinguish the mental mountain from the hill which it dwarfs. As an associate and a friend, we hardly know any one more deserving of respect than the deceased. He loved his friends and spoke no ill of his enemies - for there was no emity in his noble heart - a wrong was forgotten as soon as it was acknowledged - he was a generous gentleman - somehow (? chisled) by his quick susceptibility, but always ready to serve others from a gentle nature that few understood better than the writer of this article.
In his profession he gave much service to the poor. Years ago (when we knew him intimately) if summoned in bleak nights to attend the sick he never stopped to think of his fee. He posted to the bedside of the destitute with as much alacrity as he would have gone to the that of the possessor of millions.
Mentally we have never known anyone with a more honest mind, that is, a desire to get at the truth and hold fast by it at any cost. It was this Characteristic that made him a homeopath in the medical profession.  So in religion, he followed whitersoever his own good mind led him.
The deceased wedded with a lady (Miss Frances Wemyss Johnston) of Edinburgh, the alliance contracted while he was there as a student. She was a daughter of a distinguished and cultured physisician of that old and famous - a lady of thorough education and many accomplishments. She survives and it is not for us to give her comfort, (for we are all passing through nature to eternity) and those who neglect to keep this in mind will find the great enemy Death, as he is called, coming when they are not prepared for his visit.
The heart must be its own comfort. By no other means can the good find consolation. Let the bereaved family find it there, for it can be found no where else. Copied from a letter which was copied from the Mobile Daily Register Mondny Nov. 2, l868, Mobile, Alabama.
---