Paul Dahlke 1865 -1928
April 14, 2009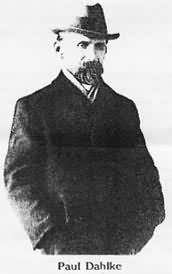 Paul Dahlke 1865 -1928 was a German orthodox physician who converted to homeopathy, and he was also a pioneer of Buddhism in Germany.
Paul Dahlke practiced in Berlin.
Paul Dahlke was a high potency prescriber, and he was a colleague of August Karl Gustav Bier, Richard Haehl, Otto Leeser, Alfons Stiegele, Hans Wapler, and many others.
An uncompromising critic of men and matters for all his life, the Anagarika Dharmapala of Ceylon paid a handsome tribute to Dr. Paul Dhalke, the great German Buddhist, while the latter was yet alive.
"Dr. Paul Dahlke of Berlin," declared the Anagarika Dharmapala, "is well known all over the world as a thinker of great originality, and as an author of Buddhist essays, which were translated into English by Bhikkhu Silacara.
The Sinhala Buddhists have every reason to be proud of the achievements of Dr. Dahlke of Germany, for it was in Ceylon that he learned Pali under such well known scholars as the Thera Sumangala and Pandit Wagiswara.
For more than twenty years he has been reading and translating Pali texts, and in Europe there is no more spiritually minded Pali scholar than Dr. Dahlke. He was travelled all over Ceylon, visited the ancient Viharas, and has been to historic Buddhist places in India and Burma.
"It is the personality of Dr. Dahlke that attracts people to him," continued the Anagarika Dharmapala. "In his daily life he is a living example to his disciples, strictly observing the Five Precepts, and still attending to his professional duties. It will be hard to find a better Buddhist than Dr. Dahlke. He is a strict vegetarian and takes no alcohol. His literary labours have won him fame in Germany."
Drawn to fields outside medicine. The son of a civil servant who brought up a large family on a modest income, Paul Dahlke was born on 25 January, 1865, in East Prussia. As a child he experienced some of life's hardships. On the completion of his secondary education, he took up medical studies.
After passing his final examination in medicine and surgery, he applied himself to homeopathy, realizing that this method of healing was most suited to his talent. He proved himself a splendid healer, establishing himself in private practice. His reputation as a healer extended far beyond his place of work – Berlin.
But he did not confine himself to his practice. He was drawn to fields outside medicine. Schopenhauer's writings made the first impact on him. Soon he switched on to the teachings, of the Buddha.
Dahlke describes his first contact with Buddhism and its effects on him thus: "It was not in the shape of an emotional shock or of some decisive event that Buddhism entered my life. Slowly, imperceptibly, like the seed in the ground, did it take root and grow when in 1898 I started on my first long voyage.
"I had already known Buddhism for some time, but in spite of it, at that time, not India but the South Seas were the goal of my desire. Tahiti and Oweihi, as described in Chamisso's writings, attracted me more than all the wisdom of India; and when in June 1898, I landed at Apis on the Island of Sama, it appeared to me as the perfect fulfilment of my life.
"After about a year I returned home, and the Buddha's teachings must have been developing silently in me, unperceived; for already when in the following year, I set out again on reveals, it was with the avowed aim of India; and not India along but Buddhism."
Official entry into Buddhism in 1900. "In the spring of 1900 I reached Colombo, and had the great and good fortune to find at once good teachers who could give me instruction on Buddhism: Thera Sumangala of Maligakanda Vihara, at a suburb of Colombo, was already an old man, but his intellect was astonishingly keen; and Nanissara Thera, his first co-worker, who took place after his death, and who now, unfortunately, has passed away.
"Then there was the young Bhikku Suriyagoda Sumangala of Sri Vardanaramaya (Colpetty) with whom I have ever since kept up a close friendship; and finally the Pandit Wagiswara who at that time lived at Payagala, on the south coast of Ceylon.
"To him I owe my first understanding of Buddhism, because it was he who could best adopt himself to the Western viewpoint, and also had a thorough grasp of English." "It was then, in 1900, that I made my official entry into Buddhism and its teachings. Since that time I have been constantly travelling back and forth between India and my native Germany; and most of the time I was ill, partly due to the climate, partly through my own fault; being dissatisfied with these restless wanderings, and yet ever drawn back to India."
Bhikku Silcara, the third man from the British Isles to enter the Order of Buddhist monks, has paid tribute to the memory of Dahlke: "In Dr. Paul Dahlke, the Buddhist in Europe possessed one of the most efficient and able pens, backed by what was certainly the most able and efficient brain that has so far appeared in Europe to champion and propagate the ideas contained in the Buddha dhamma.
"Now that pen is still, that brain ceased from its endless activity in exploring every promising line of Buddhist thought, and seeking to probe it to the bottom. Dr. Dahlke was a great man; and like all great men, he did not advertise himself. The great do not need to do so. What they are, they are. It is only the would be great and the essentially little, who need to call attention to themselves.
"So Dr. Dahlke never in any way strove to make men look at him. He just went on his way ceaselessly working in his own way for the propagation of the ideas in which he believed, and the result was a body of writings which will long remain as one of the most lucid, and at the same time (most unusually) the most profound expositions of Buddhism that European Buddhism has so far obtained."
Ideas brought into complete being. "For Dr. Dahlke was not content just to take what was given him in the Buddhist scriptures and swallow it whole. He sought to digest it, and incorporate it into his own mental life as part of that life; and to do this turned everything over and over in his mind until he had seen all the implications, full and complete, of every statement in Buddhist books which he deemed worthy of attention.
"Nay, not only that! When he had seen the truth of any of these statements, he then proceeded to put them into effective embodiment in his own life. As an acute thinker, he early realized the limitations of mere intellectualism. He saw that the only intellect is only a limb of life, not life itself, and that an idea is not fully rounded and complete until it is expressed in life, in living; that up till then it is more or less of a toy, an interesting plaything, but not yet brought into real, complete earnest being. It was into full being that he sought to bring his ideas of the Dhamma by giving them actual expression in his life; and it was to this end that he founded, after much difficulty overcome, his 'Buddhist House'.
"He felt that if the Buddha produced the effect he has upon human history through the effect he produced upon the history of Asia, it was not only because he spoke the words he spoke, but because he lived the life he led; and with all the reverence he felt that his European followers who are his followers in more than name, had to do the same – albeit at a great distance behind the Master's great example – in also making their lives a living presentation of the Dhamma, as the only possible effective way of making Buddhist ideas impress themselves upon their fellow continentals.
"In short, he felt that we must not only talk Buddhism but be Buddhists – be embodiments, to the best of our ability, of the ideas we believe in, and spare no pains towards making ourselves more and more complete embodiments of these ideas."
"When, if ever, the history of Buddhist life in Europe comes to be written, among the names that will stand highest will be that of Paul Dahlke." "Buddhist House" converted into temple.
Dahlke was the author of some 12 books on Buddhism, besides being editor of a Buddhist journal and translator of selections of the Digha and Majjhima Nikayas, and of the Dhammapada.
Some of his major works have been translated into English, Dutch, and Japanese. The Buddhist House which he founded in Berlin, he explains, "was to provide a possibility for a life of self collectedness or at least to improve the conditions for leading such a life." The Buddhist House has been purchased by the German Dharmaduta Society of Ceylon and converted into a Buddhist temple. In his Essays and Poems.
Paul Dahlke states under the heading 'Is the Buddhist Selfish': "If the Buddhist is really a Buddhist, he will act rightly, not for the sake of a favourable rebirth – ever and again does the Buddha warn against this – but simply because his new insight compels him to act rightly.
"And the favourable rebirth follows as a natural consequence, just as blue sky will appear when the cloud disperses, or like the feeling of comfort after a satisfying meal. Just as one does not eat for the sake of having that comfortable feeling, but in complying with natural conditions of life, so also the right action of a Buddhist is not to bring about future comfort, but it is in pursuance of the natural conditions of existence, which, of course, demands a good measure of keen insight to be recognized as such. Thus the right action of the Buddhist is of a nature that serves not for the affirmation of self but for not giving up of self."
Dahlke concludes his Last Lecutre,  which was read on his behalf, shortly before his death, over the Berlin Radio, thus: "Buddhism has a great mission to fulfil in the life of mankind that cannot be performed by any other religion or philosophy. Irreplaceable for the for the seeker after Truth, and entirely unique in its mental structure for the thinker, the Buddha Dhamma stands secure in the power of its inner Truth, waiting serenely for that recognition of its worth which other religions seek to obtain by eager propagation."
Dahlke died in 1928.
During his lifetime he published numerous essays and reviews on Buddhism, including 22 separate works, including four volumes of translations of Buddhist scriptures. Dahlke was the founder of the Buddhist House in Berlin Frohnau, the oldest of its kind in Europe, which still exists.
From 1917 until 1922 he published the Neubuddhistische magazine in five years and then until his death, the Brocken collection. The collection was continued by his siblings until 1938, mainly with texts from his estate. Even in his profession as a physician and homeopath, he was a prolific writer. He wrote about 200 articles, and in detail about thehomeopathic Materia Medica.
Paul Dahlke contributed many cases and articles to various homeopathic publications.
Of interest:
Carl Heinrich Reinhold Dahlke 1846 - 1926 He was head teacher since 1873 and also a homeopath.
---