The Kemble Sisters and Homeopathy
March 29, 2009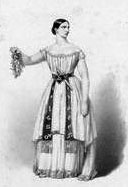 Adelaide Kemble 1815 – 1879 was a British opera singer of great promise in the first half of the nineteenth century.

Frances Anne Kemble 1809 - 1893 was a famous British actress and author in the early and mid nineteenth century.
Adelaide and Fanny Kemble were sisters who advocated homeopathy.
Adelaide Kemble was a friend of Frederic Chopin, Julia Margaret Cameron, Pauline Viardot García, Anne Thackeray Ritchie, Alfred Lord Tennyson, and Ivan Turgenev. Her son Algernon married Ellie, the daughter of Ulysses Simpson Grant.
Fanny Kemble was a friend of Eliza Middleton Fisher.
Adelaide Kemble was the younger daughter of actor Charles Kemble and sister to the noted actress and anti slavery activist Fanny Kemble. Her first operatic performance on the London stage was made in Norma on 2 November 1841.
In 1843 she married Edward John Sartoris, a rich Italian, and retired after a brief but brilliant career. She wrote A Week in a French Country House (1867), a bright and humorous story, and of a literary quality not shared by other tales that followed. Her son, Algernon Charles Frederick Sartoris, married Ellen (Nellie) Wrenshall Grant, the daughter of the famous American general and President Ulysses Simpson Grant on 21 May 1874 in the East Room of the White House.
The young Frederic Leighton ( the painter of Flaming June and a President of the British Royal Academy of Art from 1878 until his death in 1895) was introduced to her circle in Rome, and was greatly influenced by her in many respects, most evidently, perhaps, in social and musical areas. Her soirees surely were an inspiration for his famous, annual "Leighton Musics" later in the great Victorian painter's career, held in his home (now Leighton House) in London. Mrs. Sartoris and the younger artist maintained a close friendship for the rest of her life.
Fanny Kemble was a member of the famous Kemble theatrical family, Fanny was the oldest daughter of actor Charles Kemble and the niece of noted tragedienne Sarah Siddons and of the famous actor John Philip Kemble. Her younger sister was opera singer Adelaide Kemble. Fanny was born in London, and educated chiefly in France.
On 26 October 1829, Fanny Kemble first appeared on the stage as Juliet at Covent Garden. Her attractive personality at once made her a great favorite, her popularity enabling her father to recoup his losses as a manager. She played all the principal women's parts, notably Portia, Beatrice and Lady Teazle, but perhaps her greatest role, not as a lead part, was especially written for her when she played Julia in James Sheridan Knowles' The Hunchback. (George Stevenson Knowles, the second son of James Sheridan Knowles, was a homeopath).
In 1832, she accompanied her father on a theatrical tour of the U.S. While in Boston in 1833, she journeyed out to Quincy to witness the revolutionary technology of the first commercial railroad in the United States. She described her visit to the Granite Railway in her journal, as seen in the external link provided by the Friends of the Blue Hills.
In 1834, she retired from the stage to marry Pierce Butler, the American heir of one of the largest slaveholders in Georgia and the grandson of the Founding Father Pierce Butler. When the couple married, he was not a slaveholder, but by the time their two daughters, Sarah and Frances were born, Pierce Butler had inherited his grandfather's property and took his wife with him to his sea island plantations during the winter of 1838-39.
Fanny was shocked by the conditions of slaves and their treatment. She tried to better their conditions and complained to her husband about slavery. When she left his plantations in the spring of 1839, debates about slavery and marital tensions continued. The couple were divorced in 1849, with Pierce keeping custody of the two daughters until they came of age. Fanny was reunited with each of her girls when they turned 21. Butler died on his plantation shortly after the American Civil War. Neither he nor Fanny ever remarried.
In 1847, Fanny returned to the stage. This was due more to a need to find a way to support herself following her separation and eventual divorce from Butler than to any real interest in acting. Later, following her father's example, Fanny Kemble appeared with much success as a Shakespearean reader, touring from Massachusetts to Michigan, from Chicago to Washington, winning new audiences to the Bard.
She kept a diary about her life on the Georgia plantation, which was circulated among abolitionists prior to the American Civil War, and was published both in England and the United States once the war broke out. She continued to be outspoken on the subject of slavery, and often donated money from her readings to charitable causes.
In Journal of A Residence on a Georgian Plantation in 1838-1839, published in 1863, Kemble wrote, "I have sometimes been haunted with the idea that it was an imperative duty. Knowing what I know, and having seen what I have seen, to do all that lies in my power to show the dangers and the evils of this frightful institution." In 1877, Fanny returned to England, where she lived using her maiden name till her death. During this period, Fanny Kemble was a prominent and popular figure in the social life of London. She became a great friend of and inspiration for Henry James 1843 - 1916 during her later years. His novel Washington Square (1880) was based upon a story Fanny had told him concerning one of her relatives.
Besides her plays, Francis the First (1832), The Star of Seville (1837), a volume of poems (1844), and an Italian travel book, A Year of Consolation (1847), she published the first volume of her memoirs, Journal in 1835, and in 1863, another, Journal of Residence on a Georgian Plantation (dealing with life on the Georgia plantation), as well as a volume of plays, including translations from Alexandre Dumas and Johann Christoph Friedrich von Schiller. These were followed by Records of a Girlhood (1878), Records of Later Life (1882), Notes on Some of Shakespeare's Plays (1882), Far Away and Long Ago (1889), and Further Records (1891). Her various volumes of reminiscences contain much valuable material illuminating the social and dramatic history of the period.
Her elder daughter Sarah married a doctor, Owen Wister. Sarah and Owen had one child, Owen Wister Jr., the popular American novelist and author of the 1902 western novel, The Virginian.
Her other daughter Frances Butler Leigh met and fell in love with British minister James Leigh. The couple had one daughter, Alice, who was with her grandmother Fanny when she died in England in 1893.
---