Ethelbert Petrie Hoyle 1861 - 1955
March 28, 2009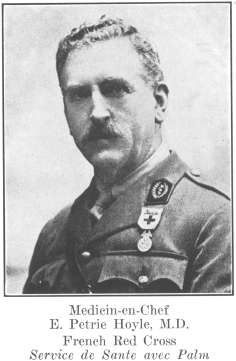 Ethelbert Petrie Hoyle 1861 - 1955 was a British orthodox physician who converted to homeopathy as a boy, being taught by his family doctor Thomas Hahnemann Hayle who knew Samuel Hahnemann personally.
Petrie Hoyle graduated from Hahnemann Homeopathic Medical College of the Pacific, San Francisco, to become editor of the International Homeopathic Medical Directory and Travelling Secretary to the International Homeopathic Society. Petrie Hoyle was involved with The Anglo French American Hospital, apparently leaving the London Homeopathic Hospital to work at the Neuilly Hospital in France during WWI.
Petrie Hoyle was a contemporary of William Bayes, Charles Harrison Blackley, John Galley Blackley, David Dyce Brown, George Henry Burford, James Compton Burnett,  John Moorhead Byres Moir, John Henry Clarke, H A Clifton Harris, Robert Thomas Cooper, R M Le Hunt Cooper, Giles Forward Goldsbrough, Clarence Granville Hey, Richard Hughes, Gottlieb Heinrich Georg Jahr, James Johnstone, C T Knox Shaw, Thomas Robinson Leadam, Octavia Margaret Sophia Lewin, Edward M Madden, Henry R Madden, David MacNish, Edwin Awdas Neatby, Alfred Crosby Pope, Mathias Roth, Harold Wynne Thomas, Florence Nightingale Ward, Charles Edwin Wheeler, John Weir, David Wilson, James Craven Wood, Dudley d'Auvergne Wright, Stephen Yeldham and many others.
Petrie Hoyle was a member of the Animal Defence and Antivivisection Society.
Petrie Hoyle was born in Rochdale, Lancashire in 1861. Petrie Hoyle was to become a prolific traveller.
In 1878, Petrie Hoyle was in New Zealand where he first practiced homeopathy, being taught by his mother and his family doctor Thomas Hahnemann Hayle, who knew Samuel Hahnemann personally.
In 1895, Petrie Hoyle was living in California at 2321 Central Avenue, SF San Francisco, and writing articles for his local archaeological magazine and functioning as a Township Justice in San Juan, Orange County. Petrie Hoyle travelled back to America in 1900 where he had family. In 1901 he was back in America and living at 506 Sutler Street, San Francisco.
He sold his home in California in 1903 and travelled back to live in London, and in 1905, he was back in America as Secretary and Treasurer of Hahnemann College Furnishing Fund for the Hahnemann Homeopathic Medical College of the Pacific, San Francisco.
In 1910, Petrie Hoyle was living in Knappe Cross, Exmouth, Devon. In 1911, Petrie Hoyle was present at the Eighth Quinquennial Homeopathic International Congress in London, and in 1913, Petrie Hoyle living at 84 Holland Park in London, when he was elected as Travelling Secretary to the International Homeopathic Society Executive, in 1914, Petrie Hoyle travelled to St. Petersburg in Russia to represent the International Homeopathic Congress, and he was back in America in 1919 when he married.
In 1920, Petrie Hoyle was a member of the Alpha Sigma Fraternity. It was about this time he was the physician of the football team at the University of California. In 1922, Petrie Hoyle was back living in France for six months. Petrie Hoyle owned a farm in Chester Springs in America in 1929, and in 1932, Petrie Hoyles travelled back to France from America, and he was living in Maine in 1939 and contributing articles to gardening magazines.
Petrie Hoyle died in Majorca in 1955.
E Petrie Hoyle was involved with The Anglo French American Hospital, apparently leaving the London Homeopathic Hospital to work at the Neuilly Hospital in France, and in 1913 he was treating soldiers injured in War alongside David MacNish.
From http://www.homeoint.org/cazalet/neuilly/ Homeopathy … was widely practiced during WWI because orthodox management of disease had the capacity to cause iatrogenic illness as a result of the toxic effects of the drugs that were commonly prescribed and were not particularly effective in any case.
It would be true to say that very few medications were truly effective, certainly not in the way that modern medications are today. There was no specific treatment for pneumonia, tuberculosis, angina pectoris, bacterial infections nor a host of illnesses that can now be significantly improved by medication.
A glance at the list of diseases treated by the Anglo French Homeopathic Hospital reveals that nearly all the medical complaints were incurable by the orthodox treatments of the time and all would fare as well as they would if they were admitted to the orthodox General Hospitals. Many would do better because of care that they were given by the dedicated nurses and doctors.
These doctors were all trained in orthodox medicine and knew when to treat by Homeopathic principles and when to treat by standard methods. The Hospital was opened at Neuilly in late 1914 and was disbanded on 15th. March, 1916 because so many of their staff were called up for military service in the RAMC.
During its existence many surgical patients were treated in their operating room as well as medical patients; the Hospital had a particular interest in the care of indigent civilians as well as military patients….
At a meeting of the Acting Committee of the International Homeopathic Council held in London late in 1914, its deliberations included a proposition for the establishment of a Homeopathic Hospital, under military control, for medical cases, on the Western front of the Allies.
The President of the British Homeopathic Society (Harold Wynne Thomas), the President of the previous British Homeopathic Congress (James Johnstone), together with the Vice President of the International Homeopathic Council George Henry Burford, met by arrangement the Chairman of the London Homeopathic Hospital, Robert Henryson Caird, to consider the necessary preliminaries.
Their consultation issued in the nomination of a Provisional Committee constituted by representatives of the principal homeopathic activities in Great Britain, and the publication of a statement of the case, with an appeal for funds to those favourably inclined to the work.
Thus did the leaders of British Homeopathy lead, and the response of the English speaking homeopaths the world over was immediate and maintained. Fortified by this support, the Provisional Committee nominated two Commissioners (Dr. Hoyle and David MacNish) to proceed to France to confer with the military authorities there, as well as with the principal homeopathic physicians in Paris.
E Petrie Hoyle was a Honorary Volunteer, British Mobile Hospital Service in Belgium, August 15, 1914. French Service de Santé, Paris, December 1914. Founder and Co-Director with Doctor Arnulphy, Hospital No. 307, Neuilly sur Seine, January 1915. Médicin en Chef, Hospital No. 50, Roubelles, for one year. Ulster Volunteer Hospital, Lyon, five months. American Hospital (Orthopedic) for French, fifteen months. Medicin en Chef, Hospital No. 10, Bretigny sur Orge. Overseas France and Belgium as Honorary Volunteer from August 15, 1914 to August 19, 1918. Citations - Service de Santé avec Palm. Medaille des Épidémies, Premiere classe. Reconnaisance de la Republique Francaise.
From The Layman Speaks, Vol. VIII No. 10  October, 1955 page 348 Courtesy of Julian Winston
Friends of The Layman Speaks who were with us from the first recall the great respect and admiration the contributions to our pages from E. Petrie Hoyle, MD, then of Kittery Maine— articles which were a great support for the magazine when it most needed support. Dr. and Mrs. Petrie Hoyle left Kittery and for the last few years have  resided in Mallorca, Spain, among friends in that port of long standing, for Dr. Hoyle was a homeopath of the world.
Under the date of August 22, Mrs Hoyle wrote, and we think our loyal readers would like to share the letter: "My Dear Mr. Green: Dr. Hoyle died quietly in his sleep in the evening of August 17th. His 94th birthday was on August 15th. He felt that you were doing so much for homeopathy (his greatest interest) that I wish you to know at once. He has left his medical books to Green [Dr. Julia M. Green], care of the American Foundation for Homeopathy, Inc. They will soon be sent. Thank you for your continued interest in his activities. Yours very Sincerely, Lucy Hoyle"
Considering how active E. Petrie Hoyle was in the international homeopathic community, little can be found about him. His birth and death dates are deduced from the simple single obituary I found in the October 1955 The Layman Speaks. He was British, although most of his years were spent in the USA, working as a homeopath in Kittery, Maine before retiring. His homeopathic education was had at the Hahnemann Homeopathic Medical College of the Pacific, San Francisco. The record show he was "from London" and graduated in 1900.
The picture we find of him was from a book by Frederick Myers Dearborn called American Homeopathy in the World War. By this time Petrie Hoyle was instrumental in setting up, with the French Red Cross and the International Homeopathic Council a hospital in the suburb of Paris, Neuilly sur Seine. This hospital, completely homeopathic, was administered by Dr. Hoyle and served French, British, and American troops during the War. (and some wounded German soldiers, see Dudley d'Auvergne Wright)
Dr. Hoyle edited the International Directory of Homeopathy in 1931. Dr. Hoyle has a New Zealand connection. In an article about the use of Homeopathy in WWI found in the August 1942 Homeopathic Recorder.
Petrie Hoyle says: "My personal experience with with homeopathy dates back to 1878, as a boy of sixteen and a half years, when I went to New Zealand, my mother having coached me in 'home medicine." I went out armed with a case of 72 remedies and Edward Harris Ruddock's The Homeopathic Vade Mecum of Modern Medicine and Surgery.
"Our family doctor, Thomas Hahnemann Hayle of Rochdale, England, who knew Samuel Hahnemann personally, had also coached me in various things, including how to properly dilute any medicine which was getting low in its bottle. I have over sixty years of practical experience, without feeling that homeopathy was ever at fault."
Petrie Hoyle retired to Mallorca, Spain with his wife in the early 1950s. He died quietly in his sleep, two days after turning 94. All his books were donated to the American Foundation for Homeopathy, and are still in the library of the National Center for Homeopathy. There is a magnificent set of all of James Compton Burnett's writing, all custom bound in identical leather bindings. All his books are filled with heavily written notes in the margins and underlines. The notes are an interesting view into the man. Usually written in a red or green pencil, they are a wonderful commentary on the text, with comment like: "This is an accurate statement!" to "False! False! False!" with the offending paragraph underlined. Julian Winston
Petrie Hoyle was an editor of the International Homeopathic Medical Directory, and he wrote Statistical Proof Thereof, Homeopathy and Vivisection, Unnecessary Tonsil Operations; How to Cure Influenza, Vital Economics, Fifty Reasons for Being a Homeopath with James Compton Burnett, Transactions of the Eighth Quinquennial Homeopathic International Congress, and he also wrote an article on The proof of Homeopathy, Painful Menstruation, Experiences of a teenaged prescriber, and various articles and cases were also published in various homeopathic publications.
Of interest:
J Petrie Hoyle was the first American physician to serve in Flanders in WW1.
Henry Kelsall (?-?) Rochdale's first non conformist Justice of the Peace, proposed an infirmary in Rochdale, with an amendment from Alderman Robinson for a homeopathic ward to be added to the new institution '… in recognitition of the strong tradition of this medical practice in the town, because of the increased subscriptions that would accrue as a result, and with people obviously more likely to subscribe to an institution that encompassed their specific medical beliefs… The proposal was seconded by Counsellor Hoyle and a stormy debate ensued in which is became obvious that the orthodox medical profession in the town, as represented by Doctors Elliott, March and Wood, objected, at times quite vitriolically. 'No connection with quacks' was one of the phrases used by Dr. Wood, a Medical Officer in the Dispensary, at the prospect of homeopaths practicing in the proposed Infirmary. Nevertheless despite these objections the proposal was carried and a pledge of £3650 *[£166,805.00 in today's money] _taken from the various people present…' _However, the course of the proposed homeopathic Rochdale Infirmary became mired in the perennial argument between old and new medicine. In Rochdale, the supporters of homeopathy were primarily non conformists, dissenters and Liberalists, and included John Bright, Benjamin Butterworth, Dr. Cox, Thomas Hahnemann Hayle,  Dr. Holland, Edward Miall,  George Morris, J K Cheetham, and Joseph Seed amongst many others. The Homeopathic Infirmary in Rochdale was never  built as a result of all this upset. (From Helen Kelsall, [The Development of Voluntary Medical Institutions in Rochdale 1832-1872), Transactions New Series Number 4,*](http://shm.oxfordjournals.org/content/early/2013/04/16/shm.hkt004.full) (1994, Rochdale Literary and Scientific Society)).
---