Frank Podmore 1856 - 1910
March 23, 2009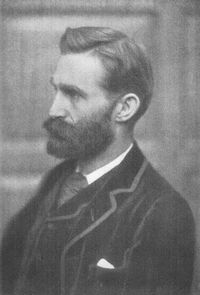 Frank Podmore 1856 - 1910 was an English author, founding member of the Fabian Society, and writer on psychic matters.
Frank Podmore, a founder of the Fabian Society was an active spiritualist and homeopathic advocate and associate of homeopath James John Garth Wilkinson (Frank Podmore, Mod Spiritual: Hist&crit Pt2, (Routledge, 28 Feb 2001). Multiple pages).
Frank Podmore was a colleague of Annie Wood Besant, Hubert Bland and his wife Edith Nesbit, Edward Carpenter, Havelock Ellis, Sidney Olivier, Edward Reynolds Pease, George Bernard Shaw, Graham Wallas, and Sidney and Beatrice Webb.
From http://en.wikipedia.org/wiki/Frank_Podmore Born at Elstree, Hertfordshire, Podmore was the son of Thompson Podmore, headmaster of Eastbourne College. He was educated at Haileybury and Pembroke College, Oxford (where he first became interested in Spiritualism and joined the Society for Psychical Research — this interest remained with him throughout his life).
In October 1883 Podmore and Edward Reynolds Pease joined a socialist debating group established by Edith Nesbit and Hubert Bland. Podmore suggested that the group should be named after the Roman General, Quintus Fabius Maximus, who advocated weakening the opposition by harassing operations rather than becoming involved in pitched battles. In January 1884 the group became known as the Fabian Society and Podmore's home at 14 Dean's Yard, Westminster, became the organisation's first official headquarters.
In 1886 Podmore and Sidney Webb conducted a study into unemployment, eventually published as a Fabian Society pamphlet, The Government Organisation of Unemployed Labour. However, Podmore's major work was a detailed study of the life and ideas of Robert Owen (1906).
Podmore resigned from a senior post in the Post Office in 1907. He died by drowning at Malvern in August 1910.
---