The Brothers Grimm and Homeopathy
March 17, 2009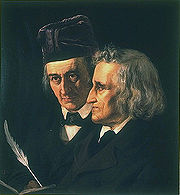 The Brothers Grimm, Jakob Ludwig Grimm 1785 - 1863 and Wilhelm Karl Grimm 1786 - 1859, were German academics who were best known for publishing collections of folk tales and fairy tales and for their work in linguistics, relating to how the sounds in words shift over time (Grimm's Law).
The Grimm brothers were sponsored by Friedrich Carl von Savigny, who was married to Kunigunde Brentano, the sister of Clemens Brentano and Bettina von Arnim ( a patient of Samuel Hahnemann and a close friend of Johann Wolfgang von Goethe).
The Brothers Grimm dedicated their fairy tale collection to Bettina von Arnim, and Bettina von Arnim's daughter Gisela von Arnim married Herman Grimm, a son of Wilhelm Grimm.
Jakob worked for Jerome Bonaparte in his library, and the Grimm brothers were friends of Annette von Droste Hulshoff,
Jakob Ludwig Grimm and Wilhelm Karl Grimm were born on January 4, 1785, and February 24, 1786, respectively, in Hanau near Frankfurt in Hessen. They were among a family of nine children, only six of whom survived infancy. Their early childhood was spent in the countryside in what has been described as an "idyllic" state. The Grimm family lived near the magistrates' house between 1790 and 1796 while the father was employed by the Prince of Hessen.
When the eldest brother Jakob was eleven years old their father, Philip Wilhelm, died and the family moved into a cramped urban residence. Two years later, the children's grandfather also died, leaving them and their mother to struggle in reduced circumstances… the brothers were collectors of folk tales, not their authors…
The two brothers were educated at the Friedrichs Gymnasium in Kassel and later both read law at the University of Marburg. It was the inspiration of Friedrich Carl von Savigny there, who awakened in them an interest in the past.
They were in their early twenties when they began the linguistic and philological studies that would culminate in both Grimm's Law and their collected editions of fairy and folk tales. Though their collections of tales became immensely popular, they were essentially a by product of the linguistic research which was the Brothers' primary goal.
In 1808, Jakob was named court librarian to the King of Westphalia, and in 1812 the Grimm brothers published their first volume of fairy tales, Tales of Children and the Home. They had received their stories from peasants and villagers, and controversially from other sources such as already published works from other cultures and languages (eg. Charles Perrault).
In their collaboration, Jakob did more of the research, while Wilhelm, more fragile, put it into literary form and provided the childlike style. They were also interested in folklore and primitive literature. In 1816 Jakob became librarian in Kassel, where Wilhelm was also employed. Between 1816 and 1818 they published two volumes of German legends and also a volume of early literary history.
In time the brothers became interested in older languages and their relation to German. Jakob began to specialize in the history and structure of the German language. The relationships between words became known as Grimm's Law. They gathered immense amounts of data. In 1830, they formed a household in Göttingen with Jakob, where both brothers secured positions at the University of Göttingen. Jakob was named professor and head librarian in 1830, Wilhelm became a professor in 1835.
In 1837, the Brothers Grimm joined five of their colleague professors at the University of Göttingen to protest against the abolition of the liberal constitution of the state of Hanover by Ernest Augustus I, a reactionary son of King George III.
This group came to be known in the German states as Die Göttinger Sieben (The Göttingen Seven). The two, along with the five others, protested against the abrogation. For this, the professors were fired from their university posts and three deported - including Jakob.
Jakob settled in Kassel, outside Ernest Augustus I's realm, and Wilhelm joined him there, both staying with their brother Ludwig. However, the next year, the two were invited to Berlin by the King of Prussia, and both settled there.
Their last years were spent in writing a definitive dictionary of the German language, the first volume being published in 1854; it was carried on by future generations. Jakob remained a bachelor until his death, but Wilhelm married Henriette Dorothea Wild (Also known as Dortchen), a pharmacist's daughter and a childhood friend from whom the brothers heard the story Little Red Riding Hood, in 1825. They had four children, of whom three survived infancy.
Even after Wilhelm's marriage, the brothers stayed incredibly close. Wilhelm died in Berlin on December 16, 1859, while Jakob continued work on the dictionary and related projects until his death in Berlin on September 20, 1863.
The brothers are buried in the St. Matthäus Kirchhof Cemetery in Schöneberg, Berlin. The Grimms helped foment a nationwide democratic public opinion in Germany and are cherished as the progenitors of the German democratic movement, whose revolution of 1848/1849 was crushed by the Kingdom of Prussia, where a constitutional monarchy was established.
Of interest:
F C Grimm (?J C Grimm) was an orthodox physician who converted to homeopathy and became a student of Samuel Hahnemann.
---