Henry Thomas 1833 - 1894
March 13, 2009

Henry **Thomas** 1833 - 1894 was a British homeopath who graduated from the Western College of Homeopathic Medicine, Cleveland, Ohio, in 1856, and the Homeopathic College of Pennsylvania at Philadelphia, 1855.
Henry Thomas was a colleague of Egbert Guernsey, and Joseph Hyppolyte Pulte. Henry Thomas worked as assistant to Charles Thomas Pearce for a year at Northampton before establishing his practice at Chester (David Charles Manners (3rd great grandson of Charles Thomas Pearce), Noodles & Knaves: Dr. Charles Thomas Pearce (1815-1883) 'Martyr of Homeopathy', (unpublished, 2012)).
Henry Thomas practiced in Llandudno, where he was the Managing Director of the Llandudno Hydropathic Establishment.
From http://www.archivesnetworkwales.info/cgi-bin/anw/fulldesc_nofr?inst_id=46&coll_id=1905 Henry Thomas was a native of Chester, Cheshire, the son of Thomas Thomas 1799 - 1887, a printer, originally from Bangor, Caernarfonshire.
Dr Thomas was articled to John Edward Norton of Chester in 1852, then studied medicine in America, where he graduated as an M.D. from the Western College of Homeopathic Medicine, Cleveland, Ohio, in 1856, and of the Homeopathic College of Pennsylvania at Philadelphia, 1855.
He returned to Chester, succeeding John Edward Norton as resident proprietor and medical superintendent of the Llandudno Hydropathic Establishment in c. 1874, where he worked until his death in 1894.
Miss Eva Thomas (d. 1952), the youngest daughter of Dr Henry Thomas, was a teacher, primarily of French and German, but she also gave lessons in music and English. Miss Thomas and her brothers and sisters corresponded with *John Price M.A. (1803-1887), a cleric and naturalist, in the period 1878-1884, mainly on the subject of natural history.
Henry Thomas' papers, and those of his daughter Eva Thomas 1852 - 1975, are held by the Conwy Archives Service.
Henry Thomas' Obituary is in The Homeopathic World in 1894, and the entry reads thus:
The Homeopathic World March 1st 1893: "We greatly regret to record the death of Dr. Henry Thomas of Llandudno, which took place at his residence in that town on the 6th of February, in the 62nd year of his age.
"Dr. Thomas commenced his medical studies as a convinced homeopath, before there was any clause in the Medical Act to protect homeopathic students from unfair and bigoted professors and examiners.
"He therefore pursued his studies in America, where he passed his examinations and took his degrees. But the Medical Council would not put him on the Register; their excuse was that Philadelphia College was sectarian, and therefore did not teach the whole of medicine - which is nonsense, as they are sectarian because they do not teach the only scientific therapeutics - homeopathy."
The following notice we take from the Chester Chronicle of February 10th:
"Our obituary columns today record the death of Dr. Henry Thomas, Managing Director of the Llandudno Hydropathic Establishment, which took place at his residence adjoining the Hydro, on Tuesday morning, February 6th, at the age of nearly 62 years.
"He had not been in robust health for the last year owing to an accident, and about three weeks ago had a paralytic seizure. The deceased was one of the most active members of the pier directorate, especially in the arrangements for the pavilion entertainments and the season concerts. In that department his absence on the board will be very much felt.
"Dr.Thomas was a native of and for many years resident in Chester, where he was well known, as he was in fact throughout the country. He became articled to the late John Edward Norton, of Chester, about the year 1849, but in 1852 went to America to study medicine, the prejudices of the old schools of medicine in this country at that time being so very keen that it was difficult for students to graduate who were avowed believers in homeopathy.
"In 1855 he graduated as MD of the Homeopathic College of Cleveland Ohio, and also of the Homeopathic College of Philadelphia, both chartered colleges of their respective states.
"After sixteen years of successful practice in Chester he succeeded John Edward Norton as Resident Physician at the Llandudno Hydropathic Establishment, which position he retained until his death.
"The funeral took place at Chester Cemetery on Friday. Many friends and relatives were present, including three sons, Mr. Robert Edward, Mr. Harry and Dr. Bernard Thomas; Mr. E Thomas, Pepper Street; Mr. R Thomas and Mr. T Thomas (brothers), and Mrs. T Thomas; Joseph Marples, Liverpool (brother in law); Dr. Haynes Thomas, Dr. F Thomas, and Mr. A Thomas (nephews); and Dr. Hawkes, Liverpool (Alfred Edward Hawkes).
"The Cortege arrived at the cemetery from Llandudno at 12 o'clock, where it was met by the cemetery chaplain, Rev. F Long. The coffin bore the inscription - 'Henry Thomas MD, born September 15 1832; died February 6th 1894."
Henry Thomas wrote Additions to the Homeopathic Materia Medica, and he was the first homeopath to mention Bellis Perennis in a homeopathic Journal in The British Journal of Homeopathy Vol 16., he edited and made additions to Egbert Guernsey's Domestic Practice,
Of interest:
Charles Darwin visited Llandudno in 1824, and his visit is written up in *John Price's guidebook Llandudno And How To Enjoy It. Charles Darwin was a life long friend of 'Old Price', as he called his friend John Price. They had first met as children when Charles Darwin was aged 15 and 'Old Price' was aged 21. John Price also knew Francis Darwin and Darwin's brother Erasmus Alvey Darwin, who was known as 'Old Strol'. Charles Darwin's niece Margaret Susan Wedgwood, lived in Llandudno.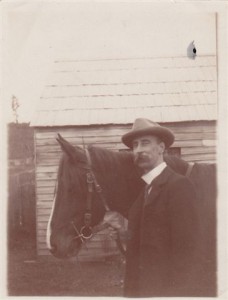 Bernard Thomas (?-?), son of Henry Thomas, (photo contributed by Bernard Thomas's grandson, Max Henry Thomas, who sent most of Bernard's memorabilia to the Launceston Planetarium for safe keeping).
Bernard Thomas was the first resident medical officer at the Hobart Homeopathic Hospital, Tasmania, when it opened in 1899. He had had seven years experience in a similar institution in Liverpool, England.
Edward** Thomas (?-?), **Henry Thomas's brother was a homeopathic pharmacist in Chester, and his daughter Agnes married James Compton Burnett.
Catherine Anne Thomas (?-?), sister of Edward and Henry Thomas married another homeopathic chemist called Joseph Marples. He had premises in liverpool.
---