Charles Edmund Isham 1819 - 1903
March 10, 2009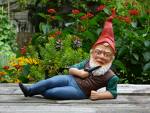 Sir Charles Edmund Isham 1819 - 1903, 10th Baronet, Isham Baronetcy of Lamport in the County of Northampton, was a landowner and gardener based at Lamport Hall, Northampton. He is credited with beginning the tradition of garden gnomes in the United Kingdom when he introduced a number of terracotta figures from Germany in the 1840s.
Charles Isham was a Vice President of the London Homeopathic Hospital, alongside Archbishop of Dublin, Arthur Algernon Capell 6th Earl of Essex, Lord Francis Gordon MP, Arthur de Vere Capell Viscount Malden, Lord Clarence Paget MP, Lord George Paget MP, Frederick Hervey Foster Quin, Marmaduke Blake Sampson, John Robert Townshend 1st Earl Sydney, Henry Charles FitzRoy Somerset 8th Duke of Beaufort, George Wyndham 1st Baron Leconfield, and many others.
In 1856, Charles Isham was the President of the Northamptonshire Homeopathic Dispensary, where he was a colleague of Arthur Crowden Clifton, and Joseph Laurie.
In 1858, Charles Isham reported that a 3000 bed military hospital in Cronstadt Russia was run entirely as a homeopathic hospital (John C Peters, William Henry Holcombe, Henry C Preston, Erasmus Edgerton Marcy, The North American Journal of Homeopathy, Volume 7, (American Medical Union, 1859). Page 120-121).
Charles Isham was also an advocate of Mesmerism, Vegetarianism and Spiritualism.
In 1867 several extremely rare books and manuscripts were rediscovered in the library and loft of his family home. These included a fragment of Thomas Edwards' Cephalus and Procris; Narcissus which had been lost for 200 years and was the only existing part until a full copy was subsequently discovered at the Cathedral Library at Peterborough.
Also discovered were first editions of Milton's Paradise Lost and Paradise Regained in their original sheepskin bindings.
Further discoveries included:
Emaricdulfe (1598) by E.C. Esquire
for each of which only one or two other copies were known. The above four works found their way into the Britwell Court Library before being sold in February 1922 to A.S.W. Rosenbach for £3,600.
Charles Isham wrote Healing by the hand and will, The Food that we live on, Notes on gnomes, from authentic sources, The Barby apparition. A letter,
---