Justus Ferdinand Christian Loder 1753 – 1832
March 08, 2009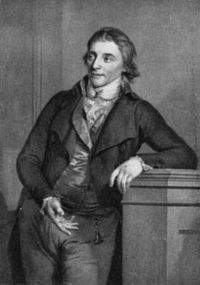 Justus Ferdinand Christian Loder 1753 – 1832 was a German anatomist and surgeon who was a native of Riga.
Justus Christian Loder was a lifelong friend of Johann Wolfgang von Goethe and Christoph Wilhelm von Hufeland.
In 1777 Loder earned his medical doctorate at the University of Göttingen, and the following year was appointed professor of surgery and anatomy at the University of Jena, where he would practice medicine for the next 25 years.
At Jena he was responsible for the establishment of an anatomical theatre and an Accouchierhaus (maternity house). In 1803 he transferred to the University of Halle, where he established a clinic of obstetrics.
After the closing of the University of Halle by Napoleon Bonaparte in 1806, he became personal physician to the Prussian royal family at Königsberg.
Later he relocated to Russia, where in 1810 he became personal physician to Czar Alexander I. Between 1814 and 1817 he was in charge of the military hospital in Moscow. He died in Moscow on April 16, 1832.
From 1794 to 1803 he published Tabulae anatomicae, which was a masterpiece containing a complete collection of anatomical illustrations of the human body. This work was one of the largest and most comprehensive anatomical atlases in its time.
During his career, Loder maintained on-going friendships with Johann Wolfgang von Goethe and Christoph Wilhelm von Hufeland, both men having taken anatomy classes from Loder.
---