Hans Christian Andersen 1805 – 1875
March 05, 2009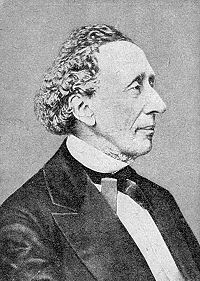 Hans Christian Andersen 1805 – 1875 was a Danish author and poet, most famous for his fairy tales.
Hans Christian Anderson was a friend of Bettina von Arnim, the Countess of Blessington, Catharine Crowe, Charles Dickens, and Jenny Lind (three of his fairy tales were inspired by Jenny Lind: The Ugly Duckling, The Angel, and The Nightingale, the latter making her known as 'The Swedish Nightingale').
Hans Christian Andersen was born in Odense, Denmark, on Tuesday, April 2, 1805. Most English (as well as German and French) sources use the name "Hans Christian Andersen", but in Denmark and the rest of Scandinavia he is usually referred to as merely "H. C. Andersen".
---