Julia de Beausobre, Lady Namier 1895 - 1979
March 03, 2009

Julia de Beausobre, Lady Namier 1895? - 1979? was a Russian immigrant to Britian, and she was the wife of Lewis Bernstein Namier.
Julia Namier was a patient of homeopath Marjorie Grace Blackie.
Julia Namier and her husband Lewis were friends of Sigmund Freud, and Alan John Percivale Taylor.
Of interest: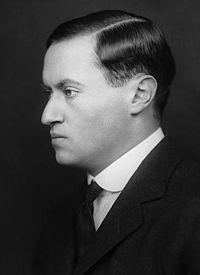 Lewis Bernstein Namier 1888 - 1960
Namier's family were secular minded Jewish gentry. His father, with whom young Lewis often quarreled, idolized Austria Hungary. By contrast, Namier throughout his life detested the Dual Monarchy. He was educated at universities of Lemberg in Austrian Galicia (modern Lviv, Ukraine), Lausanne, and the London School of Economics.
At Lausanne, Namier heard Vilfredo Pareto lecture, and Vilfredo Pareto's ideas about elites would have much influence on him.
Namier migrated to the United Kingdom in 1906 and became a British subject in 1913. During World War I, he fought as a private with the 20th Royal Fusiliers in 1914–15 but was discharged owing to poor eyesight.
He then held positions with the Propaganda Department (1915–17), the Department of Information (1917–18) and finally with the Political Intelligence Department of the Foreign Office (1918–20). At the Versailles Peace Conference of 1919, Namier served as part of the British delegation. His area of responsibility was Poland, and his relations with the chief Polish delegate, Roman Dmowski, were antagonistic owing to Roman Dmowski's anti-Semitism.
After leaving the government, Namier served at Balliol College (1920–21) before going into business. Later Namier, who was a long time Zionist, worked as political secretary for the Jewish Agency in Palestine (1929–31). For a time he was a close friend and associate of Chaim Weizmann, but Chaim Weizmann later severed relations with Namier when the latter converted to Anglicanism to marry his second wife.
Namier served as professor at the University of Manchester from 1931 until his retirement in 1953. Namier remained active in various Zionist groups (in particular, lobbying the British government to allow the creation of what he called a Jewish Fighting Force in the Palestine Mandate) and from 1933 was engaged in efforts on behalf of Jewish refugees from Germany.
He is best known for his work on the Parliament of Great Britain and its composition in the latter part of the 18th century, which by its very detailed study of individuals caused substantial revision to accounts based on a party system.
Namier's best known works were The Structure of Politics at the Accession of George III, England in the Age of the American Revolution and the History of Parliament series he edited later in his life with John Brooke.
Namier used Prosopography or collective biography of every Member of Parliament (MP) and peer who sat in the British Parliament in the latter 18th century to reveal that local interests, not national ones, often determined how parliamentarians voted.
Namier argued very strongly that, far from being tightly organized groups, both the Tories and Whigs were collections of ever-shifting and fluid small groups whose stances altered on an issue-by-issue basis. Namier felt that prosopographical methods were the best for analyzing small groups like the House of Commons, but was opposed to the application of prosopography to larger groups.
At the time of its publication in 1929, The Structure of Politics at the Accession of George III caused a historical revolution in understanding the 18th century.
In addition, Namier used other sources such as wills and tax records to reveal the interests of the MPs. In his time, Namier's methods were innovative and quite controversial. Namier's obsession with collecting facts such as club membership of various MPs and then attempting to co-relate them to voting patterns led his critics such as Herbert Butterfield to accuse him of "taking ideas out of history".
Namier was well known for his dislike in ideas and people who believed in them, and made little secret of his belief that the best form of government was that of a grubby self interested elite.
A friend, admirer and patient of Sigmund Freud, Namier was an early pioneer in Psychohistory. He also wrote on modern European history, especially diplomatic history and his later books Europe in Decay, In the Nazi Era and Diplomatic Prelude unsparing condemned the Third Reich and appeasement.
In the 1930s, Namier had been active in the anti appeasement movement and together with his protégé Alan John Percivale Taylor, spoke out against the Munich Agreement at several rallies in 1938.
In the early 1950s, Namier had a celebrated debate on the pages of the Times Literary Supplement with the former French foreign minister Georges Bonnet. At issue was the question whatever Georges Bonnet had as Namier charged snubbed an offer by the Polish foreign minister Jozef Beck in May 1938 to have Poland come to the aid of Czechoslovakia in the event of a German attack. Georges Bonnet denied that such an offer had been made, which led Namier to accuse Georges Bonnet of seeking to falsify the record.
Namier concluded the debate in 1953 with words "The Polish offer, for what it was worth, was first torpedoed by Georges Bonnet the statesmen, and next obliterated by Georges Bonnet the historian".
As an ethnic Jew (Namier had converted to Anglicanism), Namier was horrified by the Holocaust and his writings on German history have been criticized for Germanophobia. Like the work of his friend John Wheeler Bennett, Namier's diplomatic histories are generally poorly regarded by historians because Namier was content to condemn appeasement without seeking to explain the reasons for it.
He was married twice and knighted in 1952. Also, in 1952, Namier was given the honour of delivering the Romanes Lecture, on which subject Namier chose Monarchy and the Party System. Namier held markedly right wing views, and has been called the most reactionary British historian of his generation.
Ironically, Namier's principal protégé was the left wing historian Alan John Percivale Taylor.
Papers of Sir Lewis Bernstein Namier (1888-1960), prominent historian and Professor of History at Manchester University, 1931-1953.
[Namier was born in Poland to non practising Jewish parents, and moved to England in his late teens, entering Balliol College, Oxford, in

He took British nationality in 1913. ](http://rylibweb.man.ac.uk/specialcollections/collections/guide/atoz/namier/)
After spending several years in the business and diplomatic worlds, he settled down to a full time academic career in the mid-1920s, with a particular interest in British parliamentary history.
Two major works, The Structure of Politics at the Accession of George III (1929) and England in the Age of the American Revolution (1930), established him in the front rank of British historians.
The archive contains notes and drafts of The Structure of Politics, but it chiefly consists of post war material relating to the History of Parliament series (Namier was responsible for the period 1754-1790) and his biography of Charles Townshend.
There is also some correspondence, and there are items connected with Lady Julia Namier's biography of her husband, including appreciations and obituaries.
Namier also features in the Manchester Guardian Archive.
---