Sarah Sophia Villiers Countess of Jersey 1785 – 1867
February 22, 2009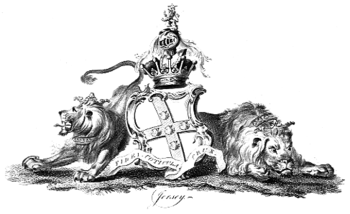 Sarah Sophia Villiers Countess of Jersey 1785 – 1867 at No. 38, Berkeley Square, Middlesex [now London]), was an English noblewoman, the daughter of John Fane, 10th Earl of Westmorland and Sarah Anne Child, only child of Robert Child, the principal shareholder in the banking firm Child & Co.
She married *George Child Villiers, 5th Earl of Jersey on May 23, 1804, in the drawing room of her house at No. 38 Berkeley Square, and they had seven children.
Viscountess Lady Villiers was a supporter of homeopathy and she was a friend of the Countess of Blessington.
Of interest:
*****George Child Villiers, 5th Earl of Jersey GCH PC 1773 – 1859 was a British Conservative politician.
The son of George Villiers, 4th Earl of Jersey and Frances Twysden, Lord Jersey took his seat in the House of Lords on the death of his father in 1805.
He later served as Lord Chamberlain of the Household under Arthur Wellesley 1st Duke of Wellington in 1830 and under Robert Peel from 1834 to 1835, as Master of the Horse under Robert Peel from 1841 to 1846, and briefly under Lord Aberdeen in 1852.
Lord Jersey married Lady Sarah Sophia Fane, daughter of John Fane, 10th Earl of Westmorland, on 23 May 1804. She was also the eldest granddaughter and heiress of Robert Child, principal share holder of the Child & Co. Bank; thus the Earls of Jersey added the surname Child to their own surname. She was also one of the main great hostesses of English society and patroness of Almack's.
J F De Villiers was a homeopath in America in 1922.
Maria Theresa Earle 1836 – 1925 (née Villiers) (known as Mrs C. W. Earle) was a horticulturalist who was treated homeopathically by George James Hilbers between the ages of 12-14.
Villiers de 1'Isle Adam, poet, was a friend of Joris Karl Huysmans and Stephane Mallarme.
---