Thomas Lawrence 1769 – 1830
February 20, 2009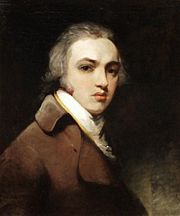 Sir Thomas Lawrence RA 1769 – 1830 was a notable English painter, mostly of portraits.
Thomas Lawrence was a friend of Countess of Blessington, and he painted her portrait in 1808. Thomas Lawrence was also a friend of William Etty, Frederick Hervey Foster Quin and Thomas Uwins.
Abandoning the idea of going on the stage which he had briefly entertained, Thomas Lawrence came to London in 1787, was kindly received by Joshua Reynolds, and became a student at the Royal Academy.
He began to exhibit almost immediately, and his reputation increased so rapidly that he became an associate of the Academy in 1791. The death of Joshua Reynolds in 1792 opened the way to further successes. Lawrence was at once appointed painter to the Dilettanti Society, and principal painter to George III in lieu of Joshua Reynolds.
In 1794 he was a Royal Academician, and he became the fashionable portrait painter of the age, his sitters including England's most notable people, and ultimately most of the crowned heads of Europe.
Caroline of Brunswick was one of his favourite subjects, and is reputed to have been his lover for a time. Financial problems plagued Lawrence. In 1796, Francis Mackenzie, 1st Baron Seaforth, one of Lawrence's close patrons, gave him £1,000 (an enormous sum at the time) to relieve him from his financial difficulties. Lawrence painted several portraits for Francis Mackenzie, 1st Baron Seaforth, including a full length portrait of Seaforth's daughter, Mary.
In 1815 Lawrence was knighted; in 1818 he went to Aachen to paint the sovereigns and diplomats gathered there for the third congress, and visited Vienna and Rome, everywhere receiving flattering marks of distinction from princes, due as much to his courtly manners as to his merits as an artist.
After eighteen months he returned to England, and on the very day of his arrival was chosen president of the Academy in room of Benjamin West, who had died a few days before. He held the office from 1820 to his death. He was never married.
Sir Thomas Lawrence had all the qualities of personal manner and artistic style necessary to make a fashionable painter, and among English portrait painters he takes a high place, though not as high as that given to him in his lifetime. His more ambitious works, in the classical style, such as his once celebrated "Satan," are practically forgotten.
The best display of Lawrence's work is in the Waterloo Gallery of Windsor, a collection of much historical interest. Master Charles William Lambton (1825), painted for Lord Durham at the price of 600 guineas, is regarded as one of his best portraits, and a fine head in the National Gallery, London, shows his power to advantage. The Life and Correspondence of Sir T. Lawrence, by DE Williams, appeared in 1831.
Of interest:
Joseph Lawrence ?1814 - ?1873 was a homeopath at the Birmingham Homeopathic Hospital, the Wolverhampton and Stafford Homeopathic Dispensary, and at The Birmingham Homeopathic Dispensary, alongside George Fearon, George Stevenson Knowles, Parsons,
---