Leon Vannier 1880 - 1963
February 19, 2009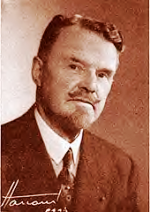 Leon Vannier 1880 - 1963 MD (photo used courtesy  of Homéopathe International) was a French orthodox physician who converted to homeopathy to become one of the major figures in modern French homeopathy, practising in Paris from 1905 until the year of his death.
Leon Vannier founded the journal L'Homoeopathie Francaise in 1912 and was the author of many books, including a substantial materia medica.
Leon Vannier was the founding President of the Society for Homeotherapy in France.
Leon Vannier was a decisive factor in the creation of homeopathic laboratories in France.
Leon Vannier was the homeopathic physician of Frantz Funck Brentano, Sergei Prokofiev, Dorgeles and Leon Blum's wife.
Leon Vannier was a colleague of Rene Baudry, Paul Degrais, Antoine Nebel, Daniel Parenteau, and his Journal influenced Adolf Voegeli to become a homeopath.
For five years, Leon Vannier, upon the advice of Antoine Nebel, has employed this dilute serum, and he has been able to collect 530 observations grouped by him into two categories, the tuberculinics (those predisposed), and the tuberculous.
He places in connection with the group of tuberculinics certain conditions which, by a few modern authors, would be considered prodromes of tuberculosis, a classification which suggests the similarity between tuberculinics and the pre-tuberculous or good subjects for tuberculosis.
According to Vannier, tuberculinics present themselves under various aspects; 1st the febrile (febrile without apparent reason); 2nd persons subject to colds (persons who have cold after cold, and coryza after coryza during the winter); 3rd dental patients (persons predisposed to tuberculous, said he, seem to make a rendezvous of the dentist's chair); 4th constipated persons; 5th cardiac patients (especially functional heart disease).
All these types of intoxicated persons are benefited by one or more doses of the diluted serum of Marmorek (l'Homœopathie française, May, 1912). Vannier passes then to the truly tuberculous. The serum of Marmorek, being essentially an antitoxic serum, suits the pulmonary tuberculous, who, notwithstanding the gravity or extent of their lesion, have poor resistance.
Vannier has always observed a rapid improvement in the general condition, and a progressive increase in the weight of those under the influence of the diluted serum; but he has remarked that on the first, and especially on the second day following the absorption of the serum, there appeared pains in the apex of the lungs, an obstinate cough, and a state of unaccountable fatigue. Then there is a return to normal conditions.
This series of transient aggravations prepares the way for a progressive improvement. Everything continues as if there existed a truly negative period, similar to that caused by the vaccines, this negative period being followed by a positive condition much more prolonged, and in the latter the cure is completed…
Two cases of peritoneal tuberculosis have been successfully treated with the serum, one by Vannier, the other by Charles Mondain… The tuberculin of Denys' in high dilution is also used by Antoine Nebel, Vannier, Chiron, and others. From The Nosodes by Henry Clay Allen.
Leon Vannier, Son of John and Agathe Vannier, was born in Mayenne in Marigne-Can…
Leon Vannier, was one of the most effective promoters of homeopathy in France and worldwide.  In 1912, he founded the magazine The French Homeopathy, treating all areas of medicine.
In 1924, he opened several homeopathic clinics in Paris, then in 1927 became the founding President of the Society for Homeotherapy in France, and a homeopathic clinic founded in 1931 which still exists today.
A native of Angers, Léon Vannier discovered homeopathy in his early years thanks to his brother, Edouard. A brilliant student at the Medical School of Angers, he was an intern in the hospitals of Paris and chose to pursue his knowledge of homeopathy.
He moved to Paris in 1905 as a homeopathic physician and, in January 1912, founded a magazine L'Homéopathie française which is now known today as L'Homéopathie européenne.
With his friends, Charles Mondain and Chiron, he opened a homeopathic dispensary on boulevard Montparnasse which remained in business until 1914. He founded the Dispensaire Hahnemann in Paris on his own, in 1930; it is still in business today. He later founded a school: Le Centre Homéopathique de France. Because he was concerned about prescribing reliable, standardized medicines, he supported the creation in 1926 of the first homeopathic laboratory, Les Laboratoires Homéopathiques de France. He is the author of numerous works and publications.
In the Revue Belge homeopathy, in memoriam, 1963, No. 3, on the death of Professor Léon Vannier. He was one of the most effective promoters of homoeopathie, not only in France, but his theories have been disclosed, and are followed throughout the world.
His life was dedicated to homeopathy and to: "Publicize homeopathy in the light of the modern knowledge of medicine, and the fight against not only the opposition in official circles, but also against the belief that homeopathy is not Orthodox." Vannier has been highly successful in his endeavours.
In 1905 already, he began his publications and on the treatment of certain diseases by homeopathy. In 1912, he created the Homoeopathie magazine. He entered into all areas of medicine, surgery, ophthalmology, gynecology, obstetrics, otolaryngology, pediatrics, psychiatry.
In 1924, he clearly established the doctrine of homeopathy, describing the constitutions and temperaments, he established his iris scanning diagnostic method so dear to him.
In 1925 he published Studies and Publications State Hydrogénoïdes, Tuberculins and their treatment, illustrated by photographs of the iris. In 1926, he published typological study with details of homeopathic constitutions. He studied and published reports he called precancerous Cancériniques.
Throughout his life, Vannier gave numerous lectures to the scientific community… In 1932, he wrote the Diagnosis of Eye Diseases and Summary of iris scanning, and Précis de Matière Médicale Homoeopathique with Jean Poirier.
Vannier created a Homeopathic Dispensary in Paris at rue de l'Abbé Brout, and in 1912, a clinic at Boulevard Montparnasse. In 1914-1919 he worked at the Auxiliaire 181 at Le Mesnil Saint Denis. In 1931 he founded the Dispensary Homoeopathique that still exists at Boulevard Auguste Blanqui where most consultations are free, or offered at a reduced fee.
In 1926 he was the promoter of the creation of laboratories Homoeopathiques France, which are now the property of Laboratoires Boiron. The Homeopathic Laboratories SA of France was created in 1926 by grateful patients. The company's operations cover the manufacture and wholesale of homeopathic products, the study and adoption of new processes, to obtain a more rational and scientific the preparation of these products.
Vannier became the founding President of the Society Homoeothérapie to France in 1927. In 1932 he founded the Homeopathic Center of France in the rue Murillo. One hundred sixty five students registered there in 1932.  At the moment the Center Homoeopathique de France continues scientific research into homeopathy and has a continuing influence throughout the world. Vannier created a homeopathic Library.
Those who knew him well could only admire his scientific spirit, and his qualities of integrity, probity and charity.  Vannier had an outside edge that hid a sensitive soul, quick to kindness and always willing to give generously fair and accurate advice to any who requires this.
And here, let me reproduce what he wrote in a column of French Homoeopathie, where his desire for reconciliation is expressed explicitly: "After a frank exchange of explanations and fair, a union must establish sincere, coordinating all the efforts to finally ensure the future of homeopathy".
One can only hope that this effort he has supported all his life is finally successful. We keep the memory of a light of science whose brightness does not tarnish.  A good and generous man who gave the best of his existence for the good health of humanity.
Vannier wrote La Doctrine de l'homéopathie, Les origines et l'avenir de l'Homéopathie, La Pratique de l'homéopathie, Les remèdes aigus, Précis de thérapeutique homéopathique, Caractéristiques essentielles des remèdes homéopathiques, Néo-hippocratisme et homéopathie, Les tuberculiniques et leurs traitements homéopathiques, Les cancériniques et leurs traitements homéopathiques, La typologie et ses applications homéopathiques.
In preparation at the time of his death, Robert Dufilho who was his student and his friend told me that Leon Vannier preparing two books, one of them named Les remèdes chroniques en homéopathie.  After his death, his parents, his friends, his students published an overview of what was the life of Leon Vannier.
Leon Vannier wrote Typology in Homeopathy,
Of interest:
Edouard Vannier 1868 - 1943 MD was also a homeopath,
Henri Vannier 1905
1990 MD President of the Society Homoeopathique of Normandy.
**Pierre Edouard Vannier **1899 - 1986 MD, nephew of Leon Vannier was also a homeopath, and he was the homeopathic physician of Henri Matisse (Hilary Spurling, The Unknown Matisse: A Life of Henri Matisse : The Early Years, 1869-1908, (University of California Press, 2001). Pages 76 and 92. See also Hilary Spurling, Matisse the Master: A Life of Henri Matisse: The Conquest of Colour: 1909-1954, (Knopf Doubleday Publishing Group, 2005). Page 493). Pierre Vannier wrote L'Homéopathie Que sais-je?,
---