William Howitt 1792 – 1879
February 18, 2009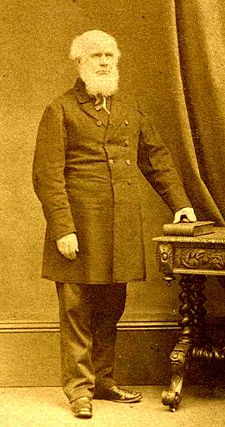 William Howitt 1792 – 1879 was an English author.
William Howitt and his wife Mary Howitt (1799-1888) were close friends of homeopaths Spencer Timothy Hall and James John Garth Wilkinson. They were also close to Barbara Leigh Smith Bodichon, Robert Browning, Charles Dickens, Elizabeth Cleghorn Gaskell, Augustus de Morgan, Dante Gabriel Rossetti, Alfred Lord Tennyson and Robert Masters Theobald.
As friends of Dante Gabriel Rossetti, on 28 March 1854, the Howitts's daughter advised Elizabeth Siddal to consult James John Garth Wilkinson:
Dr. Wilkinson being an eminent Homeopathic Physician whom the Howitts had recommended Elizabeth Siddal to consult.
'… With difficulty they at last succeeded in persuading the obstinate girl [Lizzie Siddal]* to visit Dr. Garth Wilkinson [James John Garth Wilkinson], … It was, in fact, Anna Mary* [Howitt - the daughter of William and Mary Howitt]* and her friends Bessie Parkes [Bessie Raynor Parkes] and Barbara Leigh Smith [Barbara Leigh Smith Bodichon] who had pushed the lovers into active pursuit of remedies…' (Oswald Doughty, [A Victorian romantic: Dante Gabriel Rossetti,*](http://books.google.co.uk/books?id=M_bPAAAAMAAJ&q=bessie+parkes+garth+wilkinson&dq=bessie+parkes+garth+wilkinson&source=bl&ots=J2oCEV9dUm&sig=FtHRDtqDX—WFrGDgSDOhX-ilaQ&hl=en&sa=X&ei=LdxJUM70Iemf0QXv04DwCg&ved=0CD0Q6AEwAw) (Oxford University Press, 1960). Page 143.)
Robert Masters Theobald's sister Florence was a patient of James John Garth Wilkinson, who introduced Florence, already an ardent psychic, to the Spiritualist movement.
The Theobalds were neighbours of James John Garth Wilkinson's friend William Howitt, who introduced them to their first sceance. Florence went on to take up automatic writing, and she began to produce texts 'from the dead' and to become aware of 'undesireable spirits'.
Nevertheless, Florence continued her activities life long. Morell Theobald and his wife soon joined in, and the family fascination grew. William Howitt and his wife Mary taught them 'how to guard to portals', and these practices began to form a large part of their religious beliefs.
Morell Theobald was a British Spiritualist and author of Spiritualism at Home (1884) and Spirit Workers in the Home Circle (1887), the latter describing a series of curious psychic manifestations in his home that lasted for many years.
Some of Theobald's family members reportedly possessed psychic gifts - his grandfather and father saw spirits. His own friendship with the author William Howitt and family initiated him into writing and mediumship in 1855.
Through Anna Mary Howitt, Barbara Leigh Smith Bodichon met Elizabeth Barrett Browning, Anna Brownell Jameson, Adelaide Ann Procter and William Johnson Fox, the Unitarian minister… As young women of 21 and 23, Bessie and Barbara Leigh Smith Bodichon were, most unusually, allowed to go unchaperoned on a walking tour of Belgium, Germany, Switzerland, Austria, visiting Mary Howitt in Munich…
Another of Barbara Leigh Smith Bodichon interests was spiritualism: she attended a series of séances in London during 1853 with Dante Gabriel Rossetti, Bessie, and the Howitts.
From http://en.wikipedia.org/wiki/William_Howitt William Howitt was born at Heanor, Derbyshire. His parents were Quakers, and he was educated at the Friends public school at Ackworth, Yorkshire. His younger brothers were Richard and Godrey who he helped tutor. In 1814 he published a poem on the Influence of Nature and Poetry on National Spirit.
He married, in 1821, Mary Botham, who like himself was a Quaker and a poet. William and Mary Howitt collaborated throughout a long literary career, the first of their joint productions being The Forest Minstrels and other Poems (1821).
In 1831, William Howitt produced a work resulting naturally from his habits of observation and his genuine love of nature. It was a history of the changes in the face of the outside world in the different months of the year, and was entitled The Book of the Seasons, or the Calendar of Nature (1831). His Popular History of Priestcraft (1833) won him the favour of active Liberals and the office of alderman in Nottingham, where the Howitts had made their home.
They moved in 1837 to Esher, and became friends with Elizabeth Cleghorn Gaskell and her husband. In 1840 they went to Heidelberg, primarily for the education of their children, remaining in Germany for two years.
In 1841 William Howitt produced, under the pseudonym of Dr Cornelius, The Student Life of Germany, the first of a series of works on German social life and institutions. Mary Howitt devoted herself to Scandinavian literature, and between 1842 and 1863 she translated the novels of Frederika Bremer and many of the stories of Hans Christian Andersen.
With her husband she wrote in 1852 The Literature and Romance of Northern Europe. In June of that year William Howitt, with two of his sons, set sail for Australia, where he spent two years in the goldfields. The results of his travels appeared in A Boy's Adventures in the Wilds of Australia (1854), Land, Labor and Gold; or, Two Years in Victoria (1855) and Tallangetta, the Squatter's Home (1857).
On his return to England Howitt had settled at Highgate and resumed his indefatigable book making. From 1856 to 1862 he was engaged on Cassell's Illustrated History of England, and from 1861 to 1864 he and his wife worked at the Ruined Abbeys and Castles of Great Britain.
The Howitts had left the Society of Friends in 1847, and became interested in Spiritualism. In 1863 appeared The History of the Super-natural in all Ages and Nations, and in all Churches, Christian and Pagan, demonstrating a Universal Faith, by William Howitt. He added his own conclusions from a practical examination of the higher phenomena through a course of seven years.
From 1870 onwards Howitt spent the summers in Tyrol and the winters in Rome, where he died. In 1880 Mary Howitt had a house built for her (which is still standing) in the spa town of Meran in South Tyrol (then part of Austria) and from then on divided her time between Rome and Meran.
Mary Howitt was much affected by William's death, and in 1882 she joined the Roman Catholic Church, towards which she had been gradually moving during her connection with spiritualism. She died at Rome on 30 January 1888.
The Howitts are remembered for their untiring efforts to provide wholesome and instructive literature. Their son, Alfred William Howitt, made himself a name by his explorations in Australia. Anna Mary Howitt married Alaric Alfred Watts, and was the author of Pioneers of the Spiritual Reformation (1883). Mary Howitt's autobiography was edited by her daughter, Margaret Howitt, in 1889. William Howitt wrote some fifty books, and his wife's publications, inclusive of translations, number over a hundred.
---