John Paterson 1890 - 1954
February 17, 2009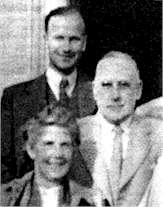 John Paterson 1890 - 1954 was an orthodox physician who converted to homeopathy. John Paterson was a Microbiologist, who was married to Elizabeth Paterson, also a Microbiologist. They both worked at the Glasgow Homeopathic Hospital and at the Royal London Homeopathic Hospital.
John Paterson was President of International Homeopathic Medical League in 1939.
John Paterson wrote The Bowel Nosodes, and he was responsible for introducing them into British homeopathy alongside Edward Bach and Charles Edwin Wheeler in the 1920s. John Paterson rightly understood that bowel bacteria were scavengers of disease, and so could be of use in homeopathy.
John Paterson was a colleague of Edward Bach, Ardeshir Kavasji Boman Behram, Douglas Morris Borland, James Compton Burnett, John Henry Clarke, Robert Thomas Cooper, Donald MacDonald Foubister, Clarence Granville Hey, James Douglas Kenyon, Thomas Maughan, Kathleen Gordon Priestman, Percival George Quinton, William Wilson Rorke, Margaret Lucy Tyler, John Weir, Charles Edwin Wheeler and Harold Fergie Woods.
John Paterson lived at a time when 'cross pollenation' between homeopaths and allopaths was possible, and both homeopaths and allopaths were industriously researching pathology and bacteriology at this time:
Paterson was a very interesting figure, a Glaswegian and very outspoken for a pragmatic and undogmatic form of homeopathy. He also worked in Bradford twice a week…
John Paterson, a co-worker of Edward Bach, concentrated on this research after 1929. He studied more deeply the characteristics of the bowel flora, especially their behavior in health, disease and in drug provings.
He examined more than 20,000 stool specimens and conducted research over 20 years. He came to the following conclusions: The non lactose fermenting non pathogenic bowel flora (B.coli) undergoes definite changes in the disease condition.
While this alternation in the nature of bowel flora might be a mere concomittant to the disease condition, there is reason to believe that the B.coli actually turns pathogenic. The balance of the bowel flora is disturbed in disease. Similar changes are also observed in drug provings.
Paterson advocated specific recommendation on potency, dose and repetition of bowel nosodes. He related each bowel nosode to a group of Homeopathic remedies.
Edward Bach found out that the non lactose fermenting gram -'ve coli was closely associated with the symptoms collectively called Psora by Samuel Hahnemann.
Paterson believed that gram negative diplococci were directly related to the sycotic miasm. He grouped and typed the flora by continuous experiment and observation.
He was able to detect a definite relationship between certain drugs and certain types of bowel flora.
When a particular drug was administered in potencies the bowel flora was altered in a particular way.
He divided the Morgan group of bacteria into 2 sub classes on bacteriological basis and thus created nosodes - Morgan pure & Morgan gaertner.
In1933 Paterson presented a paper on Sycotic co. In 1950 he published summary of his accumulated experience.
After his death in 1954, his wife Elizabeth Paterson continued the research.
John Paterson wrote _The Bowel Nosodes_, The potentised drug and its action on the bowel flora. British Homeopathic Journal, 26: 163-188, Survey of the Nosodes, British Homeopathic Journal 49: 61-182, The homeopathic mustard gas trials of 1941-42,
Of interest:
Elizabeth McV J Paterson, (Nee Currie), 1907 - 1963, 12 Royal Terrace Glasgow, C3, MB ChB Glas 1921, DPH Glas & Ed 1924, MFHom 1943, Physician at Glasgow Children's Hospital, Mt Vernon and Glasgow Homeopathic Hospital (Med. Dir. 1948). Trained Glasgow, wife of Dr John Paterson, research bacteriologist, worked with him on the Bowel Nosodes, worked with \**Thomas Thornton Macklin Dishington and Charles Edwin Wheeler, influenced by Edward Bach.
Mr. Paterson was on the Management Board of the Hahnemann Hospital at 39 Bloomsbury Square.
---