Antoine Hippolyte Desterne 1827 - 1873
February 16, 2009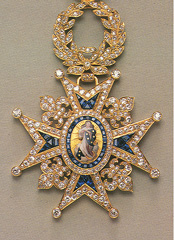 Antoine Hippolyte Desterne 1827? - 1873 MD Faculte de medecine de Paris 1850, was a French orthodox physician who converted to homeopathy.
Desterne was a student of Samuel Hahnemann, and one of the founders of the Hahnemann Hospital of Paris.
Desterne edited the Gallican Journal alongside Boyer, Victor Chancerel, and Gottlieb Heinrich Georg Jahr.
Desterne was a colleague of Victor Arnaud, Francois Cartier, Paul Francois Curie, Simon Felix Camille Croserio, A J Davet, Giraud, Hureau, Gottlieb Heinrich Georg Jahr, Pierre Jousset, Libert, Perry, Frederick Hervey Foster Quin and Leon Francois Adolphe Simon.
The distinguished Doctors Desterne, Boyer, Leon Francois Adolphe Simon, and Cramoisy, have been decorated with a cross, as Chevaliers of the Order of Charles III.
In 1858 Alexandre Charge, Audouit, A Cretin, Antoine Hippolyte Desterne, Escallier, Gastier, Gueyrard, Leboucher, Love, L Molin, Antoine Henri Petroz, and Leon Francois Adolphe Simon, successfully prosected the authors of an article in the Union Medicale for misrepresenting homeopathy by attacking it with false allegations and by 'drawing conclusions contrary to the truth'.
Antoine Hippolyte Desterne's Obituary is in The Hahnemannian Monthly in 1873, and in The British Journal of Homeopathy in 1874.
Desterne wrote _](http://translate.google.co.uk/translate?hl=en&sl=fr&u=http://en.scientificcommons.org/antoine-hippolyte_desterne&ei=V8-ZSZaQLMml-gaM5s2ICQ&sa=X&oi=translate&resnum=1&ct=result&prev=/search%3Fq%3DAntoine%2BHippolyte%2BDesterne%26hl%3Den%26client%3Dfirefox-a%26rls%3Dorg.mozilla:en-US:official%26hs%3DbDV%26sa%3DG)[_De l'hystérie chez l'homme et de l'emploi des inhalations de chloroforme dans l'accès hystérique, and he contributed many articles to homeopathic publications,
---