Edward William Elgar 1857 – 1934
February 13, 2009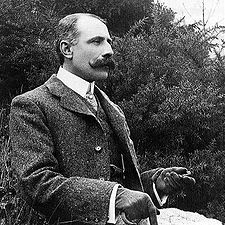 Sir Edward William Elgar, 1st Baronet, OM, GCVO 1857 – 1934 was an English Romantic composer.
In 1886, Edward Elgar went to live at Great Malvern, which was a famous water spa where homeopaths James Smith Ayerst, James Manby Gully, and James Loftus Marsden and others, treated such famous people as Charles Darwin, Charles Dickens, Jenny Lind, and Thomas Henry Huxley and many others at this time.
George Bernard Shaw wrote to Elgar on 2nd July 1931  '… My dear Elgar What a damnable nuisance ! The regular doctors are no use; but it might be worth while to try homeopathy. I enclose a testimonial which I gave to Raphael Roche, who, however, charges 20 guineas for a diagnosis... There is a rather original regular registered doctor whose real practice is homeopathic and whose fees are not abnormal: Ramsay Phillips, 20 Ulster Place NW1…' (Edward Elgar, Letters of Edward Elgar and Other Writings, (Bles, 1956). Page 332).
See also '… Elgar's frequent attacks of sciatica were an ideal opportunity for him to suggest that a visit to an osteopath would be beneficial, or a course of _homeopathic…' _(Ray Monk, Elgar studies, (Scolar Press, 1990). Page 219.)
Edward Elgar was a friend of homeopathic supporters Adrian Cedric Boult, Samuel Taylor Coleridge, George Bernard Shaw and Yehudi Menuhin.
Edward Elgar also had a flat at Queen Anne's Mansions (?date), very close to Frederick Hervey Foster Quin (died 1878). Eliza Lynn Linton also lived at Queen Anne's Mansions.
Edward Elgar was born in the small village of Lower Broadheath outside Worcester, England to William Elgar, a music dealer, and his wife Anne (née Greening). Elgar was the fourth of their seven children: Henry John (known as Harry, 15 October 1848– 5 May 1864), Lucy Ann (Loo, 2 June 1857), Frederick Joseph (Jo, 28 August 1859- 1866), Francis Thomas (Frank, 1 October 1861), and Helen Agnes (Dott or Dot, 1 January 1864). born 29 May 1852), Susannah Mary (Pollie, 28 December 1854), Edward William (Ted, His mother, Anne, had converted to Catholicism shortly before Edward's birth, so Edward was baptised and brought up as a Roman Catholic.
Elgar was an early riser, and would often turn to reading Voltaire, Drayton historical classics, Henry Wadsworth Longfellow and other works encouraged by his mother. By the age of eight, he was taking piano and violin lessons, and would often listen to his father playing the organ at St. George's church, and soon also took it up. His prime interest, however, was the violin, and his first written music was for that instrument.
Surrounded by sheet music, instruments, and music textbooks in his father's shop in Worcester's High Street, the young Elgar became self taught in music theory. On warm summer days, he would take manuscripts into the countryside to study them (he was a passionate and adventurous early cyclist from the age of 5).
Thus there began for him a strong association between music and nature. As he was later to say, "There is music in the air, music all around us, the world is full of it and you simply take as much as you require."
At the age of 15, Elgar had hoped to go to Leipzig, Germany to study music, but lacking the funds he instead left school and began working for a local solicitor. Around this time he made his first public appearances as a violinist and organist. After a few months, he left the solicitor and embarked on a musical career, giving piano and violin lessons, and working occasionally in his father's shop.
Elgar was an active member of the Worcester Glee Club, along with his father, and he accompanied singers, played violin, composed and arranged works, and even conducted for the first time.
At 22 he took up the post of bandmaster at the Worcester and County Lunatic Asylum in Powick, three miles south west of Worcester, a progressive institution which believed in the recuperative powers of music. He composed here too; some of the pieces for the asylum orchestra (music in dance forms) were rediscovered and performed locally in 1996.
In many ways, his years as a young Worcestershire violinist were his happiest. He played in the first violins at the Worcester and Birmingham Festivals, and one great experience was to play Antonín Dvorak's Symphony No. 6 and Stabat Mater under the composer's baton. As part of a wind quintet and for his musical friends, he arranged dozens of pieces by Mozart, Ludwig von Beethoven, Haydn, and other masters, honing his arranging and compositional skills, and applying them to his earliest pieces. Although somewhat solitary and introspective by nature, Elgar thrived in Worcester's musical circles.
In his first trips abroad in 1880-82, Elgar visited Paris and Leipzig, attended concerts by first rate orchestras, and was exposed to the music of Wilhelm Richard Wagner, then the rage. Returning to his more provincial milieu increased his desire for a wider fame. He often went to London in an attempt to get his works published, but this period in his life found him frequently despondent and low on money.
He wrote to a friend in April 1884, "My prospects are about as hopeless as ever … I am not wanting in energy I think, so sometimes I conclude that 'tis want of ability…I have no money—not a cent."
At 29, through his teaching, he met (Caroline) Alice Roberts, daughter of the late Major General Sir Henry Roberts and a published author of verse and prose fiction. Eight years older than Elgar, she became his wife three years later, against the wishes of her family. They were married on 8 May 1889, at Brompton Oratory.
Alice's faith in him and her courage in marrying 'beneath her class' were strongly supportive to his career. She dealt with his mood swings and was a generous musical critic. She was also his business manager and social secretary. She did her best to gain him the attention of influential society, though with limited success.
In time he would learn to accept the honours given him, realizing that they mattered more to her and her social class. She also gave up some of her personal aspirations to further his career. In her diary she later admitted, "The care of a genius is enough of a life work for any woman."
As an engagement present, Elgar presented her with the short violin and piano piece Salut d'Amour. With Alice's encouragement, the Elgars moved to London to be closer to the centre of British musical life, and Edward started composing in earnest. The stay was unsuccessful, however, and they were obliged to return to Great Malvern, where Edward could earn a living teaching and conducting local musical ensembles. Though disappointed at the London episode, the return to the country proved better for Elgar's health and as a base of musical inspiration, bringing him closer to nature and to his friends.
During the 1890s Elgar gradually built up a reputation as a composer, chiefly of works for the great choral festivals of the Midlands. The Black Knight and King Olaf (1896), both inspired by Longfellow, The Light of Life and Caractacus were all modestly successful and he obtained a long standing publisher in Novello and Company.
He also generously recommended the young composer Samuel Taylor Coleridge to the Three Choirs Festival for a concert piece, which helped establish the younger man's career.
Elgar was catching the eyes of the prominent critics, although their reviews were still lukewarm, and he was in demand as a festival composer, but he was just getting by financially and not feeling appreciated the way he wanted to be.
In 1898, he continued to be "very sick at heart over music" and hoped to find a way to succeed with a larger work. His friend August Jaeger tried to lift his spirits, "A day's attack of the blues… will not drive away your desire, your necessity, which is to exercise those creative faculties which a kind providence has given you. Your time of universal recognition will come."
In 1899, that prediction suddenly came true. At the age of 42, Elgar's produced his first major orchestral work, the Enigma Variations, which was premiered in London under the baton of the eminent German conductor Hans Richter… Elgar dedicated the work "To my friends pictured within"…
The following year saw the production at the Birmingham Triennial Music Festival of his choral setting of Cardinal Newman's poem The Dream of Gerontius. Despite a disastrous first performance due to poorly prepared performers, the German premiere was much better received and the work was established within a few years as one of Elgar's greatest. It is now regarded as one of the finest examples of English choral music from any era.
Elgar is probably best known for the five Pomp and Circumstance Marches, composed between 1901 and 1930. Shortly after he composed the first march, Elgar set the trio melody to words by Arthur Christopher Benson in his Coronation Ode to mark the coronation of Edward VII. The suggestion had already been made (allegedly by the future King himself) that words should be fitted to the broad tune which formed the trio section of this march.
Against the advice of his friends, Elgar suggested that Arthur Christopher Benson furnish further words to allow him to include it in the new work. The result was Land of Hope and Glory, which formed the finale of the Ode and was also issued (with slightly different words) as a separate song. The work was immensely popular and is now considered an unofficial national anthem.
At last, he had made the leap from accomplished back country musician to England's foremost composer. It also gained Elgar the highest recognition he could have dreamed of - honorary degrees, a knighthood, special royal audiences, and a triumphal three day festival of his music at Covent Garden attended by the King and Queen.
In 1904 Elgar and his family moved to Plas Gwyn, a large house on the outskirts of Hereford, overlooking the River Wye, and they lived there until 1911.
Between 1902 and 1914 Elgar enjoyed phenomenal success, made four visits to the USA including one conducting tour, and earned considerable fees from the performance of his music. Between 1905 and 1908 Elgar held the post of Peyton Professor of Music at the University of Birmingham (he was succeeded by his friend Granville Bantock)…
Elgar's Symphony No. 1 (1908) was given one hundred performances in its first year. The Violin Concerto in B minor (1910) was commissioned by the world-renowned violinist Fritz Kreisler and was a resounding success, premiered by Fritz Kreisler with the Philharmonic Society of London, the composer conducting.
In 1911, the year of the completion of his Symphony No. 2, he had the Order of Merit bestowed upon him. In 1912 he moved back to London, again to be closer to musical society but to the detriment of his love of the countryside and to his general mood.
Elgar's musical legacy is primarily orchestral and choral, but he did write for soloists and smaller instrumental groups. His one work for brass band, the Severn Suite (later arranged by the composer for orchestra), remains an important part of the brass band repertoire. This work was dedicated to his friend George Bernard Shaw.
It is occasionally performed in its arrangement by Ivor Atkins for organ as the composer's second Organ Sonata; Elgar's first, much earlier (1895) Organ Sonata was written specifically for the instrument in a highly orchestral style, and remains a cornerstone of the English Romantic organ repertoire…
After the death of his wife in 1920, loneliness and declining interest in his art fostered little in the way of new works of importance. Shortly before her death he composed the elegiac Cello Concerto, often described as his last masterpiece. This was one of a late cluster of works composed while he lived between 1917 and 1921 at 'Brinkwells', a house near Fittleworth in Sussex which he had rented from the painter Rex Vicat Cole.
Elgar lived in the village of Kempsey, Worcestershire from 1923 to

It was during this time, a few weeks before the performance of his Empire March and eight songs Pageant of Empire for the 1924 British Empire Exhibition, that he was made Master of the King's Musick…
In the 1932 recording of the Violin Concerto, the aging composer worked with the American violinist Yehudi Menuhin, who was then only 16 years old; they worked well together and Yehudi Menuhin warmly recalled his association with the composer years later, when he performed the concerto with the San Francisco Symphony Orchestra. Yehudi Menuhin later conducted an award winning recording of Elgar's Cello Concerto with the cellist Julian Lloyd Webber and much of the major orchestral music.
Elgar's recordings usually featured such orchestras as the London Symphony Orchestra, the Royal Albert Hall Orchestra (which reverted in 1928 to its earlier name, New Symphony Orchestra) and, in 1933, the newly founded London Philharmonic Orchestra. Elgar's recordings were released on 78-rpm discs by both HMV and RCA Victor. In later years, EMI reissued the recordings on LP and CD.
In his later years, Elgar befriended young conductors such as Adrian Cedric Boult and Malcolm Sargent who championed his music when it was out of fashion.
At the end of his life Elgar began work on an opera, The Spanish Lady, and accepted a commission from the BBC to compose a Third Symphony. His final illness prevented their completion.
He died from inoperable cancer (discovered during an operation in September 1933)on 23 February 1934 and was buried, at St. Wulstan's Church in Little Malvern, next to his wife Alice…
---