Adrian Cedric Boult 1889 – 1983
February 13, 2009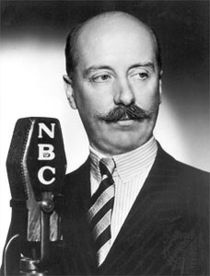 Sir Adrian Cedric Boult CH 1889 – 1983 was an English conductor.
Adrian Boult was a life long advocate and supporter of homeopathy, and he was a Trustee of the Royal London Homeopathic Hospital alongside Yehudi Menuhin, John Bertram Leslie Ainsworth, Kenneth Biddis, Marjorie Blackie, Douglas Morris Borland, Carl Davies, Dudley Wooton Everitt, Donald MacDonald Foubister, George MacLeod, Douglas Medlicott Gibson, and John Weir.
Adrian Boult was a strong supporter of women, both performers and composers, and he helped to publicise the works of Cyril Meir Scott.
Adrian Boult was born in Chester and educated at Westminster School and Christ Church, Oxford. As a schoolboy, he attended Sir Henry Wood's Saturday afternoon and Sunday concert series, seeing Debussy and Arthur Nikisch conduct. After the formation of the London Symphony Orchestra he attended those concerts too, featuring leading conductors of the day.
A family friend Frank Schuster, who was a friend of Edward William Elgar, introduced the young Boult to the composer around 1905. By the time he went to Oxford and began conducting, Boult had a good collection of scores, and knew many of them by heart.
In 1909, the 20 year old Boult read a paper to the Oriana Society entitled Some notes on performance, in which he laid down three precepts for an ideal performance: observance of the composer's wishes, clarity through emphasis on balance and structure, a final effect of music made utterly without effort. These guiding principles lasted throughout his career.
In 1912 he continued his musical education at the Leipzig Conservatory where he learnt to conduct by watching the eminent Hungarian conductor Arthur Nikisch. Boult admired Arthur Nikisch above other conductors "not so much for his musicianship but his amazing power of saying what he wanted with a bit of wood.
He spoke very little", a view which chimed with his belief that "all conductors should be clad in an invisible Tarnhelm which makes it possible to enjoy the music without seeing any of the antics that go on." He sang in choral festivals and at the Leeds Festival of 1913, where he went to watch Arthur Nikisch conduct, and made the acquaintance of George Butterworth and other British composers.
Boult made his professional conducting debut on 27 February 1914, with part of the Liverpool Philharmonic Society at West Kirby Public Hall.
Declared unfit for active service, during World War I he was employed at the War Office, and whilst there in 1918 planned a series of concerts with the London Symphony Orchestra, which included several important recent British works: Gustav Holst's The Planets, of which he gave the first private performance, A London Symphony by Ralph Vaughan Williams, of which he gave the first performance of the revised version, and Edward William Elgar's Symphony No. 2 which had fallen into neglect.
Edward William Elgar wrote to him and said he felt sure the future of his music was safe in Boult's hands. In this way Boult laid the foundations for a long career as a champion of twentieth century English music.
As one example, Ralph Vaughan Williams dedicated Job: A Masque for Dancing to Boult in the mid 1930s, several years after the actual première of the work.
In 1919 Boult conducted a season of ballet for Diaghilev (leading to recording for HMV of The Good-Humoured Ladies and La Boutique fantasque). In the early 20s, he conducted (and recorded with) the British Symphony Orchestra.
In 1920 Boult was invited to start a conducting class at the Royal College of Music along the lines of Leipzig - the first such class in England.
In 1924 Boult was appointed to the conductorship of the City of Birmingham Orchestra - now the City of Birmingham Symphony Orchestra - and in 1930 he was made Director of Music at the BBC and conductor of the BBC's Wireless Symphony Orchestra (which was renamed the BBC Symphony Orchestra), succeeding the BBC's first Director of Music Percy Pitt.
During the 1930s the BBC orchestra became renowned for its high standard of playing and for Boult's competent performances of new and unfamiliar music, often rehearsed in a very short time.
Among these successes were an early performance of Arnold Schoenberg's Variations, Op.31, the British première of Alban Berg's opera Wozzeck and the première of Ralph Vaughan Williams' Symphony No. 4 in F minor.
In 1933, Boult married Ann Wilson, the ex wife of Steuart Wilson, tenor singer and administrator. The marriage lasted until Boult's death. Boult was knighted in 1937.
During World War II the BBC Symphony Orchestra was evacuated to Bristol, where it suffered from bombing, and to Bedford, where Boult strove to maintain standards and morale as many key players left.
In these years he made recordings of Edward William Elgar's Second Symphony, Gustav Holst's The Planets and Ralph Vaughan Williams' Job, A Masque for Dancing.
After the war the start of the BBC Third Programme saw Boult involved in several pioneering ventures for Britain, including the British premières of Gustav Mahler's Symphony No. 3 and the Concerto for Orchestra of Bela Bartok.
In 1948 his love for English music and for pioneering took him to the Harringay Arena where he conducted brass bands and male voice choirs at the first National Colliery Music Festival.
A little later in the same year, Steuart Wilson was appointed Director of Music at the BBC. Suggestions that the standard of playing had fallen beyond Boult's ability to rectify were taken as a reason to insist on his retirement at the age of 60 in 1949, an incident which remains controversial to this day.
The Director General of the BBC at the time, William Haley, later broadcast a tribute to Boult, acknowledging that he 'had listened to ill judged advice in retiring him.' Later the BBC invited Boult to give a warm introduction to Arturo Toscanini's historic second broadcast concert with the Philharmonia Orchestra on 1 October 1952; the speech has been included in some releases of the broadcast.
After it became clear that Boult would not be able to retain his position with the BBC Symphony, Thomas Russell, the Managing Director of the London Philharmonic Orchestra (LPO), offered Boult the position of Principal Conductor of the LPO in succession to Eduard van Beinum.
In the 1930s under Thomas Beecham, the LPO had been the other crack London orchestra, but since Thomas Beecham's departure, was in need of rebuilding. Boult accepted this position and threw himself into this task. The results can be heard to this day in a long series of recordings beginning in 1950 and including in their early years a complete set of the Ralph Vaughan Williams symphonies and much Edward William Elgar. He obtained for the orchestra a recording contract with American companies and recorded Johannes Brahms symphonies, Louis Hector Berlioz and Jean Sibelius, among other composers.
There was controversy and ambiguity over Boult's role in the dismissal of Thomas Russell from his position as the LPO Managing Director, in 1952, during the Cold War years, as Russell was an avowed member of the Communist Party of Great Britain. Boult served as the LPO's principal conductor until 1957.
After the sudden resignation of Andrzej Panufnik from the City of Birmingham Symphony Orchestra (CBSO), Boult returned as Principal Conductor of the CBSO for the 1959-1960 season. That was his last chief conductorship, though he remained closely associated with the LPO as its President until his retirement.
Boult recorded all seven then existing symphonies by Ralph Vaughan Williams for Decca Records in 1953-54 with the LPO, with the composer present; these sessions included the Sea Symphony's first-ever recording. Decca also taped Ralph Vaughan Williams' short speech to the musicians following the recording of the Sixth symphony, and included it in the album.
The composer was to have been present for the first recording of his Ninth symphony, for Everest Records in 1958, but he died the night before the session took place; Boult recorded a short introduction as a memorial tribute to Ralph Vaughan Williams. This recording has been reissued on CD.
After what Michael Kennedy described as a 'fallow' period in the early 1960s, Boult acquired the status of a revered figure in British music, and despite advancing years continued to conduct new works, being valued for his impartiality and reliability.
He was guest conductor with UK orchestras and further afield (Vienna and Boston). In 1966 he resumed conducting for EMI and until his retirement enjoyed an 'Indian Summer', recording or re-recording his repertory in interpretations which have remained in the catalogues for thirty or forty years.
After some correspondence during the 1950s he became a teacher to conductor Vernon Handley. He was made a Companion of Honour (CH) in the 1969 New Year's Day Honours.[
Having recorded much British music he was encouraged to record the orchestral music of Brahms, whose Third Symphony filled an extra recording session in August 1970 and sparked this exploration of the standard repertory, Wilhelm Richard Wagner, and Franz Schubert.
This surprised those listeners who did not know that his acquaintance with these works dated back to the pre 1914 era when he had heard Arthur Nikisch and Karl Muck conduct them in Germany.
His repertory in general was much wider than his late discography might indicate; not only did he conduct seven of the nine Gustav Mahler symphonies well before the Gustav Mahler revival of the 1960s, but he also frequently programmed Joseph Maurice Ravel's complete ballet Daphnis et Chloé and even Ferruccio Busoni's rarely-staged opera Doktor Faust in the late 1940s.
Boult always had the score in front of him, although he often conducted from memory. Along with Arturo Toscanini', Furtwängler and Klemperer he was known for having the second violins on the right side of the orchestra (rather than on the left behind the firsts), citing the need for clarity in antiphonal passages.
His last public performance was conducting Edward William Elgar's ballet The Sanguine Fan for the London Festival Ballet at the Coliseum, in London on 24 June 1978. His final record, completed in December 1978, was of music by Hubert Parry.
He formally retired from conducting in 1981.
---