James Loftus Marsden 1815 - 1891
February 12, 2009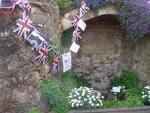 James Loftus Marsden 1815 - 1891 FRCS Edinburgh 1836, MD Edinburgh 1837 was an orthodox physician who converted to homeopathy and who also had a thriving water cure practice, and lived at Great Malvern.
James Loftus Marsden was living in Exeter when he converted to homeopathy after witnessing his son's cure from inflammation and water of the brain during typhoid.
James Loftus Marsden subsequently travelled to Europe to study homeopathy, and he went on to treat thousands of patients at Great Malvern, mostly using homeopathy, but also using the water cure after spending the winter of 1845/5 witnessing the water cures of Victor Priesstnitz.
James Loftus Marsden also corresponded with Pehr Henrik Ling, and subsequently employed a Ling therapist, a Mr. Ehrenhoff, at his establishment at Hardwicke House in Abbey Road, which was built in 1851 and equipped with all the modern accoutremonts for the water cure.
James Loftus Marsden on the Medical Council of the London Homeopathic Hospital and also a member of the British Homeopathic Association, and he was a partner of James Manby Gully, alongside Walter R Johnson and G Manly, and he was also was a colleague of Hugh Cameron, John Chapman, Matthew James Chapman, Edward Charles Chepmell, Paul Francois Curie, John James Drysdale, Harris F Dunsford, Edward Hamilton, Joseph Kidd, Thomas Robinson Leadam, J Bell Metcalfe, Victor Massol, Frederick Hervey Foster Quin, Henry Reynolds, John Rutherford Russell, David Wilson, Stephen Yeldham and many others.
James Loftus Marsden went on to see military service with the rank of Captain in 1860.
James Loftus Marsden attended the International Congress of Medicine in 1881.
In 1852, recently widowed James Loftus Marsden employed a governess for his five daughters, his only son James went to a boarding school in England.
James Loftus Marsden remarried and visited his girls during his wedding trip with his new wife to Italy. The Governess was Flore Marguerite Celestine Doudet, a former Lady of the Wardrobe to Queen Victoria.
Doudet took the five girls to Paris to pursue their education, but her harsh regime led to the death of two of the girls, Mary Ann and Alice. James Loftus Marsden, alerted by concerned neighbours, rushed to Paris and found Mary Ann had died.
James Loftus Marsden left Alice with his sister in law who lived in Paris and took the remaining girls home with him to Great Malvern. James Loftus Marsden filed a criminal complaint against her and brought his remaining three daughters, Rosa, Emily and Lucy, back to live with him at Great Malvern. Sadly, Lucy subsequently also subsequently died.
Duodet was convicted of manslaughter and imprisoned for four years, later released on the grounds of ill health, when she returned to England, Duodet was offered many new offers of professional employment.
James Loftus Marsden died at Cleve Vale in Hastings, and his Obituary is in the Montly Homeopathic Review and The British Homeopathic Review in 1891. His portrait is in the Wellcome Institute of the History of Medicine (done in 1849 by Bell Smith).
James Loftus Marsden wrote Notes on Homeopathy in 1849 (which was in Melbourne Public Library, Australia in 1865), and The Action of the Mind on the Body,
Of interest:
Night Noises by Fred Euringer. _Night Noises_ is based on an actual event. In 1852, James Loftus Marsden, a widower and a doctor, left his five daughters in Paris in the care of a woman called Flore Marguerite Celestine Doudet. First one girl dies, then another. An investigation is launched; Celestine is charged with manslaughter. Three years later she is pardoned.
Bertram Marsden was a homeopath in America in 1920.
John Hatton Marsden was a homeopath who practiced in Canada in 1879.
---