Henry John Temple Viscount Palmerston 1784 – 1865
February 08, 2009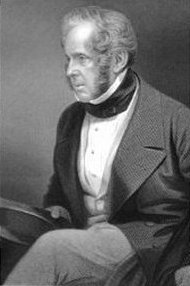 Henry John Temple, 3rd Viscount Palmerston, KG, GCB, PC 1784 – 1865 was a British statesman, a Whig and Liberal politician, who served twice as Prime Minister of the United Kingdom in the mid 19th century.
Lord Palmerston was a supporter of homeopathy, and Lord Palmerston's wife, Emily Mary Lamb (the mother of William Francis Cowper Temple 1st Baron Mount Temple (1811-1888)) was also a homeopathic patient (Mabell Airlie (Countess of), Emily Lamb Palmerston (Viscountess), Viscount Frederick James Lamb Melbourne (Ed.), Lady Palmerston and her times, Volume 1, (Hodder and Stoughton, Ltd., 1922). Page 193).
Palmerston was in the government of George Hamilton Gordon, and he knew homeopathic supporters Prince Albert, Christian Karl Josias Bunsen, Benjamin Disraeli, Giuseppe Garibaldi, William Gladstone, Leopold I of Belgium, Robert Peel, Edward Henry Stanley, Arthur Wellesley 1st Duke of Wellington, and possibly John Ruskin.
Lord Palmerston is quoted as saying that:
The early 19th century medical world was "a labyrinth and a chaos"… Lord Palmerston, Home Secretary in the 1850s was clear that a Medical Bill needed to be acceptable to the whole profession government was not going to impose situation at the behest of only one "party" within medicine.
Victorian politicians, who were prepared to pursue a policy of laissez faire even if it mean the starvation of millions were hardly likely to want to intervene in medicine, and so the Medical Act of 1858 was in many was a very limited affair, although the BMA certainly saw it as "a good start"… What is most striking about the medical fraternities "War on Quackery" as we might term it, is the fact that it never ends and is never won…
Palmerston was in government office almost continuously from 1807 until his death in 1865, beginning his parliamentary career as a Tory and concluding it as a Liberal.
He is best remembered for his direction of British foreign policy through a period when the United Kingdom was at the height of its power, serving terms as both Foreign Secretary and Prime Minister. Some of his aggressive actions, now sometimes termed liberal interventionist, were greatly controversial at the time, and remain so today…
Lord Palmerston was an Irish peer who always sat in the British House of Commons. He was regarded as a nationalist and as a social conservative.
He was considered by some of his contemporaries to be a womaniser; The Times named him Lord Cupid, and he was cited, at the age of 79, as co-respondent in an 1863 divorce case.
In 1839, following the death of her husband, he married his mistress of many years, Emily, Lady Cowper (née Lamb), a noted Whig hostess and sister of Lord Melbourne. They had no legitimate children, although at least one of Lord Cowper's putative children, Lady Emily Cowper, later Countess of Shaftesbury, was widely believed to have been Palmerston's.
He was also an abolitionist where it suited his foreign policy; when not, he was a firm supporter of the pro-slavery South in the American Civil War in opposition to the anti-slavery societies.
Lord Palmerston is remembered for his light hearted approach to government. He is once said to have claimed of a particularly intractable problem relating to Schleswig-Holstein, that only three people had ever understood the problem: one was Prince Albert, who was dead; the second was a German professor, who had gone insane; and the third was himself, who had forgotten it.
In actuality, Palmerston's attitude during the Second Schleswig War in 1864 considerably helped the German decisive victory in that war, by letting the Danes get the wrong impression that Britain would fight on their side and thus emboldening them to embark on a war they had no chance of winning alone.
In that way Palmerston unwittingly faciliatated the meteoric rise of Otto von Bismarck and the Unification of Germany to become a dominant European power - with dire consequences which Palmerston's successors had to grapple with for many decades afterwards.
Florence Nightingale said of him after his death, "Tho' he made a joke when asked to do the right thing, he always did it… He was so much more in earnest than he appeared, he did not do himself justice."
Of interest:
Adele Flahault, a friend of Emily Lamb, was a homeopathic patient.
Lady Emily Cowper, later Countess of Shaftesbury supposed daughter of Palmerston. Her son Evelyn Melbourne Ashley married a daughter of the Duke of Beaufort who was a patient of Frederick Hervey Foster Quin. Emily's daughter **Victoria Elizabeth Ashley **marrieda son of Henry William Paget who was a patient of Samuel Hahnemann and Frederick Hervey Foster Quin.
William Lamb Lord Melbourne Palmerston's brother in law was a friend of Percy Bysshe Shelley andLord Byron
---