Agatha Christie 1890 – 1976
February 04, 2009

Agatha Mary Clarissa, Lady Mallowan, DBE 1890 – 1976  commonly known as Agatha Christie, was an English crime writer of novels, short stories and plays.
Agatha Christie's father, Frederick Alvah Miller, took homeopathic remedies, and her childhood mentor Eden Phillpotts wrote about homeopathy in his novel George Westover. Agatha Christie herself had her own homeopathic kit, which is on show in the foyer of Greenway House (See John Curran, Agatha Christie, Agatha Christie's Secret Notebooks: Fifty Years of Mysteries in the Making, (Harper Collins UK, 30 Jul 2010)). '… her homeopathic phials are on the hall table as you walk in, neatly labelled showing the interests of a woman who knew more about poisons than most crime writer…' (See http://blueskyandbunting.blogspot.co.uk/2012/08/greenway-and-dartmouth.html).
Agatha Christie had her own homeopathic remedy kit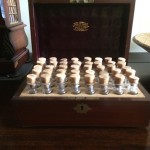 supplied by homeopathic pharmacist Henry Turner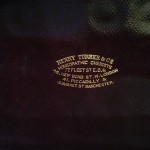 , so beautifully photographed by David Mundy on his visit to Greenway House and sent to me via email on 6.6.14! Thanks David!
Agatha Christie chose the hydropathic Old Swan Hotel in Harrowgate for her missing eleven days.
Agatha Mary Clarissa Miller was born in Torquay, Devon, in the United Kingdom. Her mother, Clarissa Margaret Boehmer, was the daughter of a British army captain, but had been sent as a child to live with her own mother's sister, who was the second wife of a wealthy American.
Eventually Margaret married her stepfather's son from his first marriage, Frederick Alvah Miller, a stockbroker. Thus the two women Agatha called "Grannie" were sisters. Despite her father's nationality, Agatha never claimed United States citizenship.
The Millers had two other children: Margaret Frary Miller (1879 – 1950), called Madge, who was eleven years Agatha's senior, and Louis Montant Miller (1880 – 1929), called Monty, ten years older than Agatha.
Agatha's first marriage, an unhappy one, was in 1914 to Archibald Christie, an aviator in the Royal Flying Corps. The couple had one daughter, Rosalind Hicks. They divorced in 1928, two years after Agatha discovered her husband was having an affair. It was during this marriage that she published her first novel in 1920, The Mysterious Affair at Styles.
During World War I she worked at a hospital and then a pharmacy, a job that influenced her work. Many of the murders in her books are carried out with poison. In late 1926, Christie's husband revealed that he was in love with another woman, Nancy Neele, and wanted a divorce.
On 3 December 1926, the couple quarreled, and Archie Christie left their house in Sunningdale, Berkshire, to spend the weekend with his mistress at Godalming, Surrey. That same evening, Christie disappeared from her home, leaving behind a letter for her secretary saying that she was going to Yorkshire.
Eleven days after her disappearance, Christie was identified as a guest at the hydropathic Hotel (now the Old Swan Hotel), where she was registered as 'Mrs Teresa Neele', from Cape Town. Christie gave no account of her disappearance, two doctors having diagnosed her as suffering from amnesia, and opinion remains divided as to the reasons for her disappearance.
One suggestion is that she had suffered a nervous breakdown, brought about by a natural propensity for depression, exacerbated by her mother's death earlier that year and the discovery of her husband's infidelity. Public reaction at the time was largely negative, with many believing that it was all just a publicity stunt, while others have speculated that she was trying to make the police think that her husband killed her, as revenge for his affair.
In 1930, Christie married the archaeologist Max Mallowan. Max Mallowan was 14 years younger than Christie, and a Roman Catholic, while she was of the Anglican faith. Their marriage was happy in the early years, and endured despite Max Mallowan's many affairs in later life, notably with Barbara Parker, whom he married in 1977, the year after Christie's death.
Christie's travels with Max Mallowan contributed background to several of her novels set in the Middle East. Other novels (such as And Then There Were None) were set in and around Torquay, Devon, where she was born. Christie's 1934 novel, Murder on the Orient Express was written in the Hotel Pera Palace in Istanbul, Turkey, the southern terminus of the railway. The hotel maintains Christie's room as a memorial to the author.
The Greenway Estate in Devon, acquired by the couple as a summer residence in 1938, is now in the care of the National Trust. Christie often stayed at Abney Hall in Cheshire, which was owned by her brother in law, James Watts. She based at least two of her stories on the hall: The short story The Adventure of the Christmas Pudding, which is in the story collection of the same name, and the novel After the Funeral.
Abney became Agatha's greatest inspiration for country house life, with all the servants and grandeur which have been woven into her plots. The descriptions of the fictional Styles, Chimneys, Stoneygates and the other houses in her stories are mostly Abney in various forms.
In 1971 she was made a Dame Commander of the Order of the British Empire.
Agatha Christie died on 12 January 1976, at age 85, from natural causes, at Winterbrook House in the north of Cholsey parish, adjoining Wallingford in Oxfordshire (formerly Berkshire). She is buried in the nearby St. Mary's Churchyard in Cholsey.
Christie's only child, Rosalind Hicks, died on 28 October 2004, also aged 85, from natural causes. Christie's grandson, Mathew Prichard, was heir to the copyright to some of his grandmother's literary work (including The Mousetrap) and is still associated with Agatha Christie Limited.
---