Hans Thomsen 1802 - 1864
February 02, 2009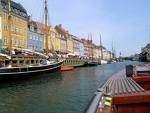 Hans Thomsen 1802 - 1864 was an orthodox Danish surgeon who converted to homeopathy.
Hans Thomsen was influenced to become a homeopath by Friser, who practiced in Copenhagen with his collegues Holger J Fangel, Hans Burch Gram, Hans Christian Lund, Johann Carl Ludwig Pabst and Serke.
When Friser, Serke and Holger J Fangel died, and Hans Burch Gram immigrated to America, Hans Thomsen and his colleagues Hans Christian Lund and Johann Carl Ludwig Pabst continued to practice, despite the usual vitriolic atacks from local allopaths.
Hans Thomsen was born at Husum in Schleswig. He was a barber surgeon who studied medicine in Copenhagen, graduating in 1835. When he converted to homeopathy, his allopathic patients deserted him, leaving him almost destitute, but he carried on and eventually built up a new practice. Local allopaths harrassed and fined him, but he struggled on nevertheless.
Despite all of the problems, Thomsen became the head of this little group of homeopaths due to his excellent education and qualifications and his continual enthusiasm for homeopathy and for life.
A devout Moravian Christian, Thomsen would not fight back against the evil of the allopathic atacks, but eventually succumbed to heart disease as a result of these troubles.
Thomsen taught P Wm Paulson, who converted to homeopathy, married his eldest daughter and eventually immigrated to America.
Thomsen won through all opposition to win a thriving practice, and he was the homeopathic physician to King Frederick VII, Christian IX (9th) of Denmark, the Princess of Wales, the King of Greece, and the Princess of Dagmar, who eventually became the Empress of Russia.
Thomsen was also very popular amongst the poor, and alongside Johann Carl Ludwig Pabst, Thomsen worked through the Cholera epidemic of 1853, when 4000 people died. However, only 5% of Johann Carl Ludwig Pabst and Thomsen's patients died compared to the allopathic death rate of 50-70%.
Hans Thomsen's Obituary is in The North American Journal of Homeopathy in 1865.
---