William Herbert Tankard Hahnemann 1922 - 2009
February 01, 2009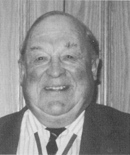 William Herbert Tankard Hahnemann 1922 - 2009 was the great great great grandson of Samuel Hahnemann, and the Patron of the British Institute of Homeopathy from 1987 - 2008.
This Obituary is from the British Institute of Homeopathy: It is with great sadness we report that Mr. William Tankard Hahnemann passed away peacefully at his home in Crowborough, East Sussex on 12th January 2009, his 87th birthday.
As a young boy, Mr. Hahnemann remembered his mother telling him of her visits to 'Uncle Leo' at Ventnor, Isle of Wight.
He later knew that he was Dr. Leopold Suss Hahnernann, Samuel Hahnemann's grandson, the only son of his favourite daughter, Amelie (1789-1881). Dr. Suss Hahnemann was the only member of the Hahnemann family to be present at Samuel Hahnemann's funeral, apart from Samuel Hahnemann's second wife Melanie, in Paris in 1843 and at his subsequent re-burial in the Peré Lachaise Cemetry in east Paris.
Subsequently Leopold emigrated to England, when he practised homeopathy in London. He retired to the Isle of Wight and died there at the outbreak of World War I in 1914.
Dr Leopold Suss Hahnemann's youngest daughter, Amalia had two children, Winifred (born in 1898) and Herbert. William Herbert Tankard Hahnemann was Winifred's son.
After serving as a Major in the British Army during World War II, Mr. Hahnemann had a distinguished career in the city of London. He was honoured by his appointment as a Freeman of the City of London.
On his retirement to Crowborough, he became the patron of the British Institute of Homeopathy in 1987. Since then he has given his time generously to promoting classical and modern homeopathy in the United Kingdom and around the world.
Ambassadorial tact and diplomacy, his equanimity and gentlemanly behaviour were legendary and he never baulked at anything he was asked to do in the service of homeopathy.
I recall his escorted tour of an ancient fort in Lahore in a temperature of 100°F, when he scaled the highest tower unflinchingly, whilst covered in sweat, leaving his hosts.
It was also in Pakistan that he chaired an International Congress of Homeopathy sponsored by the British Institute of Homeopathy, attended by 720 delegates.
He bestowed an Honorary Fellowship to Mrs Benazir Bhutto (the then Prime Minister) who stated that "the organisers and Mr Hahnemann's role in the welfare of suffering humanity was most laudible". We were then invited to dinner at the official residence of the Govenor of Punjab, Ch. Altaf Hussain.
Mr Hahnemann also attended many homeopathic events in the United Kingdom including, as a Life Fellow, an Annual Congress of the Homeopathic Medical Association and award ceremonies of the British Institute of Homeopathy, including events at Los Angeles, Toronto, New Delhi, Paris and the birth place of his great, great, great grandfather, Samuel Hahnemann, Meissen.
In October 2008, William Tankard Hahnemann stood down as patron owing to ill health. He was succeeded by his son, Charles Tankard Hahnemann. Charles Tankard Hahnemann visited Singapore, accompanied by his wife Bron, last October to present British Institute of Homeopathy certificates and prizes at an Award Ceremony organised by the Singapore Faculty of Homeopathy, and opened three free homeopathic clinics on Temple sites.
The condolences of the entire homeopathic community go to William's wife, Beth (sadly it would have been their 60th wedding anniversary next month), and the Hahnemann family.
We offer our respect and gratitude for his incalculable contribution to the progress of Samuel Hahnemann's Healing Art over the past 22 years.
Trevor Cook Principal of the British Institute of Homeopathy and retired Royal Warrant Holder of homeopathic supply to HM Queen Elizabeth II.
Of interest:
On Tuesday, 17th June 2008, Charles Tankard Hahnemann, son of our Patron William, who was indisposed, visited the British Insitute of Homeopathy world Headquarters offices at Egham, UK to present awards to a group of our recent graduates…
In a brief speech, Charles Tankard Hahnemann said he was delighted to be present and paid tribute to the work of the British Institute of Homeopathy and the high standards of its graduates…
Professor Dr. M.A. Rangachari, Founder and Principal of the Singapore Faculty of Homeopathy, with whom the British Institute of Homeopathy has been associated for many years, has invited Charles Tankard Hahnemann, the son of our Patron William Tankard Hahnemann, to the presentation of British Institute of Homeopathy General Diploma (DIHom) and Postgraduates (DHM) certificates from the class of 2007 at the Language Centre, Singapore on 17th October 2008.
Of interest:
F L R Suss Hahnemann 1826 - 1914, grandson of Samuel Hahnemann, was on the Management Board of the Hahnemann Hospital at 39 Bloomsbury Square.
---